GeckoLinux offers both seasoned users and new distro adopters an easy way to try an openSuse-based spin that is loaded with features and an ample inventory of the leading Linux desktops.
The developer released a major update of GeckoLinux earlier this week. I enjoyed testing the beta version last fall, and I was even more pleased with the added embellishments packed into this final version.
Among the attractions of GeckoLinux are its innovations within the openSuse community. These include non-free packages not found in openSuse's default repositories.
GeckoLinux has a reputation for polish and out-of-the-box usability. It offers users a better hands-on experience than the more traditional approach taken by the openSuse community.
This latest release, GeckoLinux 423, uses a new build system called "Kiwi." The openSuse community last year changed to another system-merged build tool, Open Build Service.
That change caused the GeckoLinux developer some delays in releasing this new spin — but the result was worth the wait.
Both Rolling and Static
GeckoLinux spares users from the nagging dilemma of choosing between Linux distros that offer static versus rolling upgrades. It does both. All you have to do is pick the maintenance method you prefer when you download the ISO file.
GeckoLinux rolling editions are based on openSuse Tumbleweed. The rolling editions update fully tested portions of the operating system as they are developed. No need to wait and install an entire new system on a finite release schedule.
The rolling release editions come in eight desktop flavors: Cinnamon, XFCE, Gnome, Plasma, Mate, Budgie, LXQt, and Barebones.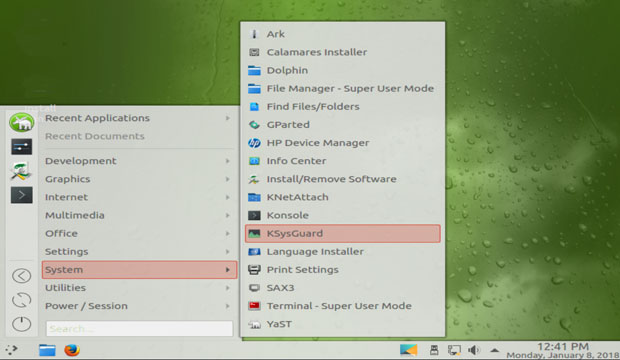 The Plasma desktop leaves much to be desired. It is one of eight desktop options available in the latest GeckoLinux release.
---
GeckoLinux static editions are based on openSuse Leap 42.2 with its periodic release cycle and long-term support. The Budgie desktop is not available. The other seven desktop choices are available for download.
Each desktop environment has its own ISO file, so you can try your preferred desktop on GeckoLinux or grab one or more desktops to try. The ISO easily converts to a fully functional live session that runs on a DVD or USB. It loads without changing anything on your hard drive. Nothing messes with your existing OS.
Added Benefits
This new release includes live USB persistence. Without persistence, you can not save system settings and added or removed software configured during a live session. Now, you can use GeckoLinux as a portable OS that runs just the way you used it in your last live session.
Depending on your hardware, running GeckoLinux from a USB installation may be slower — but you will not notice much sluggishness if the host computer has ample installed RAM.
The benefit is you can install GeckoLinux onto your main computer and carry the equivalent of a cloned copy on a USB drive to run on any computer you use. You can access your documents on either a USB drive or from a cloud storage center as long as you have an Internet connection.
Having USB persistence, a fully functional live session and your choice of desktop environments makes using GeckoLinux a flexible computing platform.
GeckoLinux now offers a much smoother booting experience. I like the splash screen added to the live system startup.
Some of my hardware is notorious for being finicky. Some of the test rigs refuse to play well with software designed for newer technology. GeckoLinux did not fall victim to such troubles.
GeckoLinux 423 has better hardware detection. It worked well with the X.Org startup on two very troublesome graphics cards. This new version also includes a repository containing Nvidia drivers enabled by default.
Switching Gears
When I reviewed the beta release last fall, I worked with the Cinnamon edition. That was partly because I use that desktop as my primary driver in Linux Mint.
For the final version testing session, I picked the Plasma edition. I used to be an avid fan of the KDE environment, but my dissatisfaction with Plasma caused that relationship to wither.
My initial experience this time with the Plasma edition was no more rewarding than the last time I tried it on another distro. That is not the fault of the GeckoLinux distro, though. Plasma performed well within the limitations of its desktop toolkit.
A major benefit of GeckoLinux is the ease with which you can try out leading desktop offerings with a solid OS. So, I will share my initial reactions to Plasma without any intention of degrading my otherwise happy experience with the OS itself.
Plasma on GeckoLinux
The Plasma desktop is the latest iteration of the KDE environment. It is based on KDE Plasma 5.9.2. The KDE community, however, released a later version early this month.
It includes the KDE applications. Many of the worthwhile KDE-branded applications, however, are no longer part of the Plasma environment.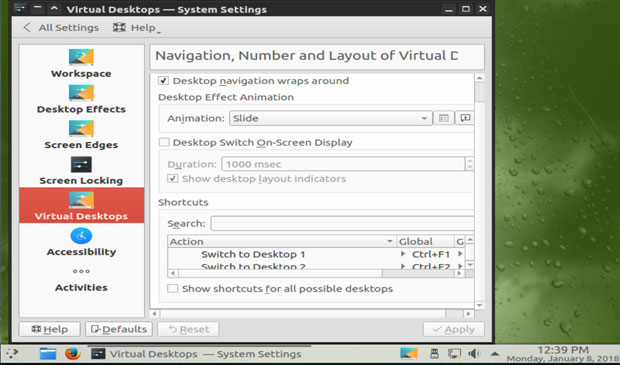 Configuring the virtual workspaces in GeckoLinux depends on the desktop environment you run. The options panel in the Plasma desktop is one of its best features.
---
For instance, KWrite is gone. In its place is the LibreOffice suite. The Plasma desktop is now an overly simplified user interface that does a poor job of competing with the GNOME interface.
I never had much use for the Activities feature in KDE, though accessing an Activities display on the desktop was handy. You pushed the mouse into the upper left screen corner. Now, you thrash through the main menu to reach it via an applet you install on the panel bar.
The Plasma integration into the GeckoLinux infrastructure works well, but I suspect that only die-hard KDE fans will be drawn to using it here.
Bottom Line
I was disappointed in GeckoLinux in only one situation. The practice of including a password for the live session demo mode was a new feature promised in this release. The product description hawks the convenience of not having to enter passwords for the live session user account.
Yet the brief documentation for the ISO download mentions the user password for the live session as "linux." I was hoping that the developer merely forgot to update the download information.
Alas, the new version still needs a password. Oh well, maybe the next release.
Otherwise, GeckoLinux 423 is a worthy release that provides improvements over the standard openSuse mindset.
---
Suggest a Review
Is there a Linux software application or distro you'd like to suggest for review? Something you love or would like to get to know?
Email your ideas to me, and I'll consider them for a future column.
And use the Reader Comments feature below to provide your input!