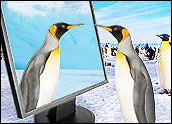 I have a problem with Linux! It has too many cool ways to navigate thedesktop and launch programs. I fell in love with the really awesomeGNOME Do recently and started a feud with myother computing personas. One relishes the panel, and another isenamored with the desktop draped in icons of my always-used programs.
The desktop icons fetish is a carry over from my earlier MicrosoftWindows daze. It's easy to set up in Ubuntu Linux and similar distroswith a right-click from the applications' menu. Launching apps fromdesktop icons is hard-wired into Puppy Linux.
The launch panel infatuation comes from my first exposure to the LinuxOS. I use four or more workspaces (virtual desktops) to segregaterelated project apps onto the same screen. Desktop icons are quick andavailable for launching an app in a virgin workspace. Clicking an iconin the panel eliminates having to find the desktop when open windowshide its icons.
My launch-lover's quarrel is far from over. Until now the desktopicons and the panel icons complemented each other. But the GNOME Dointerface is radically different. It needs no shared usefulness withmy other two launcher heartthrobs.
Even worse, GNOME Do comes with a BFF (Best Friends Forever) optioncalled "Docky." Together, they bring an entirely new look and feel toliving in Linux.
Putting Do in GNOME
GNOME Do is an app launcher, program switcher and file-searching toolwrapped into one really cool interface. Depending on what options youselect, it can do even more. For instance, you can right-click to run,play, chat, etc.
Use Do (the app's nickname by admirers) to quickly run applications,find Evolution contacts and Firefox bookmarks, locate files, artistsand albums in Rhythmbox or IM buddies in Pidgin. You also canopen a new email window for a name entered from your address book.
Do not let its name fool you. If you run other desktop environmentslike KDE, you can still use GNOME Do. This baby is a kin to the MacOS X's Quicksilver and the GNOME Launch box.
GNOME Do is plug-in-based. It comes preset with a handful of plug-inhelpers already engaged. Scrolling through the Plug-in tab under thePreferences option presents a hefty list of more cool stuff.
Do Basics
GNOME Do's basic interface opens a small window in the center of thescreen over whatever program is already there. To bring up this searchwindow, just click the GNOME Do icon in the notification area on thedesktop. Another option is to press the Super or Windows key and thespace bar simultaneously.
Type a letter to bring up an alphabetized menu of corresponding appsand related search items. Or type the first few letters of an app youwant to run. The results appear in a window under GNOME Do's splashscreen.
Scroll through the listing with the arrow keys and press the Enter keyto launch your desired app or open the listed file in its associatedprogram. Using Do is quick and simple.
Theme Choices
Do comes with several appearance settings that blend in nicely withthe various Linux desktop themes. Choose from Classic, Mini, Glassy orNouveau.
At one point in GNOME Do's growth, its developers mated the interfacewith what is also a stand-alone launch app called "Docky." This is nowanother theme choice in Do.
If you run the Docky option, you can place the docking bar at the topor the bottom of your screen. You can hide it or not as well as scaleits size and animations.
With and Without
Using the Docky theme adds a much different atmosphere than the otherthemes. It gives the interface a much more functional look and feel.
In fact, you can install the stand-alone version of Docky from here and bypass the features found in GNOMEDo.
But you get so much more usefulness from the combination. So it doesnot make much sense to choose one over the other. Perhaps that was therationale GNOME Do's developers had in mind when they merged the twoseparate apps.
Mac-Like Docking
That is what the Docky component brings to GNOME Do and the Linuxdesktop. It is pretty nifty.
Other Linux apps attempt the recreate the functionality of the Mac OSX dock bar. Even Microsoft Windows 7 tried to put more Mac-like pizazzin its latest rendition of the Windows program bar.
But none of these efforts pulls it off as nicely as Docky does. Itprovides configurable dock space. As you traverse the pointer over theicons on the bar, the icons raise or magnify above the bar.
Dock Space
Docky remembers what you open. It keeps those selections on the bar.You merely have to click on the icon to switch to that item.
Adding and removing programs could not be easier or more Mac-like.Drag an icon from the desktop or menu list to the dock bar to add aprogram. Drag an icon from the bar to the trash can icon to remove it.Neither of these actions affects the installed status of the apps onthe system.
Much like the OS X dock, GNOME Do's Docky component places applicationshortcuts on the left and active applications lacking shortcuts on theright. You can add Gnome Do actions to the dock as well. This makesthose actions easy to execute.
A dot under a docked icon shows you which applications are active.Even better, Docky bounces the icon for notifications. Right-click anicon to see the windows associated with that application and selectother options including minimize, maximize and close all.
Plug-In Playthings
A bevy of plug-ins takes GNOME Do well beyond the confines of justlaunching apps and opening files or folders. Plug-ins function as taskdoers to help you quickly post messages to Twitter, look up stockquotes and add appointments to a Google calendar. Much more isavailable to perform a wide range of other tasks.
Docklets are a special type of plug-in. They provide system monitoringtools similar to what are available in Screenlets. See my review here.For instance, GNOME Do comes with four Docklets for monitoring thebattery and CPU activity, providing an app switcher function and viewingweather alerts.
Hovering the mouse pointer over the CPU Docklet, for example, showsbasic system details for CPU and memory usage. Clicking on the iconlaunches (in my case) the Ubuntu System Manager app. Hovering thepointer over the clock face (which is a setup option from Do'spreferences) shows the day, date and time. Clicking on the clock iconshows a row of dates for the week.
Some Setbacks
Despite my newfound love for GNOME Do and its Docky theme, the affairis not without some let-downs. I can only hope that a new release willremove the distractions.
One problem I experienced on two laptops and a netbook is that the batterymonitor fails to engage. Even though the battery icon shows up on theDocky bar, the icon is grayed out. The label reports that no batteryis found. Yet the battery icon in the system notification area reportsthat the battery is fully charged. I get this response whether thecomputer is running on AC or battery power.
Another unhappy problem involves the weather docklet. I could not getthe icon to appear on the Docky bar at all.
Perhaps the most disconcerting problem with GNOME Do is that itsometimes crashes. When I click on the same particular name in thesearch window, GNOME Do drops out. I have to restart Do. No othersystem performance is affected. This problem visited my two desktopcomputers and my three portables.