The Great Little Radio Playeris a perfect example of how great things can come in small packages.
This robust Internet radio station streamer does not burden system resources and packs a powerhouse of listening pleasure immediately after installing it. It's so fine-tuned that it needs no configuring to use it, but you can still tweak a few pleasantries to make it feel more at home on your computer.
Great Little Radio Player connects to some 400 websites offering radio streaming. Unlike other radio players that give you a few nonpremium stations, GLRP's streaming inventory is totally free.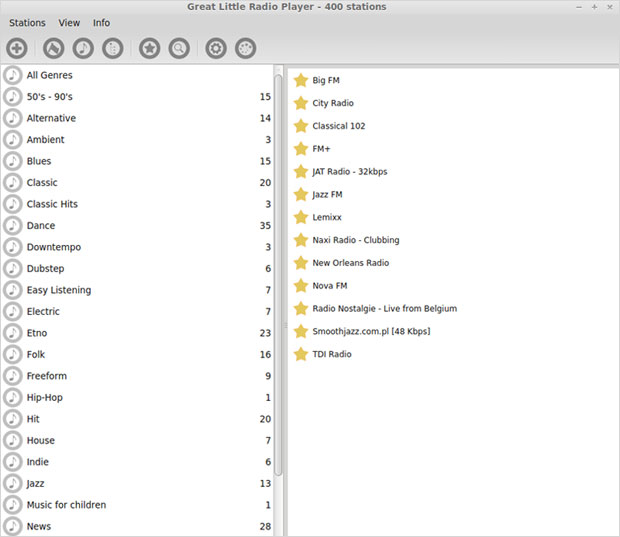 The app is very similar to my formerly favorite radio-playing app,Radio Tray. Where Radio Tray's ultra-minimalistic design fell short, however, GLRP does not stumble.
In fact, like Radio Tray, GLRP offers a fast and simple way to play streaming radio via a barely there interface. The user experience, though, is far more satisfying. Unlike Radio Tray, it plays on a much wider range of Linux distros.
Keep It Simple
Linux users have access to quite a few radio players. Listening to radio over the Internet offers a choice of methods spanning standalone players, individual Web sites and Web browser add-ons.
The Great Little Radio Player falls into the first category, but it does not give you static from a clunky interface or overstuffed features.
Instead, GLRP has a two-column design. Select your music genre on the left; select the station from the list on the right. This great app does not try to do anything else. It just plays Internet radio stations.
Who Can Use It?
GLRP is not too finicky as to where it plays. It supports 32- and 64-bit systems. If you run a Linux distro that is derived from Ubuntu, such as Kubuntu, Linux Mint, elementary OS and such, you are golden.
GLRP also runs on Fedora-based distros such as Mandriva, Mageia, PCLinuxOS and openSUSE as well as Arch Linux and Chakra Linux.
You probably will not find the Great Little Radio Player in your distro's software repository, but those places almost never have the most up-to-date package versions anyway. Get it directly from the developer's site linked above. The current version is 1.4.1.
A Nontraditional GUI
One of the things I really like about GLRP is its nontraditional design. It may be nonclassic, but it is definitely very classy.
For example, it lacks the drop-down menus and traditional icons and tool rows. That does not leave its usability lacking, however — quite the contrary.
I already mentioned its two-column functional channel display. Above this is a row of eight custom icons. You use those icons to access the few controls and preference settings. Simplistic does not get any simpler than this.
Adding Stations
The Plus icon lets you add more radio stations. A panel appears with windows in which to enter the station's name and URL. A test button verifies that it works.
Two drop-down lists let you designate the genre and the country of origin. A checkbox lets you mark the station as a favorite. A button lets you load a .pls file via a file-selector window.
A station's .pls file is usually available from its website. This file format stores multimedia playlists and the streaming URL, if different from that of the main website.
Other Controls
The flag icon sorts stations by country. The musical note button sorts by musical genre. The star icon displays a list of favorite stations.
To the far right of this same icon row are three more buttons. Depending on the skin you select from the appearances settings, all eight icons might be crunched together on the left of this row. The default skin with a plain white background divides the icons. The style of the icons or labels instead of icons also varies with your skin selection.
The X icon — as you might suspect — exits the program. The dotted circle icon hides or shows the player. An icon on the system tray does the same thing. Some skins have a search icon; in other skins, that icon is replaced with a maximize/restore icon. Sadly, it does not work!
Setting Preferences
Nevertheless, click the gear icon on the left side of the icon row to access the Preferences panel. That exposes three tabs.
The "On Start Up" tab gives you options to play stations automatically, play a particular station or play the last played station. You can also choose to hide the application's window. This lets you use just the tray icon to see the main window.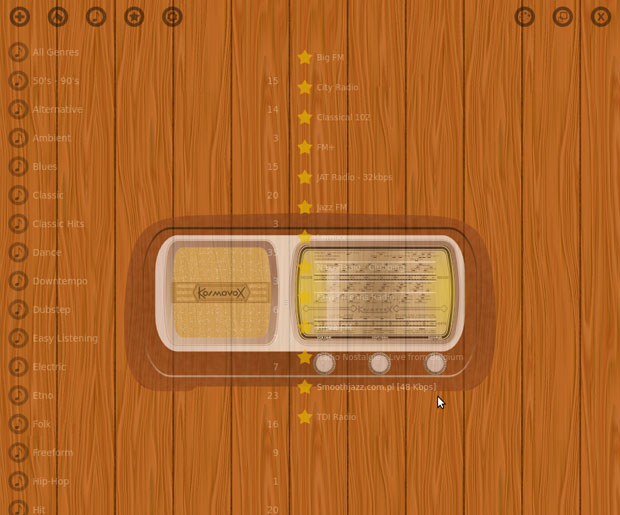 The Look tab sets the application skin and how the main window appears. For instance, you can show stations and categories in the system tray menu and display balloon messages about the playing station.
The Localization tab, logically, lets you select the preferred language of selections.
A Closer Look
GLRP's ability to change skins so easily is impressive. In the Look panel you must first check the Coats box. This activates the selection drop-down window.
This application comes with 30 skins. Some of them are quite attractive. Others make it difficult to read the text in the main window.
Highlight the desired skin and click its name. That closes the list. When you click the OK button at the bottom of the panel, the new look instantly appears.
Eclectic Tuning
Having 400 radio stations available from worldwide locations is pretty cool. Remember, all of these are free. You do not even have to sign up for a free subscription. Also, there is no limit to how many additional stations you can add.
A station begins playing as soon as you double-click on its name. Right-click on a station's name in the right column to mark it as a favorite or to delete it.
I like the very broad range of 30 genres. Even sports and news stations are part of the list. To my dismay, however, no genre for Country and Western music exists in Great Little Radio Player.
Truth be told, I am an avid C&W fan. I did find an occasional radio station that had scattered Country and Western songs in its play list, but I did not find a dedicated C&W station anywhere — until I added some, that is.
GUI Oddities
What's missing, however, is the ability to maximize the main window. You can hide it, but it does not show on the panel when minimized. You also cannot drag the borders to change the size of the app window on the screen.
Another peculiar behavior is evident when you use GLRP without a mouse. Scrolling through the list of genres is limited to what appears in the left column of the main window.
The arrow keys do not go beyond the displayed list. Even the page-up/page-down arrows failed to function inside the main app window. Once I plugged in a mouse, however, full scrolling was possible.
Nevertheless, the bottom line is that Great Little Radio Player is a very cool Internet radio streaming app. It is very easy to use — thanks in large part to its nonstandard user interface.