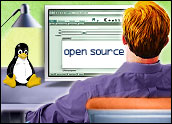 Grisoft recently released several new versions of its AVG antivirus software for GNU/Linux and FreeBSD open source platforms.
The latest upgrade adds more features to the existing support for GNU/Linux users and provides first-time support for FreeBSD users.
"This is a fairly solid upgrade, although it doesn't bring us to a full point higher version," Larry Bridwell, vice president of global security strategies at Grisoft, told LinuxInsider. The next major upgrade to Version 8 is due by the middle of next year, he added.
The improvements include new heuristics and scanners for nonreproductive code. "This is not just a Windows port to Linux," Bridwell said, explaining that the product enhancements include malware detection as well as antivirus support.
What's New
AVG File Server Edition 7.5 for Linux/FreeBSD offers antivirus protection of data stored on file servers in a heterogeneous environment, according to the company. This approach frees resources on the workstations and makes common computing tasks more efficient.
In addition, AVG security products for GNU/Linux and FreeBSD are compatible with older PCs and servers because of their minimal hardware requirements, such as an Intel Pentium 200 MHz processor running on 256 MB of system memory, the company said.
Preventative Action
Although the Linux operating system is not vulnerable tovirus andspyware infections, Linux-based servers, desktop and laptop computers can inadvertently forward infected files to Windows systems that are highly vulnerable, Marcel Gagne, a Linux consultant, told LinuxInsider.
"Running third-party security software on Linux computers makes for good neighbors," he said. Grisoft's Bridwell concurred about the need for preventative measures for added Linux security.
The Linux-based security products provide added benefits for companies with mixed platforms, explained Bridwell, noting that the Linux Server OS is used increasingly in enterprises and in environments that mix Linux- and Windows-based workstations.
"Small businesses are using alternative operating systems like GNU/Linux and FreeBSD for e-mail, Web and file server applications, along with Windows-based workstations," he said. "This allows for reduction in total cost of ownership. AVG for Linux and FreeBSD editions complement this strategy while making sure the heterogeneous environment remains secure without impacting the system resources."
Better Safeguards
The critical area of concern for Linux users is the gateway device, file servers and proxy servers, explained Bridwell. Ultimately, though, as the Linux OS becomes more popular, the chances increase that hackers might try to break it.
The ultimate goal of third-party Linux-based security software is to guard against the proof-of-concept security attacks that are out there, Bridwell concluded.
Availability and Price
Installation packages of new AVG products are available for FreeBSD and most Linux distributions, including Red Hat, Suse, Debian and Mandriva.
AVG Anti-Virus Professional Edition 7.5 for Linux/FreeBSD costs US$28.95 per user. A license of AVG Email Server Edition 7.5 for Linux/FreeBSD costs $530 and includes 50 e-mail accounts.
AVG File Server Edition 7.5 for Linux/FreeBSD costs $307 and includes 50 concurrent connections to the server.
All pricing comes with a two-year license and free technical support.