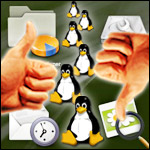 Music management programs for Linux often leave me wanting more — more flexibility, more file type options, more friendliness towards large song collections, etc. Guayadeque, on the other hand, is a music player that proves that less can be more.
Guayadeque is light on system resources but still manages to offer much more in the way of useful features. I have used a play list full of both lightweight and top-heavy music organizer apps including Amarok, Banshee, Rhythmbox, Clementine and Exaile. As my music collection and appetite for Internet radio grows, I find that most of these music playing and cataloging systems start to flutter with larger volumes of digitally stored music.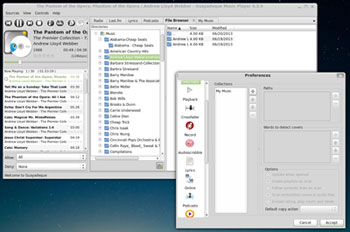 (click to enlarge)
Guayadeque is lesser known but equally capable of besting its competition.
Since I recently discovered the Guayadeque Music Player, it had to prove its mettle with the largest collection of music I have acquired to date. I have already come to appreciate its dependability and its flexibility.
Tropical Roots
Guayadeque has been a work-in-progress since August 2008. Its last update was April 13 of this year.
Though not important to how it performs, it is named after a ravine on the Canary Island in Gran Canaria.
Despite its exotic-sounding background, do not expect anything outlandish about its performance. That is, nothing out of the ordinary except an artfully designed music player that works well.
Melodious Interface
One of the first things that caught my eye with Guayadeque is its appearance, which is clean and yet easily customizable. All of the playback controls are in the upper left corner. Above this is a drop-down menu list for Sources, View, Controls and Help.
The list of songs queued for play appears in a column along the left side of the app window. Under it is a drop-down selection of tracks to allow or deny. The options are all/none, best-rated tracks, last-played track and recently added tracks.
Across the top right of the app window are a series of five tabs for selecting Radio, Last.fm, Lyrics, Podcasts, File browser and My Music. The viewing window under it changes to accommodate the type of listening choice you select.
Guayadeque's features and adjustments are intuitive. The community provides a detailed user manual, but if you are familiar with Linux music management software, instructions are not needed.
Fine-Tuning Possibilities
It is no doubt an obvious step to take with any new software package, but make the Preferences panel one of your first things to check out. Go to View/Preferences.
Guayadeque offers an impressive array of fine-tuning possibilities. This is one area that truly separates Guayadeque from the rest of the music-playing pack.
The options cover a large spectrum. For example, the left column of the Preferences panel includes General Settings, Collections, Playback, Crossfader, Record, Audioscrobble, Online, Lyrics, Podcasts, Jamendo, Magnatune, Links, Commands, Copy To and Shortcuts. Each one of these has numerous adjustments and options.
Advanced Features
Another feature that is very handy for high-level audiophiles is the ability to record into a playing track. You can even record when listening to radio streams. You can configure where the recordings are stored and pick the recording format and quality.
Guayadeque splits tracks when tags are received in the stream and names the files according to the tags. Guayadeque lets you delete tracks. This allows you to automatically delete the ads, among other content within a collection.
Another high-end feature is Audioscrobbler. This system is a database that tracks listening habits and uses the statistics to enhance your listening options. Guayadeque connects this database to Last.fm.
Configuring Crossfader is a sheer delight in Guayadeque. You can even place a quick-access icon at the bottom of the application window along with one to quickly enable/disable your Audioscrobbler account.
Controlling Features
Guayadeque supports a hefty assortment of file types. The list includes mp3, ogg, oga, flac, m4a, m4b, mp4, m4p, aac, ape, aif, mpc, wv, tta, and wav ande wma. This is much more extensive than I find in typical music players for Linux.
I like the configurable silence detector. This lets me eliminate listening to silence between tracks. I am a bit anal when it comes to tagging. With Guayadeque I can catalog my music using labels galore. I can put as many as I want on any track, artist or album entry in my music library listings.
Smart Play Mode adds tracks that fit my music taste using the tracks that are in my play list. This approximates the Instant Mix feature in Google Music Play.
The Random Play option provides another approach to automatically generating play lists along with the ability to blacklist particular tracks. Plus, I can download covers and lyrics manually or automatically.
Multiple Collections
I like the ability in Guayadeque to easily create multiple play lists. Do this from the Sources menu.
You can create separate collections for music stored in different places. Select the New Collection option under Sources.
That opens the Preferences Panel in the Collections option. From there you point to your music location and name it. You can also select the various options available and accept the choices.
Bottom Line
Guayadeque has an easy, uncluttered user interface that does not overpower you with features and options. Yet its light-handedness draws on fewer CPU cycles and does not restrict its ability to include useful features and scaled configurability.
The Guayadeque Music Player provides a pleasant listening experience. It even places a control icon on the desktop panel so that basic, commonly used playback controls are a mere right-click away from whatever else you are doing on the computer.
Want to Suggest a Linux Application for Review?
Is there a Linux software application you'd like to suggest for review? Something you love or would like to get to know?
Please send your ideas to me, and I'll consider them for a future Linux Picks and Pans column.
And use the Talkback feature below to add your comments!