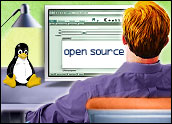 As revelers wish each other happy New Year this weekend, members of the open-source community will be reveling in events from the past year — a year that saw their movement make significant strides in strengthening its position on the technology landscape.
"This year we saw a lot of CIOs and a lot of big businesses signing off on open-source projects," Laura DiDio, a senior analyst with the Yankee Group in Boston, told LinuxInsider.
"We saw a lot more applications being written," she continued, "and we've seen a lot more acceptance on the part of the big companies like Dell and HP. So it's been a big year."
Ubuntu
It has indeed been a big year for open source with Linux distributor Red Hat's stock price zooming from around US$10 a share to nearly $30 a share; Sun Microsystems releasing almost all its software into the open-source wild; Motorola starting a big push behind Linux on mobile phones; Web browser Firefox cracking the 100 million download mark; and venture capitalists investing an estimated $400 million into open-source startups during the annum.
There were also some less seismic events with significant potential for open source.
Russell Nelson, vice president of the Open Source Initiative (OSI), a non-profit organization that certifies open-source software, points to the release of Ubuntu as an interesting development during the year.
Desktop Bridgehead?
The software is based on a version of Debian Linux. "What's nice about Ubuntu is that it's aimed at the desktop," Nelson asserted. "And right now, Ubuntu is the only company pushing strongly for Linux on the desktop."
"People feel that the desktop space is not profitable," he noted. "They feel it's a low margin business."
But if it doesn't have to be a low-margin business, Nelson reasoned, if it's sold for the corporate desktop.
"I really think 2006 is going to be the year of the Linux desktop," he predicted. "That's when people are going to start taking it seriously. You may not see too many installs, but you're going to start to see people thinking about it."
The Video Front
Open-source solutions also gained more acceptance during the year in the digital media arena, according to Mukul Krishna, a program manager with Frost & Sullivan in Palo Alto, Calif.
"H.264 was basically created through open-source development, and most people are evangelizing that as the next big video codec," he told LinuxInsider. "It's gaining popularity and is thought to be a popular successor to MPEG2.
H.264 is the technology used by Apple for video content sold through its iTunes store for its new iPods. MPEG2 is used to encode movies on commerical DVDs.
"There's a religious war out there right now," he said. "People are asking, should they go with something open or go with something more proprietary, something on the Windows media platform."
Threat to Microsoft
He explained that the reasons driving open-source solutions in the digital media arena are the same as those driving the movement since its inception: desire to avoid licensing fees for proprietary products and, once purchased, lock-in to those products.
Beyond digital media, Krishna sees the open-source movement becoming a formidable challenger to proprietary shops like Microsoft.
"Open source is not a huge threat right now, but it's becoming a thorn in the back for proprietary systems," he said. "In another five years, you will see open source being a very, very big threat to people like Microsoft."
Nelson, of the OSI, sees Microsoft continuing to lose market share to open-source solutions.
"There's no doubt Microsoft will continue to be a dominant player in the market, but there's no question that open source is creeping up on its tail," he declared.