Keeping track of personal and business finances is one of the most essential tasks I do daily on my computer besides researching and writing about the Linux platform. Lately I am assigning much more of that task to HomeBank to keep my banking transactions in order.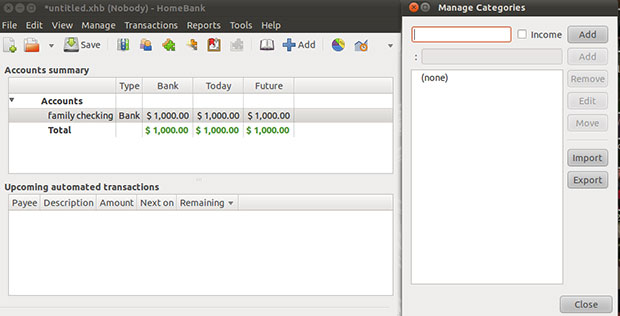 HomeBank
Do not confuse this personal accounting system with a banking institution of the same name, based in Martinsville, Ind. HomeBank, the Linux app, dates back to the 1995 Amiga computers. HomeBank, the banking community, has evolved since 1885 and has no connection beyond its name to the open source personal accounts manager, which is available in 50 languages on the GNU/Linux, FreeBSD, Microsoft Windows, MacOSX platforms. It is based on GTK2.
I mentioned the HomeBank app last year in a quick comparison of personal finance tools for Linux. Since then, I have expanded my familiarity with the HomeBank package. It is a much better solution for personal finance management than the Linux leading GNUCash and Skrooge. It also competes with KMyMoney and Grisbi.
What makes HomeBank a more-preferred app for me? It is not bogged down in the double-entry accounting procedures that GNUCash uses. Thus, HomeBank's learning curve is much less steep. It also offers a bevy of transaction filters, graphs and reporting tools to help me more easily analyze my finances in detail. Skrooge is a prettier app to use. But it lacks a lot of the reporting finesse available in Homebank's Feb. 24 release of version 4.4.
Not Perfect
I would rave more loudly about HomeBank if it had an easier setup routine. The process takes time to configure the accounts — double the time involved if you use it to manage multiple accounts involving both income and expenses.
The setup issue is much like the proverbial glass being half empty or half full. HomeBank is very adaptable to individual needs. But it takes time to tweak it your way. The program lacks the ability to completely import banking records from other program exports. It also is devoid of pick-and-choose menuing options to populate account with transaction categories. You have to do these tasks manually.
HomeBank also cannot connect update banking records in real time. I can live without the ability to access my banking transactions from within the program. That weakness, though, could be a deal-killer for you.
This also means that you cannot use HomeBank to directly schedule monthly bill payments. But online banking via a bank's website is an acceptable alternative that I prefer.
Good Stuff
Despite its awkward setup routine, HomeBank has numerous benefits. For example, it is easy to get and install without the hassles of manual installation. You can find packages in the leading distro repositories. These include Fedora, Mandriva, openSUSE and Ubuntu.
Its small footprint makes its the default choice in memory-resident distros such as Puppy Linux. This is a big deal for me. I dual boot into both Ubuntu and Puppy Linux on my full range of desktop, laptop and netbook computers. But so far, I haven't found a HomeBank version for my Android-based tablet.
Unlike other accountant-strength banking apps, using HomeBank is a lot like keeping a ledger. This banking tool does not dwell in the realm of accounting techie talk. Instead, it is easy to enter money you spend and track money you deposit.
The numerous features in HomeBank let me stop tracking in a spreadsheet my business income sources. The flexibility in creating categories and reports lets me do that money managing in HomeBank.
Using It
HomeBank is based on two key bookkeeping concepts. Under the Accounts portion of HomeBank, you enter transactions resulting from savings and checking activities. The second concept is transaction tracking. Each withdrawal and deposit event creates a tracking ledger record of sorts.
This is where the laborious setup process pays off. You have to create a list of people and companies that send you money and that get your payments. You can skip some of the specific payee details. But then you get less of an overview of your financial picture.
Details you will not want to ignore include categories that describe each transaction you enter. For example, you can manage recurring transactions, like those dreaded monthly bills, by listing them as an archived item for payment at a specified time. Do this through the Edit / Archives menu. This archive feature also doubles as transaction templates. For instance, create a new transaction and automatically fill out the necessary fields by selecting an appropriate archive.
Data Done
HomeBank saves your data in a wallet file. This is a two-step process. In step one you create a new wallet with File/New and then fill it with accounts, payees and categories.
You can also add some optional details, much like a properties panel for a file. But doing so just adds to the setup overhead.
In step two you add accounts with Edit / Accounts and press the Add button. Then enter a descriptive name and the account number and the bank's name.
You can make this portion part of the program's budget analysis function by clicking the check box. Do not forget to enter the account's balance. A neat feature lets you add an authorized overdraft amount the program can monitor. Do this for each bank account you want to manager.
Follow a similar process to add payees with Edit / Payees and the Add button. Choose the categories and create subcategories that fit your spending patterns. You can make categories for various income sources. Just check the Income box.
Budget Watchdog
I especially like HomeBank's budget-watching capability. Using the Edit / Budget menu option, I can list my budget for various categories. I can set spending limits for a full year or monitor my spending monthly.
Another nifty feature in HomeBank is its ability to handle reporting and charting capabilities. For instance, I can easily take reports about my financial statistics, budget and overdrawn status. This is quick and simple. Select the Reports menu or press the appropriate button in the main toolbar.
The Statistics Report breaks down my transactions by category and type. It also filters my transactions by specific criteria as well as shows them as a bar or pie chart.
The Budget report shows me a bar chart overview of my budget. I can also narrow the results to a specific period of time. The Overdrawn Report analyzes my balance during a set time span as a line chart.
A special Car Costs feature is available. But it takes more manual set up to use. The advantage is an added tool to analyze car-specific costs and fuel consumption.
Bottom Line
HomeBank is well worth the time you spend configuring the account details. Its interface is starkly simple. Yet it provides a powerhouse of reporting and monitoring options.
The main drawback is its limited import and export capability. For instance, it can import data only in OFX/QFX/CSV formats. Exports are limited to the QIF format. Another limitation is only being able to export payees and categories but not full accounts. This makes switching from one financial app to another a bit cumbersome.