The Solus Project version 1.2, released last month, shows considerable maturity in the homegrown Budgie desktop.
Solus 1.2 is the second minor release in the Shannon series, built around a custom Budgie desktop developed in-house and the eopkg package manager forked from PiSi. Solus is a Linux distribution built from scratch.
The Budgie desktop can be set to emulate the look and feel of the GNOME 2 desktop, but it is a different flavor from the GNOME 2-0 retread, MATE. It is tightly integrated with the GNOME stack.
This is the latest stable version since the developer last year began rebuilding the distro after a few branding disputes with other Linux communities. That lead to a series of branding changes from Solus OS to Evolve OS to the current Solus Project distro.
I reviewed this rebranded distro last July. That initial release had a completely different Linux underbelly. Solus OS was based on Debian Linux. The change to Evolve OS brought a complete rebuild, leaving the Debian lineage behind.
The third redirection as the Solus Project changed direction from where Evolve stopped. The Shannon series is not a complete porting of the old Evolve. The built-from-scratch Budgie desktop remains and has grown considerably. Much of the guts of the distro otherwise have been gutted.
Solus is available for 64-bit (x86_64) computers only, largely because the distro targets more current computer architecture to run its optimized software inventory. That is in line with one of the developer's goals: to lay the framework for a high-performance gaming experience.
Solus 1.2 builds upon the groundwork of 1.0 and 1.1. I was pleased to find many improvements to the Budgie desktop. However, a few key features are still missing.
Budgie's increased maturity is thanks to numerous bug fixes, icon and GTK switches in CSS themes, and a heightened focus on tuning software to run on Budgie.
Better Budgie Performance
Budgie has grown from its inception in Solus OS through Evolve OS. Designed with the modern user in mind, Budgie focuses on simplicity and elegance. It has a plain and clean style, and is easy to use.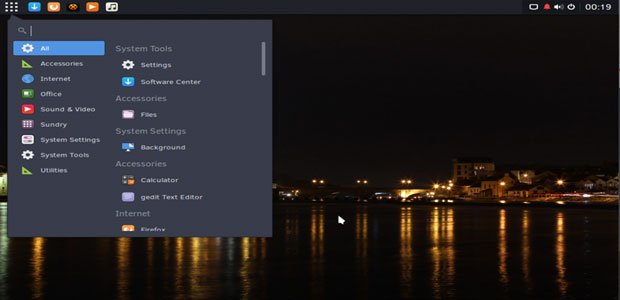 Solus 1.2 offers a simplified panel anduser-friendly desktopenvironment.
A huge advantage for the Budgie desktop is that it is not a fork of another project. It is designed for easy integration into other distros and is an open source project in its own right. The Budgie desktop environment offers an intuitive menu that enables quick access to your installed programs, offering both category and compact views.
It controls the GTK and icon theming. It makes it easy to add, remove and modify Budgie panels along with their properties and displayed applets. It also gives you quick access to system settings and power options such as restart, suspend and shutdown.
The heart of adjusting the desktop in Solus is Raven, an applet, notification and customization center. It is the key to controlling the user experience through easy customizations. Within the Raven applet, you can change widget, icon and cursor themes. You can show desktop icons with a single click and tweak a variety of system fonts.
With the Panel settings section, you can choose placement of the panel and its inner applets. You also gain granular control over individual applet settings.
Building Better Gaming
Solus 1.2 ups the Linux gaming experience. It includes multilib packages and adds its own native, optimized runtime as an alternative to Steam's prepackaged and unoptimized code.
Linux Steam Integration — an open source tool developed in-house — makes it easy to switch between the native and prepackaged Steam runtime. It also forces 32-bit mode for Steam.
As a result, the widest variety of Linux games are available for use in Solus. This release also includes support for a variety of gaming devices, including the Steam and DualShock controllers.
Software Optimizations
Solus 1.2 delivers a large set of targeted software optimizations that leverage work done by the Clear Linux Project for Intel Architecture. Solus targets modern personal computing devices and the x86_64 architecture. That allows bolder optimizations on software than other tier-one operating systems can provide.
The installed collection of software is a bit skimpy — there's no office suite in the default software. Users can select from a large assortment of titles from the Solus Software Center, but options are limited to that repository. Universal software strongholds such as the Synaptic Package Manager are not supported in Solus.
The Software Center in Solus 1.2 has new code for more efficient use and performance. It enables the installation of supported third-party software from within the Software Center, which avoids having to drop down to a terminal for the installation of applications like Chrome. Even the base installation of Solus 1.2 is easier with the improvements made to the Installer.
Solus 1.2 ships with numerous applications to enhance its desktop experience. It includes Firefox 47, Nautilus 3.18.5, Rhythmbox 3.3.1, Thunderbird 45.1.0 and Vic 2.2.4. It also has Gstreamer media libraries; a multitude of system utilized fonts, such as Clear Sans and Hack; and the Breeze Snow cursor theme. The distro leverages the GTK 3.18 stack.
Solus 1.2 is UEFI-enabled via goofiboot — a distribution-agnostic fork of gummiboot — to ensure a wider variety of modern hardware is capable of using Solus.
Solus ships with the Long Term Support version of the Linux kernel, 4.4.13.
Design and User Experience
The Budget design is similar to the look and feel of the Android OS' material design. For instance, the application menu has no cascading views. It sports a white background. The text is light gray. The application names are dark, and they stand alongside very minimal one-color small flat icons. The design of the application windows follows this same approach.
I dislike two critical shortcomings in the Budgie desktop. Both of them stem from Solus' goal of simplifying the desktop environment. This aspect of Solus is a classic example of how oversimplifying some things creates a loss of functionality in others.
For example, you can not resize or minimize windows. Every window opens to a standard size. That makes it impossible to rearrange multiple windows on the screen.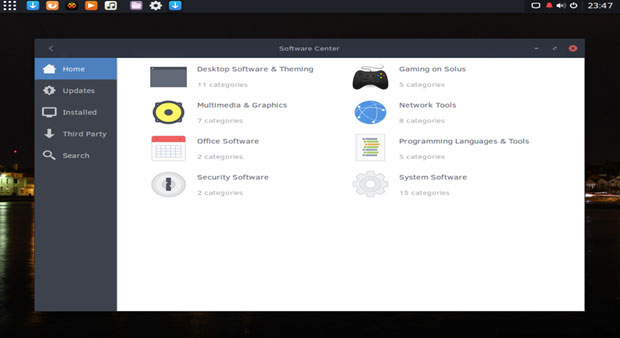 The Budgie desktop limits window size optionsto full-screen orone-size-fits-all. No resizing or minimizing exists.
Clicking the minimize icon seems to have the same effect as clicking the close or X icon. Minimizing the window makes it disappear. It does not have a placeholder on the panel, so you have to go to the menu to reopen it.
The other problem with Budgie is the lack of any virtual workspaces, which results in an Android-like user experience and limits the overall functionality.
Bottom Line
The Budgie desktop — and thus Solus itself — lacks the glitz and glitter found in more seasoned desktop environments. Animation is nonexistent. It also lacks any right-click menu finesse other than the ability to change background or settings.
The Solus Project's distro is very user-friendly, but experienced Linux users will need more optimized software and desktop functionality in the next release to be tempted to give up more advanced desktop flavors.
Want to Suggest a Review?
Is there a Linux software application or distro you'd like to suggest for review? Something you love or would like to get to know?
Please email your ideas to me, and I'll consider them for a future Linux Picks and Pans column.
And use the Talkback feature below to add your comments!