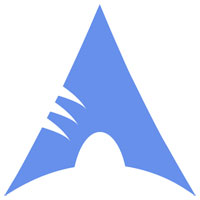 Newcomer ArchMerge Linux offers a big change for the better to those switching from the Debian Linux lineage to the Arch Linux infrastructure.
ArchMerge Linux is a recent spinoff of ArchLabs Linux. I recently reviewed Archlabs and found it to be a step up from most Arch Linux offerings in terms of installation and usability. Arch Linux distros, in general, are notorious for their challenging installation and software management processes.
ArchMerge Linux brings a few extra ingredients that make trying it well worth your while if you want to consider migrating to the Arch Linux platform. Still, no Arch Linux distro is a suitable starting point for Linux newcomers. That reality does not change with ArchMerge, although it helps ease the process considerably for those who are ready for it.
Anyone who wants to upgrade to the Arch Linux family likely will have a much less frustrating experience with ArchMerge. This distro's development team split with the Archlabs community, and last month released a forked version that runs a choice of Openbox, Xfce or i3 desktops.
Developer Erik Dubois designed the new distro as part of a platform to help users learn how to use Linux in general and Arch Linux in particular. He has provided a series of learning steps that enable new users to gain proficiency and comfort using Arch Linux.The goal of ArchMerge Linux is to make the distro more than just an Arch-based distro.
Choices Within Choices
That learning scheme is built around a two-part choice of downloads. ArchMerge is the logical starting point. It is somewhat of a rarity in that it offers a fully functional live session that lets you try it out without installing anything.
The ArchMerge ISO gets you the default Xfce desktop. You must work your way through the learning materials to discover how to install the Openbox and I3 choices.
Most Arch Linux options merely let you burn the downloaded ISO file to DVD to use as an installation medium. They usually do not boot your computer into a standalone demo mode.
Download the ArchMergeD ISO file to get he bare-bones installation to begin building your own custom-made Arch computing platform. The developer set up two distinct websites — Archmerge and Archmerged. You can download both versions from Sourceforge.
Differences Defined
ArchMerge is a complete desktop computing system with themes and numerous Conky options for the desktop display and icons. The 2-GB ISO provides an Arch core with video, network, display manager, desktop environments and lots of installed applications.
About the only thing you have to do with ArchMerge is select your wallpaper. That is a very big improvement over the installation process most other Arch Linux distros require. Often, you need command line skills to set up each of those components from the installation medium.
ArchMergeD, on the other hand, is a minimal installation without themes and desktop environment. The 1-GB ISO provides the Arch core with video and network support but nothing more.
So the ArcdhMergeD option needs considerably more hands-on skills to complete the installation. It is a platform for learning about Arch Linux and building your own system on the Arch base.
Philosophical Shift
Comparing the ArchLabs and ArchMerge distros makes it easier to guess what may have led to the rift between developers. I see a lot of similarities between ArchMerge and Manjaro. ArchLabs runs the Openbox desktop by default and imitates the defunct Crunchbank distro with an Arch environment.
With ArchMerge, the focus is on learning the Arch procedures. With ArchLabs, the push is for a more sane installation routine within the Arch style. That difference instantly is apparent with ArchMerge's implementation of the desktops.
I would have preferred separate ISO downloads so I could select the desktop of my choice in ArchMerge: Xfce, Openbox or I3. Until you learn how to handle Arch, what you get by default is Xfce4.
Perhaps the developer eventually will provide the scripts to at least semi-automate the process of changing desktop environments. After all, scripts and command lines are part and parcel with managing Arch Linux distros.
ArchMerge avoids the Arch debacle by giving the user a fully functioning system when the installation is complete. The developer goes above and beyond in providing user guides and instructional videos.
Think of ArchMerge as a building block to learn about the technical side of the Arch Linux family. That is where ArchmergeD comes into play. It gives you a core-only platform upon which you learn and apply the basics.
Software Sufficiency
Another directional change with ArchMerge is its well-stocked supply of installed applications. Arch distros tend to start off with bare-bones software by design. ArchLab Linux is much more a minimal design reinforced with the lightweight Openbox desktop.
ArchMerge, with its much heftier feature base provided by the Xfce4 desktop, goes against the typical Arch grain by including lots of software and user-friendly learning pages to get you started.
---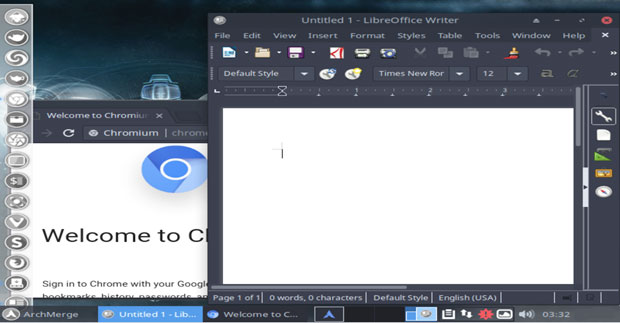 A solid collection of preinstalled software that ArchMerge Linux offers is a bonus feature not found in most Arch Linux distros.
---
This is actually a benefit not typically found in Arch bare-bones installations. With Arch, the goal is to start out with just core components and then build the software supply your way.
That is where many of the difficulties in learning to use Arch distros arise. The user may lack familiarity with application names and system processes, so the learning curve is very steep.
Look and Feel
The ArchMerge screen displays an efficient interface that is very configurable, thanks to the Qt4 tools and system settings options. Across the bottom lies a panel with a virtual workplace switcher already active. The main menu button sits in the left corner. The notification area and several applets grace the right end of the panel.
The combination of bottom panel and side dock/favorites bar makes using ArchMerge delightful. A vertical dock bar rests along the left edge of the screen. The icons grow in size as you fan the mouse pointer along the dock.
---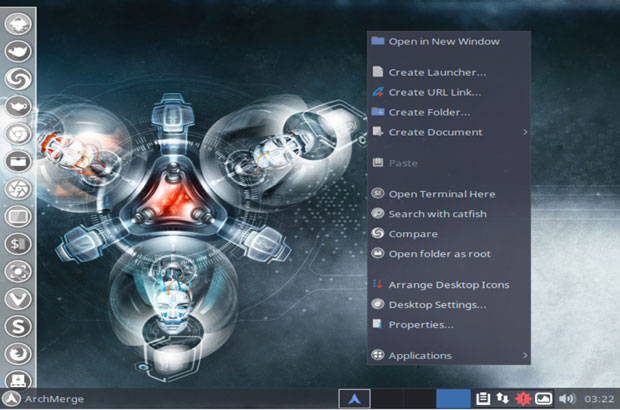 ArchMerge combines the bottom panel and side dock/favorites bar with the popup actions menu.
---
Right-click on a main menu item to add an application icon to the dock, the desktop or the panel. Right-click anywhere on the desktop to access an actions menu pop-up display.
I was pleased with the collection of installed applications. Some key titles are ready out of the box. You get three Web browsers: Chromium, Firefox (although not yet the Quantum release) and Vivaldi.
The LibreOffice suite is included, along with a very nice set of graphics and multimedia standard apps. Even my favorite IDE text editor, Geany, is bundled. Nearly every one of the specialty tools I use for audio and video file creation and productivity come preinstalled in ArchMerge.
Bottom Line
ArchMerge is a rolling release distribution. It easily installs with the Calamaries installer.
Arch Linux distros are not ideal starting points for new adopters, but some Arch variants are more user-friendly and less frustrating than most members of the Arch Linux family. ArchMerge Linux is one such distro that is worth checking out.
Remember, though, the real value of using ArchMerge and ArcdhMergeD is in the learning platform they provide to expand your Linux skills and move toward mastering the challenges of Arch Linux.
Want to Suggest a Review?
Is there a Linux software application or distro you'd like to suggest for review? Something you love or would like to get to know?
Please email your ideas to me, and I'll consider them for a future Linux Picks and Pans column.
And use the Reader Comments feature below to provide your input!