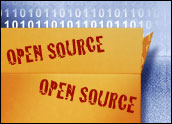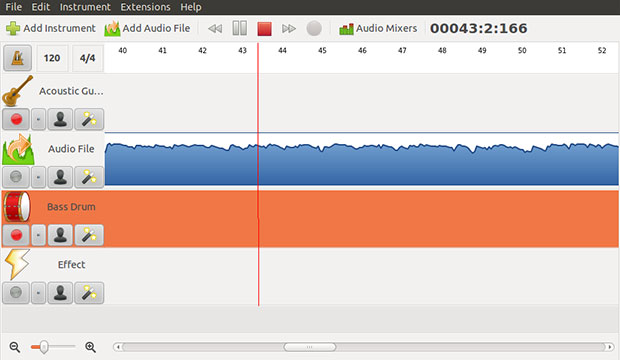 Jokosher
Jokosher is an audio editing application that gets the job done without an overly stuffed toolset. It lags behind other professional-strength audio editing packages available on the Linux platform. But what it lacks will not be missed by audiophile tinkerers and musicians who want to handle their own sound-mixing chores without a studio.
That said, Jokosher is a powerful, easy-to-use multi-track audio editor. It is one of the more popular choices among a list of options that includes Audacity, EnergyXT and Hydrogen. Jokosher is often paired as a solid Linux alternative to the Mac-only Garageband.
Jokosher is a good candidate for your do-everything audio tool. It is handy for both creating and recording music. You can use it to create podcasts, audio recording and editing, plus sound mixing and exporting audio.
The Good
Jokosher offers a solid list of features. Chief among its best assets is the interface.
For example, the design has musicians in mind, so the terminology in the menus has a familiar ring. Of course, non-musicians might have to come up to speed with musicology phrases to reach a comfort zone with Jokosher.
I'm handy when it comes to editing words and images. But tweaking audio files or creating sound tracks from scratch is not my strong suit. So I was very pleased with Jokosher's simple setup.
I found it very easy to apply editing tasks. Splitting tracks and trimming audio content worked well even in my initial attempts. Much of that credit goes to the interface's reliance on sliders for volume mixing and awesome wand-moving tools.
The Bad
The features that Jokosher lacks are what high-end users will really notice. For instance, Jokosher does not have the ability to do amplitude envelope editing or loop editing.
It also lacks an installed library of virtual instruments. However, you can add a range of instruments manually. The Extensions menu simplifies this process a bit. You can use the search Freesound to add sounds. Note: Freesound is a source of Creative Commons-licensed sounds, not songs.
Other should-have high-end options not included are Cut/Copy/Paste and the ability to fade into sound. Also missing is the ability to perform MIDI editing and mixing.
Starting It
If you know how to use Audacity, you will find Jokosher very similar but with a better interface. Jokosher needs very little setup. Its intuitive design is conducive to hands-on learning.
When the application loads, the welcome window offers options to open a saved project or create a new one. Recent projects are listed on the left of the window. A browsing button is available on the right side.
You can check the "Don't show" box on the bottom of the window to bypass this start-up display. In the Preference panel you can choose instead to open the most recent project or not open anything. Other options include selecting the desired recording and sound formats.
Using It
Selecting a new project opens a dialog box asking for a project name, storage folder and creator's name. The resulting workspace is a blank window.
Drop-down menus provide access to File, Edit, Instrument, Extensions and Help. A tool bar row makes it quick to add instruments audio files, and audio mixer controls to the project's display. Audio play controls complete the tool bar row.
Keep in mind that Jokosher's purpose is not to pre-bundle sound clips and musical samples. You have to provide the actual audio content. So novice users might be confused with the Add Instrument and Add Effect functionality.
For example, the program creates an instrument element much like a space holder in a graphic editing application. These tracks can be an existing audio file or be an instrument. But you still must record the track into Jokosher. Jokosher's instrument files just specify a label and an icon for the instrument.
Making and Editing
After you have added the various instruments to the display window, you can begin the recording session. Then the fun really starts as you apply a bevy of tweaks using Jokosher's sound filters and other tools,
This process is necessary for each instrument added. So you must repeat this process until all the added instruments are recorded.
Creating your sound file and editing an existing song or sound file are two separate functions within Jokosher. You can open an existing file and add or edit audio elements.
On the time line start editing by double-clicking to add split points. This opens the track between two split points so you can copy, move, or delete content. Similarly, you can can add new musical elements,
Mixing Maven
Once you arm an added instrument and click the record button, you can click the Audio Mixers button in the tool bar to access the sliders to control the mixing functions.
During the mixing process, you can work the volume of an audio channel. The controls let you raise or lower individual volume levels on each instrument's track.
Also, you can set the master volume of the recording. You can place an audio clip in the left or right channel. You can also spread it over both to vary degrees of emphasis.
The Extensions list has a few very useful options. For example, you can select Minimal Mode to reduce the interface to a floating tool bar that hides everything else. This floating element has buttons for Stop, Play, Record, Show and Close. It also displays the running time in minutes and seconds of the open audio file.
Bottom Line
Jokosher is an advanced, multi-track audio editing system. Typical users, though, will appreciate the ability to import and export the most popular audio formats — Ogg Vorbis, MP3, FLAC, WAV and GStreamer-supported extensions.
It is a very good tool for both novices and experienced audiophiles. Musicians with their own collection of musical instruments will like the ability to create and mix sounds with ease.