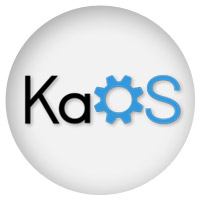 KaOS is an interesting and very efficient Linux distribution built around a refined KDE desktop environment. The KDE integration is much more controlled in KaOS than in other Linux choices. The latest release for this 14-month young Linux distro came in late June.
KaOS is a bit of a rarity. It is independent of other distros — not a direct relative of other Linux offshoots.
That means it does not rely on repositories developed and maintained by larger Linux communities the likes of Ubuntu, Red Hat or Arch. However, it was influenced by Arch Linux.
KaOS uses its own community-built packages, though. The developers maintain the community's own in-house repositories.
It is built around a strictly enforced focus: the best software that runs on Qt. This gives KaOS a characteristic that is not found in other KDE offerings.
Taming the Chaos
The KaOS Linux distro bills itself as a lean KDE distribution. It is built from scratch with the idea of creating a tightly integrated rolling and transparent distribution for the modern desktop.
The focus on one desktop, KDE, with one toolkit (Qt), and just one architecture (x86_64) helps the developers deliver a tightly knit distro, making sure only the most suitable computing tools and applications for this self-imposed technical limitation are bundled by default.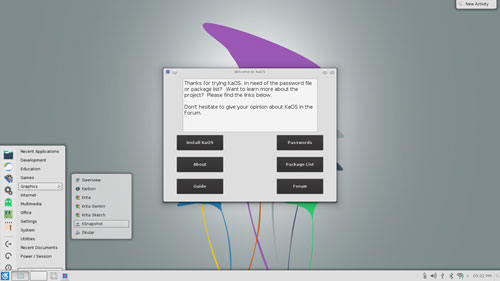 The KaOS desktop is a very traditional KDE design. The Welcomewindow offers some very useful information for new users.(click to enlarge)
The goal is to satisfy users who have become fatigued with trying numerous Linux concoctions and many desktop environments. KaOS targets users who want a Linux distro that targets all of its resources toward working in one environment.
Don't all KDE distros have that goal? Not with the same degree of application selection and performance-tweaking, according to the KaOS crew.
Under the Hood
The 2014.06 ISO is a major update, involving some 1,100 packages. They include openssl-1.0.1.h and the Linux kernel 3.14.6 with the futex bug fix. This release switches to Amarok 2.8.0 as default music player/manager and moves to gstreamer 1.0.
Other updates are gcc 4.8.3, mesa 10.2.1, bash 4.3.018, poppler 0.26.1 and ffmpeg 2.2.3. This ISO is a first that presents XFS as the default filesystem option for KaOS.
KaOS relies on a rolling release distribution, so this latest ISO is a snapshot of the current status of the repositories.
Ongoing updates through the package management system keep the installed version of KaOS up to date as the current release.
The ISO ships with KDE 4.13.2, Linux 3.14.6, Systemd 212, Kmod 17 and Networkmanager 0.9.8.10. Also included is Plasma-nm 0.9.3.3, Xorg-server 1.15.1, Mesa 10.2.1, Glibc 2.19 and GCC 4.8.3, non-free Nvidia 337.25.
Out of the Box
The default packages are not particularly surprising for a select KDE environment. They favor software applications that use the Qt toolkit.
For instance, Calligra 2.8.3 is the default office suite, but the choice of default Web browser did cause me to scratch my head. The default Web browser is Qt-based Qupzilla 1.7.0.
It works fine, but it lacks many of the services and conveniences of other more mainstream options. This is one application that might be replaced with a different user preference.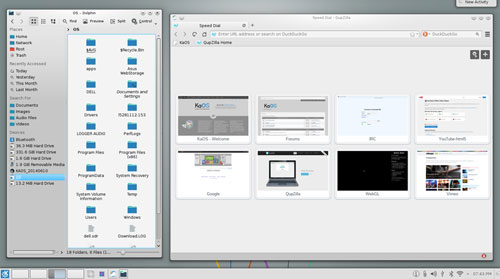 KaOS uses the default KDE Dolphin File Manager. But itsdefault Web browser, Qt-based Qupzilla, lacks finesse. (click to enlarge)
When it comes to running gtk apps, the repository has a handy supply. For example, I found Firefox, Chrome, Thunderbird, Ardour and many more well-known non-Qt titles. All are available in their latest versions.
More Qt Stuff
KaOS is preloaded with proprietary multimedia codecs. Clementine 1.2.1 is the audio manager, and Dragon Player 2.0 is the default multimedia player.
K3b 4.12.1 is the optical disc manager, and Kdenlive 4.12.1 is the non-linear video editor. Other media tools include a YouTube viewer, a tool to test any attached video-capturing devices, Kmix volume mixer and FFmpeg.
Also prepackaged are the default download accelerator KGet 2.12.1, KDE Telepathy 0.7.1 (an instant messenger) and the Bluedevil Bluetooth connection manager.
KaOS has Gwenview 4.12.1 as its default image manager. Okular 0.8.1 is the document viewer, and Qt-based Flickr viewer is included.
Adobe Flash plug-in is not included by default, but you can install it using Octopi or can simply enter the command in the Pacman terminal window: sudo pacman -S flashplugin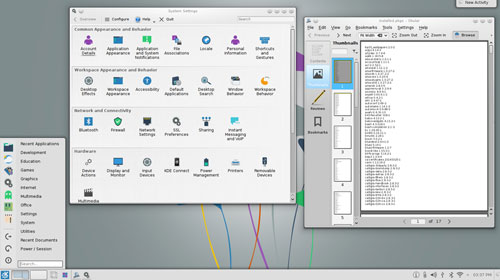 The KaOS distro is a bit shy on two years of development. ItsKDE integration is built around default Qt applications. (click to enlarge)
Limited Repositories
In keeping with the best-fit-only policy, the KaOS community deliberately keeps this distro's software stores limited. The current inventory is about 2,000 packages. The size will not grow beyond 2,200 packages.
KaOS uses Pacman 4.1.2 as the package manager, with Octopi 0.4.0 as graphical front end. This is a good combination, as it's simple and effortless to add or remove software.
New users install KaOS once from a distribution ISO file. Existing users do not need to reinstall for subsequent ISO releases. Instead, just open the Pacman terminal and issue the command: sudo pacman -Syu
Repository Layout
The repository KaOS uses consists of three groups: Core, Main and Apps. Before any repository content is passed on to users, it resides in the Build group section of the KaOS repository.
The Build group is the starting point for all packages. It is where all packages are vetted before moving to their respective repository group. The Apps group holds all the applications package users see.
The Core group has the base packages needed for a system to boot-up, communicate with the BIOS, connect most hardware, and set basic shell options. The Main group holds all the needed libraries, extra drivers and firmware to make the desktop and applications function.
Hardware Threshold
KaOS runs on a substantial number of hardware combinations, but it barely performs the closer to its baseline requirements you get.
For example, I tested it on a quad-core processor running 6 GB of RAM and on a dual-core processor powered by 8 GB of RAM. Both performed well. However, it really chugged along with lots of screen catch-up delays when I tested it on two older boxes running slower chips with a meager 1 GB of RAM.
No issues occurred with wireless drivers or graphics on any of the hardware I tested. The poor performance was strictly the result of trying to compensate for too little computing power.
At a minimum, KaOS needs at least 8 GB of hard-drive space. That said, 25 GB is recommended as minimal. KaOS will install with 1.5 GB of RAM available. It runs much better, though, with 2 GB of RAM.
Obviously, you need a 64-bit capable CPU. This distro supports only x86_64 packages.
Bottom Line
The KaOS distro is attractive to two types of users. One is already flustered with poor user experiences with other Linux distros. The other is looking for a better and more controlled KDE desktop environment.
Installation is fairly simple. You can burn the ISO to a DVD or bootable USB disc. However, if you choose the USB option, KaOS' ISOs do not support unetbootin. Use dd instead.
One slight issue could impact the DVD burn. The developers advise that KaOS will not support a DVD burn speed higher than 4x. I burned at 6x using Brasero and had no trouble running the live session or installing from it.
Want to Suggest a Review?
Is there a Linux software application or distro you'd like to suggest for review? Something you love or would like to get to know?
Please email your ideas to me, and I'll consider them for a future Linux Picks and Pans column.
And use the Talkback feature below to add your comments!