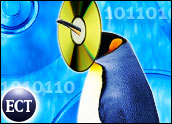 The open source KDE Community has turned loose the first release candidate for KDE 4.0 Desktop, the next generation of the KDE Linux/Unix desktop application.
The release candidate comes after four betas, one more than the community originally intended, but it means that the majority of the components are approaching official release quality. Key components include a browser called "Konqueror," a personal information management suite called "Kontact" and a full office suite called "KOffice."
Hands Full
"We're pretty excited about finally getting it out the door," Wade Olson, the North American spokesperson for KDE, told LinuxInsider. "It's been in development for a couple of years now — it's been difficult to do the maintenance on the 3.5 series and work on 4.0 as well."
Even though the final bits of Plasma, the brand new desktop shell and panel in KDE 4, are falling into place, the KDE community says it decided to publish a first release candidate for the KDE 4.0 Desktop. At the same time, the KDE team has also released the final version of the KDE Development Platform, which provides the needed libraries and applications the KDE Desktop is based on. The KDE Development Platform provides the basis for developing KDE applications, and it's now frozen.
Bug Hunt Continues
KDE said the majority of applications included in KDE 4.0 are now usable for day-to-day use, but the KDE Release Team is still looking for the user community to report bugs during the time remaining before the impending official release of KDE 4.0.
For those interested, KDE recommends users have a current snapshot of the code base handy so the team doesn't have to hunt down bugs that have already been fixed.
"The worry is that everyone expects so much of 4.0, that it's going to be a finished product and never touched again, but we've been preaching from the get-go that it's the starting line," Olson explained. "It's a new set of technologies — a new foundation, a new set of libraries that will allow us to grow it over the next couple of years," he added.
The official release of 4.0 will help jump start application development for the OS, Olson noted. "When you have an official release, people take it seriously, and the community will start using it."
The final release date is still a bit up in the air, but KDE is shooting for late December and is planning for a launch event in Mountain View, Calif., in January.