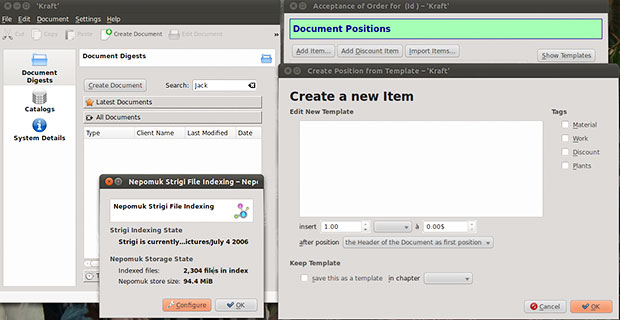 Kraft
Operating a small business or home office is always fraught with tasks based on creating and maintaining office documents. Often, entrepreneurs are stuck using different apps to handle each phase of record-keeping and pricing business proposals for each customer. Why stretch those tasks over multiple business apps when Kraft can do it all in one package?
Kraft lets you create, customize and manage your business correspondence and planning. It uses a MySQL back end and helps you calculate the cost of doing business with clients.
Among its features are customer management using the KDE environment and KDE address book, automated creation of offers, invoices and similar documents, and configurable report generation in PDF format. But don't let the KDE desktop deter you from considering Kraft if you run the GNOME desktop. Kraft integrates seamlessly.
Setup Sails
Kraft avoids one of my key irritations with using some open source apps. It is populated into the package management systems of some of the popular business Linux distros. So installing from archived downloads or compiling binary files is not necessary in typical cases.
Even so, I found binary packages readily available for Ubuntu, Fedora, OpenSuse, Suse Enterprise Linux and Debian. I use The Ubuntu version 10.10 and Puppy Linux 5.2.2 on my multiple computers. Ubuntu handled the installation without any difficulties from the Ubuntu Software Center. My Puppy Linux (Lucid Puppy) accepts many of the Ubuntu packages. Its package manager checks for missing dependencies and grabs them from its repository.
The Puppy installation went fairly well. I downloaded the kraft_0.32_i386.deb package and added the libctemplate-dev_0.93-1_i386.deb and libctemplate0_0.93-1_i386.deb packages needed to complete the dependencies. The only other missing package needed was for Puppy Linux was libqt3-mt-mysql. This last piece of the download puzzle is needed to allow Kraft to connect to your MySQL database created on the hard drive.
My Ubuntu distros required nothing special for installation. I only had to do some minor tweaking to get everything working in Puppy Linux. All things considered, Kraft was relatively easy to download and install.
Setup Simplicity
I was a bit concerned about setting up Kraft. Anything SQL-related for me is a tad intimidating. But my worries were misplaced. Kraft handled the initial configuration on the first run.
The documentation directs some terminal window finger dancing. For instance, it offers these required commands to create the database:
mysql -u root -p
Hit the Enter key and then type quit and hit the Enter key to exit the MySQL prompt.
But I did not have to do any of that. Kraft walked me through the process when I opened the program the first time. For example, Kraft popped up dialog boxes that guided me through creating a default database. It gave me the option of creating a name or accepting the defaults.
My advice? Just keep clicking the next button for the default SQ Lite database setup at every prompt.
Interface Integration
Running Kraft, a KDE app, on the GNOME desktop had the typical look and feel I expected. The KDE interface uses the standard basic menu and tool bar rows across the top of the application window. It also displayed the expected panel on the left edge.
The drop-down Document and Settings menus provide access to basic functions. The panel holds quick access to Document Digests, Catalogs and System Details. It is here that the business craftiness of Kraft is really evident.
Clicking the Document Digests icon changes the main window display. It presents a Create Document button, a search window and a Latest Documents display that lists the Type of document, Client name, Last modified and creation date. Document Digests also has a button to access all documents and timelined documents.
The Catalogs icon accesses the templates you can set up for each client entered into the database. The standard templates include: work, machine, material, service, transportation and Miscellaneous. The material templates include: concrete, stones, bulk solids, pipes, wood, art and furniture. You can edit each element and set pricing structure to track customer needs.
Doing Documents
I was impressed with the intuitiveness of the process for entering document details. Clicking the Create Document button opens a new window. Kraft works with the data entries from the KDE address book. This is part of the KDE-PIM, an information management application. So you first must enter customer data in that module, which operates outside Kraft.
Having to convert an existing address book of customers I see as a significant inconvenience. As a starting point, you can import address data from other database sources into the KDE address book. But that only works if your address source is a compatible file type.
In the Document Details window you select the type of document you want to create for a particular customer. The six options include Acceptance of Order, Offer and Invoice. You also select the document date from three drop-down lists. A large Whiteboard Content window allows you to enter detailed comments that the database uses to classify the document.
Clicking Next on the bottom of the Document Details window advances the Select an Addressee window. Here you scroll through a list of entries from the KDE address book. A New Contact button lets you enter new customer information that is added to the KDE address book. Seven tabbed fields let you customize the amount of information you store on customers. For startups, you can bypass the need to have a contact list in KDE address book by using the new contact button to jump start the database content.
Posting Positions
Clicking the Finish button ends the customer data process. It leads automatically to the Document Positions window. Here you can add items, add discount items and import items. You can also show templates and view capsulized details in the right panel of the window.
It is easy to adjust entries to fit your business needs. For example, Kraft keeps lists of wage costs and units of measurement.
It uses this information in templates and during calculation. All data can be edited and customized, and new items can be added in the Kraft Configuration Dialog that you access through the Settings menu.
Data Details
Kraft stores customer data in XML format. It generates reports in the PDF format. This makes it easy to view report contents on any computer platform and makes secured printing uncomplicated outside Kraft's database structure.
Using a PDF output makes it convenient to email business reports to clients for self printing. The specific form of the output is based on the type of template you use and how much customization you add.
Calculating Costs
One of the bonuses in using Kraft is the degree of specialization you can apply. For example, you can associate a template with a calculation scheme to create a price from the standard unit price and the amount.
The price is calculated and proposed. Even if you copy the template into a document, the pricing calculation can be edited as needed.
Kraft uses three calculation modules. The Time Calculation tallies how much time in minutes a proposed job consumes. The Fixed Calculation is based on a pre-set amount of money for each unit. The Material Calculation is based on costs per piece calculated per unit.
Bottom Line
Kraft impressed me with its range of features and ease of use. It delivers as promised. But it is not as complete as it could be.
To be more useful, Kraft needs a more extensive range of document types added to its resources. The current limited list will meet the needs of many potential users. Still, even though the included templates can be modified, I can see users needing more options as their businesses grow.