MakuluLinux is an unusually creative operating system that developer Jacque Montague Raymer is constantly changing with each major upgrade. Some of these changes are radical and innovative.
This distro has long been one of my favorite Linux offerings. Many of its features do not merely mimic those in other Linux distributions; they combine and improve them to the point of contributing to a unique and innovative computing platform.
I spend much of my time distro-hopping in a quest for the latest and greatest tweaks. The MakuluLinux releases never disappoint because Raymer always builds in options to customize and change the look and feel more so than any other Linux distribution.
Trust me on this point. I have had my hands on so many Linux varieties that the really good ones are in a league of their own. MakuluLinux is at the top of that list.
That said, I have been testing the latest release, the 2021 version of LinDoz. It is a winner, for sure!
MakuluLinux Primer
MakuluLinux is a partial rolling-release operating system that debuted in 2015 with a different approach to implementing Linux OS features. The last few years have brought considerable change and new development to this Linux family.
Now based in Vietnam, the developer first debuted the infant distro from his previous location in Africa. Hence the distro's name reflects the African continent.
"Makulu" is the word for "big chief" in the Zulu language. Spend a little time with the MakuluLinux family releases to discover how very appropriate the name is in branding this distro.
The LinDoz distro combines the look and feel of Microsoft Windows themes and a highly customized redesign of the Linux Cinnamon desktop. The result is a familiar computing platform for Windows users integrated with superior Linux functionality.
This latest LinDoz release has tweaking that provides a comfortable, familiar computing platform for those looking for an easy-to-use alternative to the Windows OS platform or any Linux user looking for a fresh approach.
However, I cannot emphasize enough that LinDoz 2021 is neither a Microsoft Windows clone nor another wannabe Cinnamon retread. Raymer started to change that Windows-clone perspective with last year's major remake.
Even more so with this current release, LinDoz moves yet further away from being a Windows clone OS. Raymer gives the new LinDoz an identity of its own while still retaining that "almost Windows-like" look.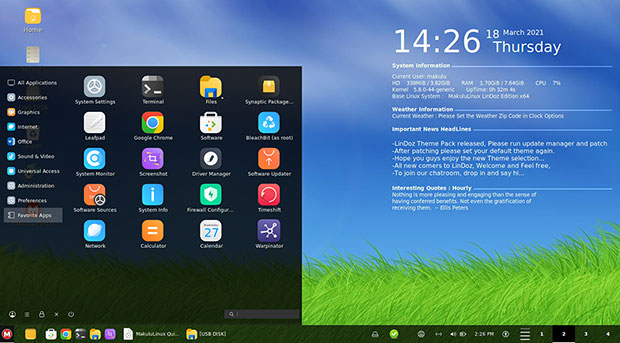 "It's been a challenge to achieve this. However, I think we are on the right path to reach that goal," he says in the release notes for LinDoz 2021.
Similar Though Still Its Own Identity
The identity factor is an important issue with LinDoz. It is one of three siblings in the MakuluLinux family. Meet Core and Shift.
Raymer retired a fourth OS called Flash built on a tweaked iteration of the Xfce desktop. He is working on new versions of Core and Shift for release later this year.
MakuluLinux Core is a Linux distro with an entirely new design. It has a totally radical desktop design built on a homegrown user interface centered around a spin-wheel style circular menu display.
Shift, which Raymer debuted last year, blends several mainstream design concepts with performance features not found elsewhere. One of Shift's unique traits is its ability to modify key design elements effortlessly. Hence, its name.
LinDoz Upgrade Highlights
The LinDoz desktop displays all the essentials for Windows or Linux users. It has the bottom panel, an attractive choice of backgrounds, redesigned menus, and top-caliber applications.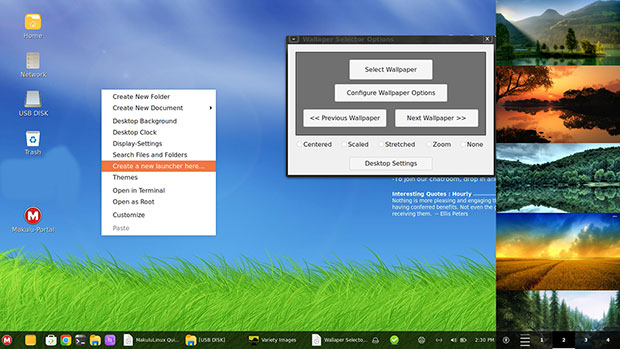 Raymer built the new LinDoz on a new hybrid 2020/21 base. It fully supports the new focal repositories and the move to Python 3. It is designed on a heavily modified Cinnamon 4.8.2 framework to make the user transition from Windows to Linux easier and more comfortable, while still retaining its Linux roots.
The developer focused heavily on two fronts in this new design. One, keep a familiar "Windows-like" look. Two, push the Linux experience. It has all new graphical user interfaces (GUIs) and features to make the user experience easier.
Much of the new design is simpler. It sports three themes — Classic, Modern, and Dark. You can quickly switch among them on the fly using a new in-house theme selector.
The theming tool does a lot more than just change the GTK theme. It also transforms the entire desktop with cursors, window borders, and other elements to fit the selected theme.
Icon packs in LinDoz also show some radical changes. For instance, the new design retains some system folders and category icons resembling Microsoft Windows. Otherwise, all the other icons have their own new look.
New Software Selections Too
LinDoz 2021 has a new set of preinstalled software applications. To avoid bloat, Raymer did a good deal of thinning out the stockpile and building in some potentially better choices.
For instance, the WPS Office Suite, Steam, and GeForce bring a new level of usability out of the box for office and gaming experiences. Wine is also preinstalled and preconfigured along with PlayOnLinux.
This combination lets users directly run supported Microsoft software out of the box by simply clicking on the title within the menu — as if they were in a Windows environment.
MakuluLinux LinDoz comes in two download options: a barebones build and a complete build.
The barebones choice comes with almost no software preinstalled. An OVA VirtualBox image is also available to import straight into VirtualBox without installation. It is tested and optimized for that very specific function.
You do get preinstalled a very handy collection of system tools and customization settings. To add whatever is missing that you want to use, a well-stocked software store app and the Synaptic Package Manager gives access to a wide range of free Linux software.
Another installation benefit is the ability to use FlatHub and Snaps. Both are supported out of the box.
Key Differences
The barebones edition is compatible to use with VirtualBox. The complete build is not. The complete build is targeted to use on real hardware and comes with a more complete software selection.
Users who prefer to install their own software selections should choose the barebones build. The complete build will appeal to users who prefer everything already preconfigured and working out of the box.
How to Get LinDoz
To download MakuluLinux LinDoz 2021, go here and scroll the page to access links to the download mirrors.
Be aware, however, that you will not find links to earlier versions of LinDoz there. You also will not find download links to the MakuluLinux Core and Shift.
Raymer changed the expected access procedures on the MakuluLinux website. Nowhere on the website will you find the traditional download page menus. The developer replaced that approach with developer logs (dev logs) that take you to separate pages for news and updates on the progress of the three OSes.
The developer found that people did not read the detailed development information and just downloaded the ISO file of choice. So, when Raymer starts working on new builds, he removes the old links in anticipation of the new release.
Since Shift and Core are in development, you will not be able to download those ISO files. The dev log pages let visitors and users follow progress, he explained.
Bottom Line
MakuluLinux LinDoz comes with a lot of cool stuff built in that makes using it for everyday computing tasks a good choice. It provides very useful videos on the website and how-to animations built into the startup process on the live session. This makes it very easy to learn about new features and how to navigate around the desktop.
Plus, the Makulu Portal quickly and easily guides users to seek assistance or connect to staff or other end users without much effort. An all-new desktop clock has some nice features easily controlled by a custom GUI designed for a pleasant experience.
The Makulu Constructor Tool is an easy-to-use GUI-based distribution builder to remaster an existing MakuluLinux OS set up to duplicate installation on other computers. Simply make the changes to the OS settings and run the constructor tool. It will turn your existing distro into an installable ISO.
As good as LinDoz is, check back for my impressions of the new and improved MakuluLinux Shift. Its promised ability to provide a one-click process to morph from one desktop layout to several others in under 20 seconds with no rebooting has an allure not available in any other Linux distro I have tried.
Watch the developer's video here for a more detailed view of that process.
---
Suggest a Review
Is there a Linux software application or distro you'd like to suggest for review? Something you love or would like to get to know?
Email your ideas to me, and I'll consider them for a future column.
And use the Reader Comments feature below to provide your input!