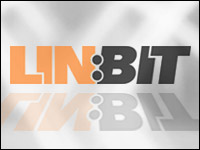 Linbit on Tuesday announced the release of DRBD9, its new distributed replicated block device product.
DRBD9 provides enterprise Linux users with synchronous server storage replication including support for native remote direct memory access, or RDMA, and OpenStack integration.
Linbit developed the software to give end-users, OEMs and independent software developers a tool for building redundant, highly scalable and flexible storage architectures. DRBD9's mesh-like multinode replication extends the scope of current DRBD versions, while eliminating duplication overhead and keeping data logging to a minimum.
"Synchronous data replication between multiple servers in a stable performance manner is something the market has demanded for quite some time now," said Greg Eckert, business development manager for Linbit.
Linbit's DRBD9 solution expands the core functionality of DRBD.
"For us, it was six years of work and an 80 percent code rewrite to make it happen," Eckert told LinuxInsider.
What DRBD9 Does
Linbit is trying to hit the high-throughput, high-performance market on the software side, Eckert said. Its open source design makes it easy to adapt it to any infrastructure.
RDMA technology allows computers in a network to exchange data in main memory without involving their processors, caches or operating systems.
"This allows us to have the first synchronous multinode replication available for Linux. It is groundbreaking in terms of speed, performance and new capabilities," Eckert maintained.
The software functions as a Linux-based kernel module that enables high availability for most any application.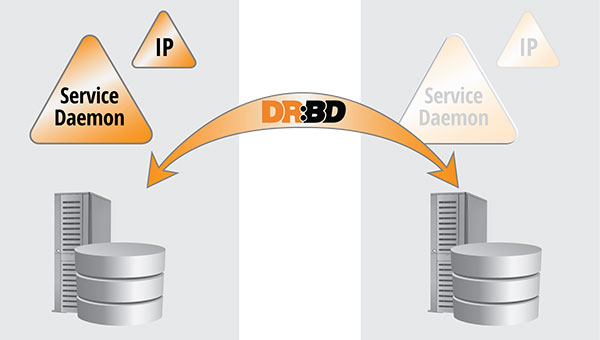 DRBD9 for HA-Clustering
DRBD9 is capable of connecting 30 nodes in real time to ensure data availability from multiple locations, even when disaster strikes, according to Eckert.
Unique Methodology
Linbit's latest release represents an impressive development for DRBD, suggested Markus Rex, CEO of ownCloud.
"They are following a path that nobody else is really following. You can not necessarily find the way it is done someplace else. It is pretty cool and is really a pretty unique thing," he told LinuxInsider.
Linbit can accomplish high availability with data stored in different geographic places, Rex continued. It works so well that the redundancy actually lets you disconnect from one location and then have the data synchronize once the connection is returned.
Disaster Dissipater
DRBD9's flexible architecture allows for off-site disaster recovery in addition to local high-speed replication.
"It is really flexible. You can set it up in a number of ways. You can reuse existing hardware. You can get new hardware in. You can exchange hardware in between without bringing the whole cluster down," noted Rex.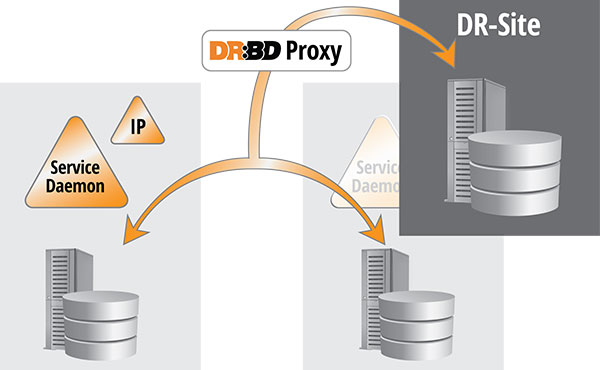 DRBD9 for Disaster Recovery
PCIe storage combined with Infiniband network cards yields a 100 percent replication increase over tradition IP-based networks. It simultaneously reduces CPU load by 50 percent.
"In terms of disaster recovery, we have been identified as one of the primary vendors for disaster recovery with an OpenStack. The reason is that right now there isn't a good option that is flexible enough to integrate within the cloud," said Linbit's Eckert.
Bleeding-Edge Development
Enterprise-quality open source systems are constantly improving. Various storage solutions are available that scale up to brontobytes for data, noted Eren Niazi, CEO of Open Source Storage.
Clusters can accommodate many nodes. Data security also is ensured through default replication in technologies like Swift and Cinder.
Often, older technologies fall behind under the strain of keeping up, Niazi noted.
"Enterprise companies often are designed for the technology that was available at the time, and the larger it becomes, the more difficult and expensive it is to pivot," he said.
Take software-designed storage, or SDS, for example. While it adds greater flexibility, it can create a new throttle point that hurts performance.
"There seem to always be tradeoffs," Niazi observed. "Sometimes it is easier to take advantage of these new technologies because the paradigm is different now than it was."
DRBD9 is available now and can be downloaded here.