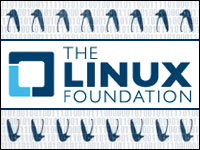 The Linux Foundation on Wednesday announced that it was more than doubling the number of scholarships to be awarded this year for Linux training.
The Linux Foundation is a nonprofit organization dedicated to accelerating the growth of Linux and collaborative development.
Its announcement opened the door for the submission of applications for the 2015 Linux Training Scholarship Program.
The foundation will award 14 scholarships this year, up from last year's five.
It added two new categories: Linux Newbies and Teens-in-Training. That brings the number of training categories to seven.
"Formal Linux training is just one piece of the solution to the current shortage of Linux talent in the market," said Amanda McPherson, CMO and VP of developer programs at the Linux Foundation.
"While traditionally we have seen most people who end up with a career in Linux teaching themselves or starting as a hobbyist, Linux is simply too prevalent now for those types of individuals to meet the demand," she told LinuxInsider.
Certified Winners
Another new benefit added this year is certifications awarded as part of the scholarship. Recipients will have the opportunity to take a Linux Foundation Certified System Administrator (LFCS) or Linux Foundation Certified Engineer (LFCE) exam.
Linux Foundation certifications are widely recognized for being performance-based, distribution-flexible, and available anytime, anywhere.
The Linux Foundation training programs are essential for the continued growth of Linux, noted Rob Enderle, principal analyst at the Enderle Group.
"If you want to sustain a platform, you have to ensure people are formally trained in it. Proprietary firms fund colleges and universities to ensure this," he told LinuxInsider. "It follows that this is no less important, but often far more difficult for standards-based efforts due to more limited funding."
Candidate Qualifications
The scholarship program is open to individuals who demonstrate need and who have already displayed interest in or knowledge of Linux and open source software. Applications will be reviewed by a panel at the Linux Foundation.
Scholarship recipients will be notified by mid-August. The foundation will publicly announce the winning candidates shortly thereafter.
Applications are due by 11:59 p.m. PT on July 10, 2015.
Serious Competition
The Linux Foundation received more than 1,000 applications for last year's five scholarships awarded. The average age of applicants was 29 years old.
The Linux Foundation Training Scholarship Program provides funds to applicants who otherwise would not have the ability to attend Linux Foundation training courses. It attempts to help developers, IT professionals, and promising students to build Linux careers and contribute to shaping the future of the operating system and the enterprise.
The scholarship program ensures that more people who want to advance into this area are given the opportunity for an education in it, noted Enderle. It also helps ensure the longevity of the effort.
"If done right, it should improve the quality of the products that result by putting more rigor into the education of the practitioners," he said.
Categorical Excellence
The two training categories added this year show the developmental growth of the Linux training program.
Linux Newbies is for individuals new to Linux but who have learned the basics by completing the Intro to Linux online course (LFS101x through edX).
Teens-in-Training is for students under the age of 18 who already have started using Linux and want to get a head start on a career in the field. This is the first time The Linux Foundation has offered scholarships to pre-college students.
Whiz Kids is for 2015 high school or college grads already familiar with Linux but who want to prepare for their career with extra training. Applicants must be 18 years or older.
Women in Linux is for women doing amazing things with Linux.
SysAdmin Super Stars targets applicants who already have begun using Linux in their workplace but want to take their work to the next level with additional training.
Developer Do-Gooder is for developers using Linux for good, so that they might expand that good work while enhancing their Linux skills.
Linux Kernel Guru is a category for individuals who already have contributed to the Linux kernel community and who show promise toward becoming a Linux kernel developer or maintainer.
Popular Education
Few organized Linux training programs exist. The educational series the Linux Foundation sponsors has grown rapidly.
For example, to date more than 400,000 people have registered for the free Intro to Linux course. It is one of the biggest courses ever hosted by edX, said McPherson.
One course alone is not going to get anyone a job — but it helps increase enrollees' knowledge of a specialized area, and it allows them to ask questions of a live instructor.
The foundation's training course enrollments continue to increase. It regularly adds new courses to keep up with changes in technology, as well as demand.
Specialized training will give scholarship winners "a leg up on the competition when looking for job opportunities," said the Linux Foundation's McPherson. "By almost tripling the number of scholarship recipients for 2015, we are trying to give that opportunity to more people."
Competitive Market
There continues to be demand for people who have the kind of training a well-managed program like this could produce. The question is whether this program will be well-managed.
"Often the problem, even with proprietary firms, is they focus on the grant process more than the quality of the related training," observed Enderle.
Interest in Linux careers is evident, said McPherson. More than nine in 10 hiring managers planned to hire Linux talent this year, according to the Linux Foundation's 2015 Linux Jobs Report.
Plus, 54 percent expected sysadmin job candidates to have formal training or a certification.
Dice.com always has thousands of Linux jobs listed, and that is only expected to grow as more and more organizations — tech companies and otherwise — move toward open source, noted McPherson.
"When you consider that," she said, "and that over 1,000 people applied for our scholarship program last year, it is clear there is huge interest in Linux careers."