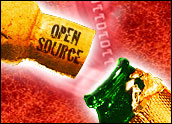 I recently carried out a personal quest for a netbook computer.Relying on a bit of insider snobbery since I write about computertechnology almost daily, I was not expecting a big problem in making aselection.
It's not that I really needed another computer. My home office is wellstocked with two desktops running Windows XP and a third formerWindows box now running Ubuntu Linux. My HP Pavilion laptop withWindows XP and its very large wide-screen display serves me well as adesktop replacement and a mobile office with all the bells andwhistles. A smaller Acer notebook running Windows Vista gives meback-up on the go.
I found that Ubuntu — my Linux flavor of choice — does not play wellwith either laptop model due to wireless connectivity issues. Anddecently configured notebooks with Linux pre-installed are not so easyto locate. So when I'm on the road and I want some Linux diversity, I run PuppyLinux in system RAM on either portable after booting from a CD. Eventhough Puppy Linux is fun to use and is fast as a race horse, I had ahankering to take Ubuntu with me.
The netbook notion started making sense to me for both personal andprofessional reasons. Why lug either of my larger notebook computersaround to run slapped-on Linux? All I really need most times when I'mout of the office is the ability to hop online to update e-mail andconnect to several business-related Web sites. I use OpenOffice andFirefox regardless of the OS at hand.
But the netbook I selected had to run Ubuntu Linux unless I found adifferent distro with a more appealing configuration. That's where myinsider snobbery turned into consumer quandary.
Too Many Options
I had no idea how many choices there are to consider. Netbooks havetaken consumer-level Linux a long way in a short time.
If I wanted Windows XP in a netbook, my only considerations would bestorage capacity and processor type. Without any Linux distropreference, the options of available Linux distros on netbooks couldbecome a nightmare for consumers.
I found that selecting a Linux netbook is much like buying a familyautomobile. The same car dealership offers multiple makes and models.Throw in various engine sizes, feature packages and colors, andselecting easily turns into settling. Do most car buyers know thatmuch about the specific differences in the choices they have?
I suspect that typical consumers do not as much about the Linux distro they get in the netbook they buy as much as they care about actual functionality.
My Hit List
As part of my purchasing preparation, I compiled a list of availableproducts. While my goal was the Ubuntu Linux distro, I also wanted tosee if I could find a better alternative configuration.
My shopping list is not ranked in order or priority. Just about all netbookmodels look like they come with wireless 802.11g and Ethernet 10/100 Mbitconnectivity. Most also have at least two USB ports, and some have a VGA port, soattaching external devices such as keyboards, monitors, etc. arefairly standard model to model.
I whittled down the options to a set of useful comparisons. My primaryconcerns were onboard storage and memory. I was somewhat dubious abouta configuration that substituted hard drive storage with flash drivetechnology. That seemed too limiting. Most of the units came with512MB of RAM installed. I preferred twice that amount without anoticeable add-on price.
My only other qualifying factor was price. I would not buy a netbookthat costs more than US$500.
For just about any laptop small enough to be considered a netbook, forget about the pros and cons of the keyboard. They all arehorrendous. Long-time typing ease is not an issue with netbooks. Forsustained typing comfort, add an external keyboard. The finger spreadand key layout are dysfunctional for all but two-fingered typing onany netbook model.
The Rundown
Acer Aspire One ($399.99)
Taiwanese electronics manufacturer Aceroffers just one Linux configuration in its Aspire One line. The AspireOne has an 8.9-inch LED backlit screen, a 1.6 GHz Intel Atom N270processor, 512 MB RAM, 8 GB of flash-based solid state storage, and a3-cell battery. It runs on the Linpus Lite Linux distribution based onFedora 8.
Asus Eee PC ($445.97 to $549.99)
AsusTek has a heftyline of netbooks running the Debian-based Xandros distro with amodified version of the KDE graphic user interface (GUI).
The ASUS Eee PC 2G Surf ($445.97) sports a 7-inch TFT LCD screen witha maximum resolution of 800 by 480 pixels (WXGA). It is powered by anIntel Celeron M 353/571 MHz processor with 512 MB RAM.
The ASUS Eee PC 900 ($549.99) has an 8.9-inch screen, a 1.3 megapixelwebcam and has 20 GB of storage capacity. It is powered by an IntelCeleron M 900 MHz processor.
The ASUS Eee PC 901 ($449) comes with an 8.9-inch screen, a 1.3 megapixelwebcam and is powered by a 1.6 GHz Intel Atom processor. It also has 20 GB of storage.
ASUS Eee PC 1000 ($499) has a 10-inch display, a 1.6 GHz Intel AtomN270 Processor, 1 GB DDR2 RAM and a total of 40 GB in storage capacity.The storage is shared by an 8 GB Solid State Drive and a 32 GB SDHCcard. Plus, it has a 1.3 megapixel webcam and a six-cell battery forup to 7.5 hours of life. This is one of the longest-lasting run times available.
CTL E09L 2goPC ($499)
The CTL E09L 2goPC offers water-resistant, drop-resistentconstruction powered by Intel Celeron M mobile 915GMSprocessor. It comes with a 9-inch LCD display plus 512MB RAM and a40 GB hard drive. It runs on the Mandriva Linux distro.
Dell Inspiron Mini 9 (starts at $349)
The Dell Inspiron Mini 9 comes with up to 32 GB in SSDstorage. It is equipped with an Intel Atom Processor N270 1.6GHz, 1 GB DDR2 at 533MHz and a glossy 8.9-inch backlit LED display, anintegrated 0.3 megapixel webcam, and an Intel Graphics Media Accelerator (GMA)950. It runs Ubuntu Linux.
HP 2133 Mini-Note ($499)
HP's 2133 Mini-Note is powered with a VIA C7-M ULVprocessor and has an 8.9-inch WXGA display. It uses a 4 GB flash drivefor storage and runs Novell's Suse Linux Enterprise Desktop 10.
MSI Wind ($399)
Micro-Star International's Wind has a 10-inch LCD screen with a maximum resolution of 1024 by 600 pixels. It has 512 MB RAM, an 80 GB hard drive and an Intel Atom 45-nmprocessor running at 1.6 GHz. WIND is an acronym for "WiFi networkdevice." It runs Novell's Suse Linux Enterprise Desktop 10.
RazorBook 400 ($249)
The 3K RazorBook 400 ($249) has a 7-inch WVGAActive Matrix TFT screen and is powered with an Ingenic 32-Bit singlecore mobile processor running at a clock rate of 400 MHz. It isconfigured with 512MB of DDR2 memory and a 4 GB solid state drive. It runs its own distribution of the Genuine CELinux operating system. Its bundled open source package is nontypicalin that it includes the AbiWord office suite and GNUMeric forspreadsheets.
Sylvania G Netbook Meso ($369.99)
The Sylvania G Netbook Meso is equipped with Intel's new Atomprocessor running at 1.6 GHz and is configured with 1 GB of RAM and an80 GB hard drive. It also has an integrated webcam and an 8.9-inchmatte display. It runs the new Ubuntu Netbook Remix OS.