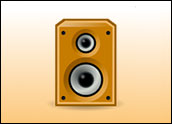 Unless you are an atypical Linux user, you tend to accept the default apps featured in your distro of choice. After all, if what you use works just fine, why scavenge around for a replacement? If saying yes to that question means you miss out on adding the Listen audio player to your desktop tools, you might change your answer after trying it.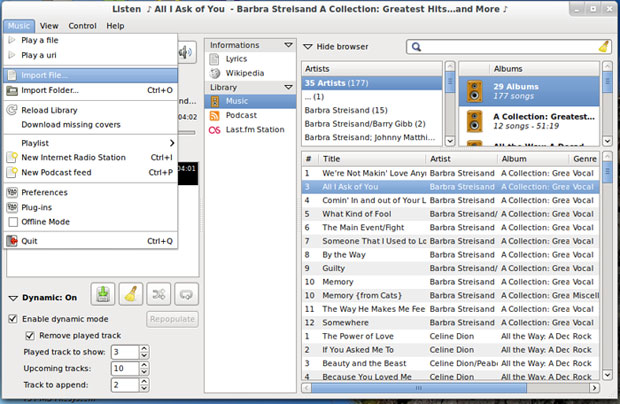 Listen has great audio management features but can be tricky to install.
Listen doubles as a music collection organizer. It supports popular features including podcast management, Shoutcast browser directories, and direct access to lyrics, Last.fm and Wikipedia information.
The Linux desktop OS offers a good collection of audio players such as Amarok, Rhythmbox, Banshee and Audacity. Listen fits into this group with similar features.
However, its cleaner interface makes Listen an easier-to-use audio player I tend to prefer for my daily listening pleasure. At least that is true when the particular distro I am using lets me use the Listen audio player.
Listen is a bit uncooperative with some configurations. Also, it is less available to some mainstream distros.
The Catch
Even more disconcerting is its apparent inability to play nicely with some desktop environments. The latest version is 6.5, but even the earlier versions bundled in numerous distro repositories are finicky to run.
Listen is written for the Gnome desktop. Usually a Gnome application will run, perhaps with some display issues, on the KDE desktop and vice-versa. Not so with Listen.
It balked when I tried to load it on a computer running Linux Mint KDE and another computer running Ubuntu's Unity desktop. However, Listen did run without trouble on two other computers running Linux Mint's Cinnamon and LXDE desktop environments.
Package Picky
My experience with using Listen is plagued by another problem as well. Listen is not available in most package formats. There is an Ubuntu version in the Synaptic Package Manager, but I could not find downloadable packages for other distros.
The Ubuntu and Linux Mint software centers include a package for Listen. But that does not guarantee that you can use it once you install it.
That leaves you with the Listen home page. There the options are very limited. The developer only provides compressed tarball (.tar.gz) format.
For Linux newbies, having to decompress and then compile the raw files into an executable package is more than they can bear. Heck, I'm an experienced user and still dislike the inconvenience and frustrations of fiddling with tarball installations.
What You Get
Let's assume you lucked out with the manual installation or have a distro configuration that actually runs the Listen audio player package in the repository. What do you gain by using Listen?
Besides the clean, well-organized interface I already mentioned, you get lots of nice features that make listening easy. One such nicety is an intuitively created playlist that retrieves information from Last.fm and what song titles from your collection that you most frequently play.
I like the way the display shows me information about the currently playing song. At a glance I can access lyrics, the artist's Wikipedia page, the performer's upcoming concerts and relevant Last.fm details.
Other comfort zone features are the ability to drag and drop content within the display windows, a variety of sorting options and the ability to change the playlist font.
Concise Controls
Unlike other audio player interfaces, Listen keeps the menu listings to a scant four. The Help option offers none. Everything else you need is listed under the Music, View and Control menus.
Under the Music menu you find the expected file access, import/export options, and access to the preferences and plug-in options. You also find there settings for Internet radio stations and podcast feeds.
The View menu provides four display modes. This is one of my favorite features in Listen. I can change what is displayed on the screen. Small Display shows just the playing title information with menu labels and playback buttons all in a small square box. Normal Display lengthens that box to include details about track selections.
Full Display shows the complete array of audio details in well-placed sections within the app window. This mode is resizable by dragging its window corners. The Party Display mode is the same as the Full mode except it displays in full screen only.
Using It
Aside from setting preferences when you first run Listen, the only real setup task is to import your music collection by pointing to the music folder on your storage drive.
That process in other audio players can be time consuming. Listen completed the task in short order.
All of the playback options and user controls are listed in the Control Menu. I'd like to see an option to display icons for these functions in a tool bar row. Listen so far just places buttons for forward, back, play/pause and speaker volume/mute above the playing title.
Look in the Music menu for the option to download missing cover art. It will fetch album covers from Amazon or Google Images.
Other Insights
If you like to fiddle with appearances, you will like the On-Screen Display feature. You can select options to start minimized or watch the library for modifications. Also, you can change the colors of the displayed lyrics.
One performance drawback might be a concern. Listen tends to consume considerably more system resources than other media players I have used.
Listen has a speedy quick-search function. Enter any word in the search window at the top of the display. You will almost instantly see a list of all of your songs with that word in the title. Just click the title you want to play it.
Bottom Line
Listen is a quick and fun-to-use music player. But its limited install options will discourage a more widespread adoption among users of all Linux distros.
This is a shame. Listen could otherwise be a very good choice to replace more popular music players on the Linux desktop.