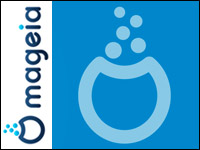 If you fancy game playing, the latest release of the Mageia Linux OS will be a fun experience. Even if you never open a game, Mageia 2 is a solid distribution well suited to newcomers and seasoned Linux users alike.Mageia is a fork of the now defunct Mandriva distro. It was developed by a team of former employees of the France-based company that folded Mandriva. It comes in KDE4 SC 4.8.2, GNOME 3.4, XFCE 4.9, LXDE, Razor-Qt and E17.
The first version was released in September 2010. Version 2 took flight in May of this year. However, do not discount Mageia because of its newness.
Mageia performs well using traditional desktops. It does not overlay shells to avoid the real Gnome by diluting the desktop with gimmicks. If you want a desktop loaded with bells and whistles, give the KDE version a spin.
Lots of Power
I am always looking for stable and reliable Linux distros that Microsoft Windows converts can quickly learn to use on legacy hardware. Mageia meets that test and then some.
It runs on a reasonably low-powered set of hardware requirements. For example, it is impartial to most any processor. I have not had issues running Mageia on AMD, Intel or VIA processors. It is far from a memory hog as well. It needs a minimum of 512MB of RAM but is very happy in 2GB.
Ideally, it only needs 1 GB of storage space for a minimal installation. A full setup takes just 6 GB.
Mageia is also impartial to most graphics cards. For instance, it works fine with any ATI, Intel, Matrox, nVidia, SiS or VIA graphic card. It is fairly compliant with any sound card as well. I have used it on AC97, HDA and Sound Blaster sound cards.
Non Standard Install
Mageia installs using the DrakX installation system. This method has the look and feel of a Microsoft Windows installation disk.
It offers a choice of a base installation, a repaired installation, memory test, a hardware detection tool and an option to boot from hard disk. Once you begin the process, the graphical screens are fairly traditional.
You also might have to manually select numerous hardware options from choices on the screens. On a few of my installation attempts on legacy computers, DrakX incorrectly detected some hardware components.
On a more positive note, you can install Mageia to a USB drive. That is a handy way to run the OS in a live environment by bypassing the optical drive. It also is an efficient way to run Mageia on netbooks without having to attach an external optical drive.
Choosy Customizing
Depending on the ISO you download, you will need either a CD or DVD. Be careful in selecting the download ISO from the website. The installer offers an impressive variety of options, features and customization. But again, the choices are dependent on the ISO choice you make in downloading. So read the download page carefully.
The upper section is install-only files. The live session versions are in the center of the download page. You also have to select a 32-bit or 64-bit version as well as a section of the world for the mirror site and language options.
This may become an issue if you expect a live session before installing or are looking for more initial choices. For example, the live CDs only offer a single desktop. Of course, you can use the software repository to add more after you are up and running.
On the other hand, the install DVD — not the live session version — provides a full range of desktop environments to install. If you already have Mageia 1 installed, you can use it to upgrade to version 2.
Classic Gnome Desktop
What you see with the standard Gnome installation is the new user interface of Gnome 3. That includes the non-functional panel at the top of the screen and the favorites bar along the left edge of the screen.
You see the virtual desktop display on the right edge of the screen and the Windows and Applications switches at the top of the screen. These are all activated by moving the mouse pointer to the hot spot in the upper left corner of the screen.
Staying with this desktop is largely a matter of user preference. Newcomers to Linux will not know the difference. If you are familiar already with the new Gnome and like it, Mageia makes that experience pleasant.
Classic KDE
This desktop option in Mageia offers the best combination of graphical features in my view. It works as expected with lots of eye candy and windows customizations.
Mageia's developers chose the KDE classic menu style rather than the application launcher style, but it is relatively easy to change from this default style by accessing System Settings.
KDE might be too overpowering for new users. So if you otherwise like what you see in Mageia, try one of the lighter fare desktops available.
Games Galore
Most Linux distros either ignore games or force you to do the heavy lifting to add them to your system. Not so with Mageia Linux.
Do not look for the games array on the live session DVD. But you will be pleasantly surprised with what is available after you complete the installation to the hard disk.
Mageia seems to have the most recent editions of most of the popular games. The variety includes strategy, arcade, board, card and adventure games. It includes support for emulator systems as well.
A Few Quirks
Mageia requires two passwords. One is for separate root access. The other is for user passwords. I like the use of small indicators that appear when setting up both passwords. This makes me more aware of security when setting up user passwords.
Speaking of security, Mageia activates the firewall by default with no open ports. It also uses most if not all of the security features built into Mandriva from the MSEC security audit and monitoring application.
Mageia does not install Java by default on some of the ISO combinations. You must manually search for "java-1.7.0-openJDK" and install it.
Bottom Line
Mageia is a very capable newcomer to the large list of Linux distros. Setting it up may be a bit challenging for new users. But the results are well worth the effort.
This distro is a solid performer and offers more than enough desktop environments to please even the most picky Linux user.