The special release of Makulu 9 Aero edition might seem like one flexible Linux offering too many. However, anyone hankering for a Windows-like operating system and the best of what is easy about using Linux could not make a better choice.The Linux OS is notorious for its great variety of distros. Linux is also infamous for having far too many choices. You might put Windows look-alike desktops at the top of such a list.
Makulu 9 Aero edition is a special build requested by the Makulu Linux Community. It provides the look and feel of Windows 7 without being a true Windows clone. Released in mid-May, Aero did not generate much chatter among Linux reviewers because it is not a standard, recurring build.
Most of the attempts at building in a Windows look and feel in the numerous Linux releases I have tried fail to live up to their hype. Often, they are clunky at best.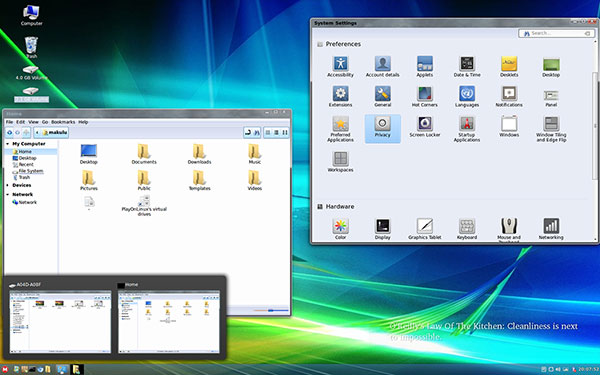 Makulu 9 Aero edition gives Windows converts and seasoned Linux users easy-to-use features and a familiar look and feel. (click to enlarge)
That is not the case with Makulu 9 Aero edition. One reason for its impressive look and performance is what is under its hood. The Aero theme is a modified version of the Cinnamon 2.4.8 desktop environment.
Those familiar with Linux — and especially hard-core Cinnamon desktop users — will instantly taste the Cinnamon flavor. Newcomers to Linux will see simply what looks and works much like their Windows 7 boxes.
A Distro Beyond
Makulu developer Jacque Montague Raymer went far beyond what other distros rolled out as Linux with a Windows look and feel. Raymer succeeds in delivering a true Aero look in a Windows 7 view. This special edition with Cinnamon tweaked to resemble Aero theming is a one-of-its-kind release.
Of course, newbies will still have to learn some basics. As I said, this is not a clone of Microsoft Windows. But those familiar with Windows will know how to navigate the menus and succeed out-of-the-box at doing many of their everyday computing tasks.
Adapting to the file system and the Linux approach to package management will give them a small learning curve to master. Transitioning to Linux with Makulu 9 Aero is fast and easy.
Under the Hood
The Aero release is 64-bit only. It has a stripped-down version of the Nautilus file manager. You will not find a complete set of the usual Nautilus features. This is in keeping with the Aero design and Windows 7 functionality.
Makulu 9 Aero is built upon Debian testing software repositories. However, do not call this or other Makulu releases a re-spin of another distro — developer Raymer is very sensitive about such descriptions.
The only connection to Ubuntu and Debian are their repository servers, he maintained. He built the Makulu distro and the Aero edition from scratch.
Aero uses the Linux Kernel 3.16.0.48 and applies rolling updates. So Aero is as close to self-healing and hands-off updating as the other Makulu releases. Aero is UEFI (Unified Extensible Firmware Interface) and Secure boot compatible. Plus, it has a large driver support base built in.
Desktop Display
The Aero edition looks much like other Makulu releases. The Aero Windows 7 theme gives this special edition a fun but very functional new twist.
For example, you see in the upper right corner a large digital clock and calendar display. In the bottom right, you see quotations. You also see an attractive collection of background images.
Both the wallpaper and the quotations change every 15 minutes by default. You can change the timing interval in the control panel.
These displays have Conky-like features, but the Conky app does not run them. The Variety control app manages these functions.
Like Windows 7, in the Desktop settings panel you can select which icons to see on the screen. These include: Computer, Home, Trash, Mounted volumes and Network.
Right-click anywhere on the desktop to open a menu. Many of the options are similar to the Cinnamon and the Xfce right-click menu choices. Some are more Windows-specific, such as the option to scan for viruses.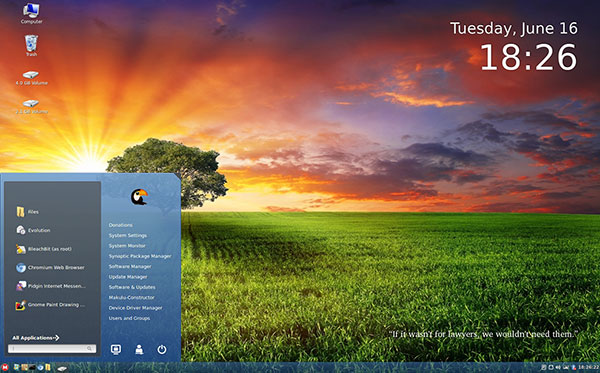 The Aero special edition brings the look and feel of Windows 7 to a modified Linux Cinnamon desktop without being a true Windows clone. (click to enlarge)
Aero Aura
Other desktop features are a combination of traditional Linux and some Windows Aero items. For instance, you get a standard semitransparent bottom panel that is fully functional. You can move it to the top as well.
Aero uses a Windows 7-style Start Menu. You can configure the look and feel with 41 window borders, three icon themes, 10 control themes, nine cursor themes and eight shell themes.
One thing that is different is the lack of the usual Makulu dual menu. Since Windows 7 users are not accustomed to a Sling-style menu or even the Synapse app search tool, Aero does not include either.
Software Sufficiency
More so than other Makulu releases, Aero comes preloaded with some interesting software for the everyday Windows user. Newcomers to Linux will not get lost in the "find-it shuffle." These packages are already installed and configured.
For example, both Steam Linux and Steam Windows are ready for use. Gamers can start playing their favorite titles on either platform. So is WINE, the Windows emulator that makes running many Windows software applications as simple as clicking on the .msi or .exe file. Many more popular games ported to Linux from Windows and other platforms are available through the included Playonlinux.
Windows users are familiar with battling the threats of viruses and malware. Makulu Aero comes preconfigured with a firewall to keep the operating system safe as threat levels change. The Linux ClamTK Antivirus package is also operational out-of-the-box.
Like the standard Makulu releases, Aero includes the full WPS office suite. Those transitioning from Windows will not have to struggle with converting file formats. WPS is fully compatible with Microsoft Office file types. Document PDF reader is included as well.
Internet Integration
The Chromium Web browser is included and configured to connect to the user's Google Chrome account. Chromium has speed-dial to easily bookmark and access favorites.
Chromium includes some useful preconfigured plug-ins, such as Adblock and notifications for Facebook, Gmail and Twitter. Of course, you can replace Chromium with the Google Chrome browser.
Bottom Line
Makulu 9 Aero is more than just a pretty Windows 7 face. It is a fast, stable and solid Linux desktop distro.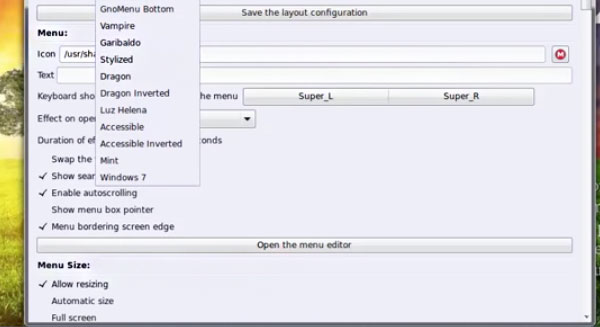 Don't like the Aero look? No problem. You can configure it your way from a long list of themes and desktop display options.
Even without the Aero theme applied, this Makulu Linux special edition is a keeper.
Makulu 9 Aero is loaded with configuration options and powerful features. This release has earned a seat at the top of the Linux desktop class.
Want to Suggest a Review?
Is there a Linux software application or distro you'd like to suggest for review? Something you love or would like to get to know?
Please email your ideas to me, and I'll consider them for a future Linux Picks and Pans column.
And use the Talkback feature below to add your comments!