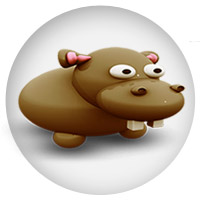 The MakuluLinux 5 release brings a new user experience to the traditional Xfce desktop.MakuluLinux was already a solidly performing distro, but the latest version, released last month, takes Makulu to the next level of usability and maturity.
Earlier versions offered a choice of Xfce, KDE and Enlightenment 17 desktops. So far, only the Xfce version is available in MakuluLinux 5.
However, the tweaking Makulu developer Jacque Raymer built into this upgrade makes up for any loss of glitz and glitter, as well as the usual features KDE brings to the computing experience.
MakuluLinux 5, aka "Jessie," is based on Debian Testing and Kernel 3.12.x PAE. It comes precompiled with a very nice collection of themes and wallpapers. Even nicer is a set of new tools to configure your choices.
"Makulu" is the word for "big chief" in the Zulu language. Spend a little time with MakuluLinux 5 and you will discover how very appropriate the name is in branding this Linux distro.
Fresh Layout
One of the first things you notice in MakuluLinux 5 is the novel design of the desktop. In several ways it is both appealing and functional.
For instance, the day, date and time display is in the upper right corner of the screen. Another screenlet display shows an ever-changing series of quotes from characters.
The screenlets tool is a handy graphical tool to manage the screen display. Dozens of pre-installed screenlets provide endless combinations of choices to personalize the desktop.
The integration of the Xfce structure along with a modified panel at the bottom of the screen is a very workable combination. So is the atypical selection of software.
Gone in this release is the news feed of the latest Makulu news in a ticker running across the top of the screen. That is replaced with an icon on the desktop that connects to a Makulu newsletter.
Package Panacea
MakuluLinux 5 is built around an unusual set of software choices. Some of them are not common to other Linux distros.
For example, the Kingsoft office suite bundles Kingsoft Writer, Kingsoft Spreadsheet and Kingsoft Presentation. This suite is a newcomer to Linux distros in general, and it is only an alpha release so far. It is has great potential and a lot more functionality than Abiword, though, which is the usual Xfce word processor.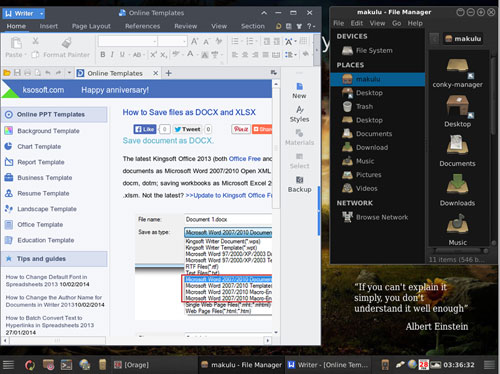 MakuluLinux 5 uses a new office suite called Kingsoft WP3 and a tweaked Thunar File Manager. (click to enlarge)
A new creation, My Paint 1.1, replaces Gimp as the image-editing program in this release. Another major software change is the inclusion of Compiz and the Emerald theme manager.
Compiz brings the desktop cube and other visual effects such as Wobbly Windows, 3D Cube, Window Previews and Animated Effects, which usually are not included with standard Xfce. To use the cube simply hold ctrl+alt and drag the screen left or right with the mouse pointer.
Variety is literally another improvement in this Makulu release. Variety is a new desktop changer manager that handles window dressings and all related areas of the desktop decor. Emerald adds to the eye candy in Makulu's Xfce remake by managing fancy window borders.
Menu Mania
I especially like the embellishments Raymer tooled into the panel. It makes the Xfce interface even more flexible. On the left end of the panel is the Whisker menu. On the right end is a Slingshot menu launcher.
The Whisker menu's design has a search window across the top of the two-column panel to quickly find applications and other files as a quick launch tool. A list of categories fills the right column of this menu.
Hover the mouse on a category to replace the left column's contents with a list of apps in the hovered category. In the top right corner of the panel are four icons. These provide access to All Settings, Lock Screen, Switch Users and Log Out.
A fancy mouse driven slingshot launcher mimics the Gnome 3 applications display on the entire desktop. Like an Android screen, numbered bullets at the bottom let you change through each screen of icons.
Even more menu flexibility is the classic Xfce right-click anywhere on the desktop. This opens a cascading menu. The options include opening new windows, creating lauchers and URL links, folders and a terminal window.The Applications menu at the bottom of this list shows the software categories and their contents,
Software Subtleties
There are some additional pleasant surprises with the stock software selections in MakuluLinux 5. Usually distro developers favor scaled-down programs for the expected lightweight Xfce environment. Not so with this distro.
For instance, you get flareGet preinstalled. This is a full-featured, advanced, multithreaded, multisegment download manager and accelerator. You also get Deluge to download and share files over BitTorrent. Don't like that one? Then use the included NitroShare for file-sharing across a local network.
Preinstalled Web browsers are Chromium (not Chrome) and Iceweasel. Several graphics tools besides MyPaint include ImageMagick, Pinta and Ristretto. Multimedia packages include Audacious music player, Minitube, Pitvi video editor, VLC media player and vokoscreen screencast.
Installation Intrigue
MakuluLinux 5 is so far available in only the 32-bit Xfce desktop version. An improved installer is much more user-friendly.
Much like a full installation to hard drive, using Makulu in live session from the DVD requires authentication for some user functions. Makulu's developers made this an easy step. The splash screen at bootup displays the required user name and password to log in and have administrative access. Hint: makulu/makulu.
A really nifty option in boosting performance when running this distro from DVD in live session is using the Install to RAM choice. I did this on a computer configured with 8 GB of RAM. It took close to five minutes to copy the OS into system RAM, but the performance was almost better than doing a real hard drive installation.
Using all of system RAM has one major drawback for avoiding a full disk drive installation, though. This is the lack of ability to save persistent settings for subsequent sessions.
Using the load in RAM option from the DVD has a user experience very similar to installing Makulu to a USB drive using Unetbootin. But running Makulu from USB gives you a much faster booting time — almost 3.5 minutes faster — and no memory or other resource restrictions. Still, using the RAM installation is a much faster performance than the live DVD until you decide whether to do a hard drive installation.
Virtual Magic
I was less pleased with how MukuluLinux ran in a virtual machine setting. It failed to install to the virtual disk, only running as a live session from the DVD within the virtual box environment from the optical drive. Even so, the virtual box environment already loaded in memory made the optical drive reads must faster than reading the same loads from DVD outside of the virtual box environment.
I had better VM performance by having the virtual machine read the ISO file from the hard drive instead of the image burned to a DVD. Either way, running a live session DVD inside the VM still gave a better performance with less lag time.
If you plan to run MakuluLinux 5 in a VM setting, you will need to modify the Chromium browser choice. When I first tested Makulu in a VM setting, the Chromium browser kept freezing the system.
Then I realized that the menu has another Chromium version that should be selected for use in a VM session. Once I launched the VM version of Chromium, I had no more freezing issues.
Bottom Line
I was not initially enthused about a distro based on Debian testing releases. Sometimes, that connection to the testing repository can cause long gaps in software updates. However, MakuluLinux hosts its own repository with an abundance of software not often found on other Debian-based repositories.
So the distro repository sends through updates for software, including any patches, and streams through extra eye candy and even news to user desktops, according to developer Jacque Raymer. I like this notion of rolling releases.
If you are looking for a modernized Xfce desktop and a wealth of software and different features, MakuluLinux 5 could be the distro that revitalizes your Linux experience.
Want to Suggest a Linux Application for Review?
Is there a Linux software application you'd like to suggest for review? Something you love or would like to get to know?
Please email your ideas to me, and I'll consider them for a future Linux Picks and Pans column.