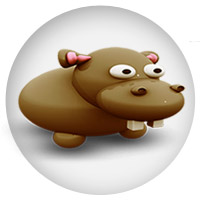 If you want a classy distro with the look and feel of the Microsoft platform, the MakuluLinux LinDoz edition will feed your nostalgia.
MakuluLinux developer Jacque Montague Raymer released MakuluLinux 11 LinDoz edition earlier this month after a year and a half in the making. Forked from the Original Aero Edition, it first appeared with the MakuluLinux 9 series. Its retread replacement with the LinDoz edition offers little in the way of new features but does polish the tarnish from earlier efforts.
The LinDoz Edition is a uniquely styled OS, meshing the Windows and Linux worlds on a whole new level. It infuses a variety of Windows-style themes into the Cinnamon desktop shell and the Linux core system. It produces a comfortable and easy environment with a special Windows and Linux result.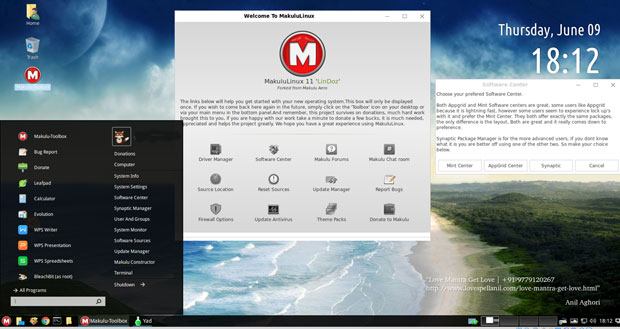 Makulu Linux 11 has a uniquecompilation of Linux and Windows design elements built into its menus andtaskbar. It even gives you a choice of default software managementsystems
Long-time Linux users might catch the significance of Raymer's name choice for this Aero (another Microsoft Windows reference) replacement. Michael Robertson founded Linspire in 2001 and developed a commercial operating system called "LindowsOS," based on Debian GNU/Linux and later Ubuntu.
That OS focused on ease of use at a time when conventional Linux distros were still more than many home PC users could handle. His goal was to develop a Linux-based operating system that also could run major Microsoft Windows applications using an integrated Wine compatibility API.
Robertson's last stable release of Linspire version 6.0 came in October 2007. Less than a year later Linspire stockholders changed the company's name to "Digital Cornerstone," and all assets were acquired by Xandros, another commercial Linux distro developer.
Xandros management in 2008 discontinued Linspire in favor of its own namesake Debian-based Linux distro. As of October 2013, Xandros ceased to exist.
Windows Reincarnated
The MakuluLinux 11 LinDoz edition is not a Windows clone, but if you want a real Linux operating system that has a Windows-like appearance, the LinDoz edition fits that bill.
For example, it has themes, controls and window borders that resemble the Windows platform. What makes this release so unique is the integrated Debian Ubuntu and Linux Mint features and software.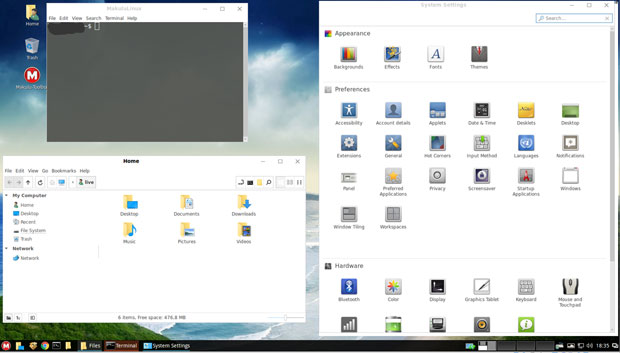 The default theme of theLinDoz Edition of Makulu Linux 11 offers a classic Windows-style filemanager and Linux Mint-style settings panel.
Raymer developed this release in response to user requests — his reason several years ago for developing the Aero Edition.
LinDoz is a hybrid that fully supports Ubuntu 14.04 PPAs for adding repositories. It provides the look and feel of your choice of Windows versions without being a true Windows clone or having real Windows functionality.
Just like the earlier Aero release, LinDoz is a theme-modified rendition of the latest Cinnamon 2.8.8 Linux desktop.
Desktop Display
The LinDoz Edition looks much like other Makulu releases except for the subtleties of the themes.
For example, you see in the upper right corner a large digital clock and calendar display. In the bottom right, you see a randomized quotation display. You also see a vivid assortment of randomly changing background images. A stunning photography gallery is one of the staples of the MakuluLinux line.
Both the wallpaper and the quotations change every 15 minutes by default. You can change the timing interval in the control panel.
These displays have Conky-like features, but the Conky app does not run them. The Variety control app manages these functions.
Like the Windows OS it mimics, you can select in the desktop settings panel which icons display on the screen. They include Computer, Home, Trash, Mounted Volumes and Network.
Right-click anywhere on the desktop to open a menu. Many of the options are similar to the Cinnamon and the Xfce right-click menu choices. Some are more Windows-specific, such as the option to scan for viruses. An option to open the applications menu, however, is missing.
Tantalizing Task Bar
A tweaked Cinnamon desktop panel bar across the bottom of the screen does a nice job of mimicking the look of the Windows taskbar. This LinDoz Edition is not a replica of previous Makulu Cinnamon desktop releases.
It closely resembles a Microsoft rendition, especially when you use the theme changer system tool to embellish the look with various treatments from Windows XP, Windows Vista, Windows 7, Windows 8 and such. The style changing includes options for window borders, icons, pointer decorations and more.
Makulu also has a unique menu environment. Even in the LinDoz Edition, the simplified two-column menu design is unlike what you find anywhere else.
Windows and Linux Mashup
MakuluLinux 11's LinDoz Edition is built on kernel 4.4.0-22-generic. It comes with a huge collection of drivers. In many cases, this will let you use LinDoz right out of the box, but really check out its suitability on your hardware.
I have experienced a nagging frustration with the MakuluLinux releases. I have run them on several desktop and laptop computers, as well as on a virtual machine.
In every case, I've had problems with what I assume is a driver-compatibility issue. The default video driver initially works, but after I open several windows to run various system tools, and settings panels to complete typical configuration setup after installation, the system freezes.
It is particularly annoying when the first task I perform after installation is changing the video driver, using the system tool for this purpose. More times than not, the freeze occurs sooner than later. It occurred with the LinDoz Edition as well.
Bottom Line
That technical issue aside, The MakuluLinux line is one of my favorites. Unlike typical distros, Makulu strays from some of the mainstream primary applications.
It also has a set of the most commonly used software preinstalled regardless of the desktop flavor selected. For example, it uses the WPS office suite.
If you fancy the Cinnamon desktop, you will feel right at home with MakuluLinux. If you cut your computing teeth on Microsoft Windows, you will be particularly enamored with the LinDoz Edition.
Want to Suggest a Review?
Is there a Linux software application or distro you'd like to suggest for review? Something you love or would like to get to know?
Please email your ideas to me, and I'll consider them for a future Linux Picks and Pans column.
And use the Talkback feature below to add your comments!