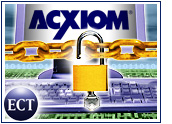 A man in Florida has been indicted on 144 charges of conspiracy, unauthorized access to a protected computer, device fraud, money laundering and obstruction of justice, after hacking into the database of a high profile marketing company.
Scott Levine, 45, is accused of breaking into systems at Acxiom and downloading more than 8MB of user data over a 16-month period. Estimates of damage caused exceed $7 million.
It is believed that the hacker intended to use the data for his own spamming company, Snipermail.com.
"The protection of personal information stored on our nation's computer systems is critical to public trust in those networks and to the health of our economy," said Christoper Wray, Assistant Attorney General at the US Department of Justice (DoJ), in a statement.
Those Who Steal Private Information
"We will aggressively pursue those who steal private information from computer networks, and make it clear that there are serious consequences for such crimes."
Snipermail has since been taken offline. The DoJ said that, while there was no evidence that the information was actually used in a fraud scheme, the "stolen data contained personal information about a great number of individuals and could have resulted in tremendous loss".
Acxiom was praised by the DoJ for co-operating with law enforcement agencies during the investigation.
Six other Snipermail employees are co-operating with the investigation, the DoJ said.