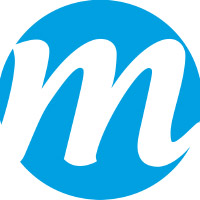 Maui 1 "Aurora," which launched this summer, is one of the latest newcomers in the continuously changing list of Linux distributions.
Maui Linux, with its new Hawaii desktop environment, is a replacement and rebranding of the discontinued Netrunner project. Its developers are attempting to continue the Kubuntu-based heritage, while adopting some of the latest technologies impacting other Linux distros in varying stages.
The demise of Netrunner and the birth of Maui 1 occurred simultaneously. Essentially, Maui Aurora is the new Netrunner distro. This new release marks the transition to a Long Term Support base. Some of Maui's components will get regular updates as partially rolling releases.
Maui Linux uses KDE neon as a base, and its new development team expects to provide cutting-edge versions of KDE software in a semi-rolling release model.
The Maui distro is reportedly the first distro to fully implement the X Window Graphic User Interface replacement. It also relies heavily on QtQuick and the Systemd initialization process.
Maui will focus on keeping tools up-to-date: Plasma, Frameworks and KDE applications; single software packages such as Firefox and Thunderbird; and anything that gets updated on Xenial via backporting. This approach will allow the developer team to release updated ISOs shipping the latest KDE software on a frequent basis.
Dual Innovations Unite
Wayland slowly is gaining adoption momentum among some established Linux distros, so it makes sense that a freshly minted desktop environment comes with Maui bearing a namesake closely connected to the new distro's name. Other distros are working on making existing desktop environments compatible with Wayland.
Hawaii is desktop environment based on Wayland and the Qt Quick application framework. Wayland is a new display server replacing the X Window system, X.org.
It better supports the majority of user interface toolkits, such as GTK and Qt, according to developers.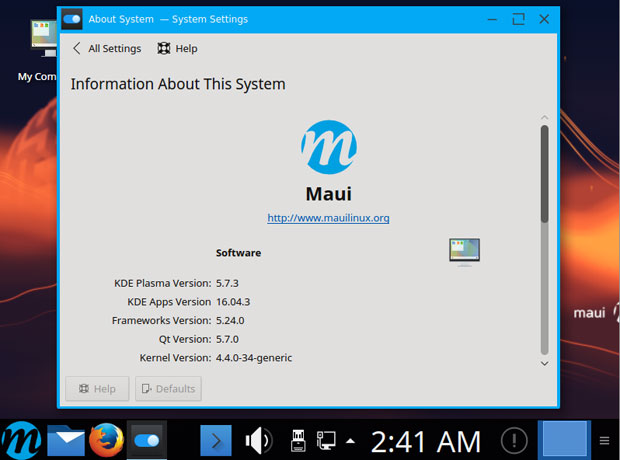 The Hawaii desktop thatdrives Maui Linux is built from the ground up to work with Wayland and Qtdeveloper tools.
Wayland — in place of X.org — runs between the input and output in the operating system to coordinate the on-screen display. It handles the directions from mouse input and windows behavior control buttons. It also provides the needed interaction between Linux user and the GUI to keep the operating system humming along.
Why the change? X.org is several decades old. It has been adjusted and tweaked beyond its capabilities, according to some developers. They want to throw out the old and bring in the new to avoid the bugs and security holes that no doubt lurk within.
First Full-Fledged Following
Hawaii has not gained much acceptance among other Linux distros. One of the first to dabble with the Hawaii Desktop Environment is RebeccaBlackOS, a Linux live distribution intended to serve as a technology preview, which I reviewed earlier this year. It offers an early look at Wayland in action.
A few other distro makers, such as Fedora had protoypes of Wayland running, but the options for different desktop environments available were limited.
RebeccaBlack OS offered a sampling of Wayland and the Hawaii desktop project that ultimately was adopted by the Maui distro.
Maui Primer
Maui is a GNU/Linux-based operating system. It will get continuous updates and support until the next LTS release in 2018. The developers plan to release updated ISO versions every three to four months with the latest of Plasma software and other updates.
You can download the ISO here. You have but one choice. Maui is 64-bit only.
If you are a Netrunner user, you can not take any shortcuts by upgrading directly to Maui. The differences in what was Netrunner and what is Maui 1 are vast.
Start fresh. I found the installation process to be very smooth and straightforward.
I tried the live session ISO on several of my desktop and laptop computers using both DVD and USB installations. I did not have any disappointments. I then duplicated that experience when I installed Maui 1 in a virtual machine.
Look and Feel
The Hawaii desktop has a nicely simplified user experience. Despite Maui's roots in the KDE Plasma ecosystem, what you get with Hawaii is a much less overpowering user interface.
Maui 1's integration of thenew Hawaii desktop environment has a clean look with a very comfy feel. Iteasily manages the KDE Plasma screen.
Hawaii is still what you use within the KDE Plasma screen, but all of the Plasma complexities of using KDE are gone.
Do not get me wrong. I was a long-time KDE desktop fan, but It took me considerable patience to learn how to fine-tune the user experience. Over the years, I found KDE too tiring and welcomed an alternative. For me, that became the Cinnamon desktop.
The new Maui desktop is much like Cinnamon in its earlier versions. Maui still thrives on the KDE look, but it has a much more subdued feel. Especially for new users, that is a very good thing.
Instead of forcing you to know every detail of your computer, you can turn it on, sit down and just use it.
It's not the kind of Linux distribution you've tried before. Instead of including a plethora of different desktop environments, Hawaii has only one, made to overcome the boundaries of the current solutions.
Using Maui
Hawaii has a balanced settings policy. It is not minimalist, with nearly no user customization preferences available, but neither is it so highly customizable that users get lost in a flood of overbearing options for every single settings detail. Instead, Hawaii offers a collection of reasonable defaults tempered with useful user options.
The result is a clean-looking screen devoid of any graphical clutter and corner buttons for activities and virtual desktops, a confusing array of preference panels and notification areas, or any of the other "plasmoid" stuff that can befuddle KDE users.
Rather, the Hawaii desktop handles much of the Plasma screen functionality simply. You can add what you want — virtual desktop switcher, activity switcher and widgets galore — to the panel bar.
Right-clicking on the panel bar makes it easy to add features and functions. You can launch many of these directly from panel bar. You can right-click anywhere on the desktop to access other options quickly.
Bottom Line
Maui is an out-of-the-box solution to being productive with the KDE ecosystem. You get all the KDE software and the freedom to add other packages just as you would in most Linux distros.
The window appearance is flat, almost in the style of Google's Android Material Design scheme.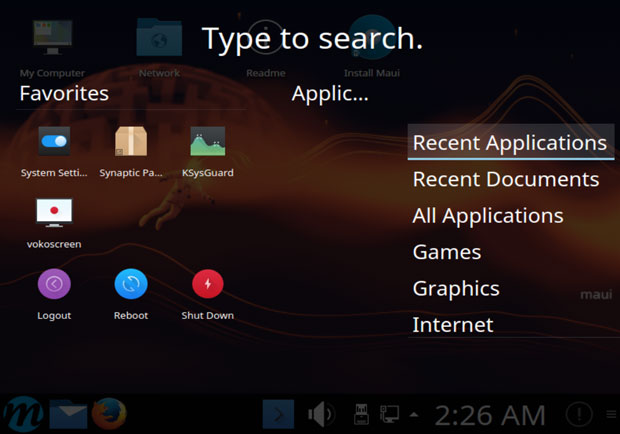 Hawaii's menu provides a newway to find your installed software applications.
Maui, the Netrunner Kubuntu replacement, is an inviting alternative. It is both new and already accomplished. The developers took a Kubuntu distro that was well-oiled but at the end of its development line to the next level.
That should make adopting the Maui Linux distro a less risky option. Most other Linux distros are moving in the new direction of Wayland, Systemd and such. Maui's developers are already there.
Maui 1 is very stable and easy to use. It is a well-stocked distribution with an established library of KDE software.
Want to Suggest a Review?
Is there a Linux software application or distro you'd like to suggest for review? Something you love or would like to get to know?
Please email your ideas to me, and I'll consider them for a future Linux Picks and Pans column.
And use the Talkback feature below to add your comments!