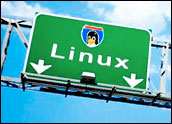 Motorola, NEC, NTT DoCoMo, Panasonic Mobile Communications, Samsung Electronics, and Vodafone announced on Thursday plans to establish the world's first global, open, Linux-based software platform for mobile devices.
The companies are developing a Linux-based platform that it hopes will lower development costs, increase flexibility and lead to a richer mobile ecosystem. These benefits would contribute to the group's ultimate objective of creating compelling, differentiated and enhanced consumer experiences.
"Motorola is a firm believer in the power of open platforms and the promise of Linux for mobile," said Greg Besio, Motorola corporate vice president of mobile devices software. Besio believes a universal mobile Linux platform will "unleash the tremendous innovation opportunities for developers, device makers, operators and consumers alike."
When Opportunity Knocks
The companies are forming an independent foundation to help guide these efforts. The objective is to advance the development of the platform based on the contributions of industry stakeholders through an open and transparent process. The motive is differentiation in a growing market.
Research firm Ovum reports that more than 2.8 billion phones are expected to be in use by 2009. As the mobile market continues to explode, handset manufacturers are increasingly turning to Linux as a strategic platform to deliver more capable mobile devices, increase flexibility, speed time to market and lower costs.
The Mobile Linux Bandwagon
Of course, this is not the first mobile Linux industry effort. The OSDL launched a mobile Linux initiative last year to respond to the demand for Linux-based mobile platform requirements. The Linux Phone Standardization Forum, among others, is also pushing toward the same goal.
"In some respects, this is same old, same old. There are existing groups and standards bodies," Avi Greengart, principal analyst of mobile devices for Current Analysis, told LinuxInsider. "This is a significant announcement, though, because these are the guys that could make it happen. They already have products on the market and the resources to overcome the challenges."
The API Specification
The foundation will focus primarily on the joint development and marketing of an API specification, architecture, supporting source code-based reference implementation components and tools in order to leverage the benefits of community-based and proprietary development. The foundation also plans to provide a test suite to assess and demonstrate product conformance to the platform specification.
"DoCoMo believes continuously improving performance and reducing handset costs are vital goals for operators," said Kiyohito Nagata, vice president and managing director of NTT DoCoMo's products department. "DoCoMo strongly supports this foundation's activities of specifying APIs and enabling powerful tools for application and middleware developers. This will ensure the creation of an ecosystem to achieve our goals."
Escaping the Vacuum
The foundation will not work in a vacuum. Rather, it will focus on implementing a fair, balanced, transparent contribution and participation process across the current and future membership, establishing safeguards to minimize fragmentation, and collaborating on a mobile Linux developer ecosystem, the group said.
The foundation will also coordinate with existing industry organizations, and seek participation from all interested companies across the value chain, including device manufacturers, operators, chipset manufacturers, independent software vendors, integrators and third-party developers.
"We intend to leverage our experience to accelerate the realization of a truly global Linux-based software platform and ecosystem, which will lead to faster time to market and increased flexibility, to deliver appealing products fit for a ubiquitous network society," said Osamu Waki, managing director of Panasonic's mobile communications divison.