You could call Ian Sefferman's initial rise to CEO of MobileDevHQ a bootstrap career move. Seeing the rapid growth of consumer interest in mobile apps, he jumped into an infant industry to learn what would push it forward. His interests fell on a gaping opportunity.
He focused not on business as a fledgling mobile applications developer. Instead, he settled on how to help app developers become more successful. Along the way he grew a technology he calls "app store optimization," or ASO.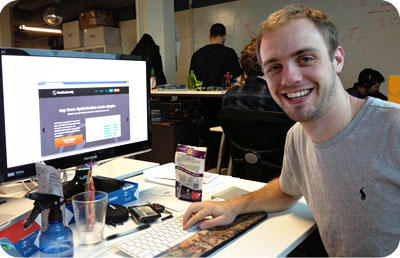 MobileDevHQ CEO Ian Sefferman
Sefferman put all his ducks in a row. He was not going to let hedging his bets on just one mobile channel hinder his own progress. His success as an app search optimizer comes in part from working with all mobile apps regardless of platform — and his own optimization platform has open source software inside.
The knowledge that more than 65 percent of consumers find mobile apps via search in the app store is the foundation of Sefferman's approach. His own MobileDevHQ app lets app makers analyze and optimize their app store presence so they can out-download their competitors' products.
MobileDevHQ currently hosts a database with information about some two million apps across Apple and Google's app stores. That database includes more than 350,000 keywords.
In this exclusive interview, Sefferman discusses how his leading edge approach helps app developers to improve their marketing prowess.
LinuxInsider: What sparked the idea to rescue app developers?
Ian Sefferman:
I've been working in the app development business for almost four years now. Back when I started, there was iPhone only — and at best, only about 20,000 of them in use. There was no iPad yet and virtually no Android devices to speak of yet. When I got involved with it, I was just starting to learn how things worked. Early in 2012, I realized that the biggest thing that app developers were having trouble with was not making apps — actually, that was relatively simple for them. It was getting distribution for the apps.
Two things were happening. First, with the massive amount of apps going into the app stores, finding an app was increasingly challenging for the consumer. For a developer, getting an app found was actually very hard. Secondly, many developers were taking out paid ads promoting their apps. Prices have become really inflated due to the high demand for these ads. The quality of users the developers were getting from these paid ads was really very low. The incentivized installs didn't always get good results.
For example, if I'm offered 10 gold coins for an online poker game for installing an app, sure, I'll install another app. I don't really care what that app is. So putting all of that together, I realized that there was an opportunity to help developers understand and improve how they are doing at the inbound marketing channels and in the app stores.
LI: How competitive is this field today for analyzing app developers' successes?
Sefferman:
The opportunity is growing. We are definitely seeing more people entering this space. We are certainly one of the first and are out in the front leading the charge. There is a lot of opportunity for developers here. I think many more app developers will enter this space over the next 12 months.
LI: What is the connection between MobileDevHQ and AppStoreHQ you launched previously?
Sefferman:
MobileDevHQ is the fund. AppStoreHQ is actually the reason that MobileDevHQ came around. I started the company as AppStoreHQ four years ago as the first foray into this new field where I was learning a lot about the app ecosystem. That led to this current product. So now everything is centered around the business name MobileDevHQ.
LI: Is what you offer a hands-on product that your customers install on their computers or an aggregation service of their activities that your product compiles for them for delivery in a report?
Sefferman:
It is a software product that we use. It is a fully automated platform that we host on the Web much like a SaaS (Software as a Service) application rather than a standalone program on our client's own computer.
LI: How does your service work?
Sefferman:
An app developer comes to us with key tracking information for us to use. We need to know the app name and all the customers. We check out what the app looks like in the ecosystem and its description in the app stores, We look at reviews and at ratings. We look at competitors. Then we come back to the developer with recommendations.
We'll say things like 'we think you are not doing well here, and we [will] track your rankings compared to your competitors' over a period of time.' We recommend how the rankings could improve by changing keywords and adding specific keywords in the title and the description. On top of that software product that is offered to everybody, we also cater to the large app publishers, mostly, and the developers that need more hand-holding with their customers.
LI: Is the platform you developed for this app coaching service open source or mostly proprietary?
Sefferman:
We have bits and pieces that we open source. We do turn back to the community the open code improvements. But the rest of the platform is built around proprietary code. All our base programs are all open source.
Our starting point was obviously all open source. Our main framework was Ruby on Rails. We do a lot of processing in Hadoop. We are standing on the shoulders of giants here. Wherever we can find little bits and pieces that are easy for us to open source and do fixes that we can put back, we are happy to do it.
LI: Your analysis process for app developers seems to resemble Search Engine Optimization practices that many website developers use in general. Is that a good comparison of what your company does for app developers?
Sefferman:
That's somewhat true. We are not focused on how you are doing with searches on Google. We focus on how you are doing with searches in the app stores themselves. We cover IOS and Google Play Store, iPhone and iPad; Android and tablet apps are also in there. All of this works from the same platform we developed.
LI: What is your cost structure?
Sefferman:
Our pricing depends on how many features a developer has. The range of pricing is really wide. We start as low as (US)$14 per month. We go up to a few hundred dollars per month.
LI: How have developers reacted so far to subscribing to your coaching service?
Sefferman:
We are seeing incredible traffic and engagement. We have over 15,000 sign ups and hundreds of paying customers. We definitely feel that in order for our customers to be successful at this, they have to keep working at it over and over again. Right now we are focusing on searching the app store. But we will be branching out to other inbound channels. That could include social, PR and media. Any sort of free inbound channels that drive downloads to your app.
LI: How much reliance have you had on funding sources?
Sefferman:
We see this as a very large opportunity. We just raised a seed round of about $650,000. That was through our selection here in Seattle to participate in the TechStars Seattle program. Our customers are worldwide.