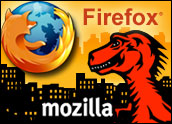 Mozilla Labs, the division of Mozilla focused on developing new technology, is working on a new Firefox browser add-on that will let a mobile phone user collect interesting Web content, aggregate the content in Firefox and then access it via a mobile phone.
The project is called "Joey," named after a baby kangaroo.
"The idea is that you take some of your important stuff along with you," Doug Turner, lead engineer of mobile technology at Mozilla, told LinuxInsider. Turner is the creator of Joey, but he's quick to point out that he has received a "ton of help" from the open source community.
Joey's Components
In addition to the Firefox add-on, Joey is also a server and a Java MIDlet.
"Some of the coolest ideas now are the ability to select an area of a Web page and have just that area of the Web page appear on your phone — always up-to-date," Turner explained.
"In addition, there's the ability to grab video and media from a Web site and send it to your phone in the proper format and scaling," he said.
The server component of Joey would be responsible for the fetching, processing and transcoding of the content to make sure it's in the right format for the mobile phone. This server process means that users might be able to view video content on a mobile phone even if that content was not originally formated or intended for mobile phone video viewing — for example, a YouTube video.
Essentially, once users install the add-on, they would use the PC cursor to select the area of content on a Web page that they want Joey to capture. That could be news headlines, stock tickers or sports scores. All of those items tend not to be static, but that's not a problem. The user would view the latest version of content via their phones.
Basic Tools Needed
Joey is designed for someone with a mid-range phone, a data connection and a desktop or laptop running the Firefox Web browser. While Mozilla doesn't yet plan to turn Joey into a full-fledged product, users can download the components and source code from the Mozilla Labs Joey Web site and get started, as well as use Joey's Mozilla servers.
The phone application, on the other hand, would have to be developed by the user, but Mozilla plans to provide phone applications for many models by the end of the month.