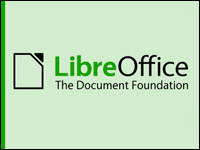 The Document Foundation on Wednesday announced the availability of its second major release this year, LibreOffice Fresh 6.1, with enhanced editing on Desktop, Cloud and Mobile platforms.
One of its most significant new features is Notebookbar, an improved experimental user interface option that resembles the ribbon interface popular with Microsoft Office users.
The developers hope to release a fully refined ribbon-style interface in the next major release, according to Italo Vignoli, spokesperson for the foundation.
The Fresh release targets both early adopters and power users. Early adopters are mostly individual users. Power users are those participating in enterprise deployment of the open source office suite.

(Click Image to Enlarge)
The 6.1 release is the start of a new development cycle for LibreOffice. The office productivity suite has undergone a four-part development cycle starting with code cleaning in version 3.x, continuing with code refactoring in version 4.x, improving the user interface in version 5.x and enhancing ubiquitous productivity in this current release.
"LibreOffice 6.1 represents the bleeding edge in terms of features for open source office suites," Vignoli told LinuxInsider.
It is built with document conversion libraries from The Document Liberation Project.
The new features were developed by a large community of code contributors. Almost 72 percent of commits are from developers employed by companies sitting in the Advisory Board, including Collabora, Red Hat and CIB Software, and by other contributors, including SIL and Pardus.

What's New
The top new features include two new icon styles and a revamped image handling system. Also, much attention has been given to aligning features for consistency among the five office modules.
"Krasa Jaga" — a new icon style that replaces a Linux font style no longer maintained — means "looking to the future" in Indonesian.
The Colibre icon style is designed to provide the look and feel of Windows 10. It is based on Microsoft's icon design guidelines, which makes the office suite visually appealing for users coming from the Microsoft environment.
Developers extensively reworked the way LibreOffice 6.1 handles images with a completely new and much improved graphic manager, improved lifecycle handling, deprecation of accessing embedded images by URL, and on-demand loading of images from OOXML and MSO formats.
The image handling process is now more functional, according to Vignoli. It eliminates issues caused by using too many images in a document.
"The old handling methods were not entirely proficient in handling the software with images. Many LibreOffice users do not fully understand how to apply images on a page. They make a lot of mistakes," he said.
The changes make users' lives easier. Image handling is now more stable and easier to use. Pages with lots of images load much more quickly than before.
More Improvements
Improvements and feature upgrades extend to all LibreOffice modules in this release. Aligning the features is a major push in version 6.1, according to Vignoli.
Developers redesigned the database engine in the Base module to make it more user-friendly, he said. The changes are a work in progress and are considered experimental. They will be refined for version 6.2.
The reorganization of Draw menus comes with the addition of a new Page menu. This results in a better user experience consistency across the different modules.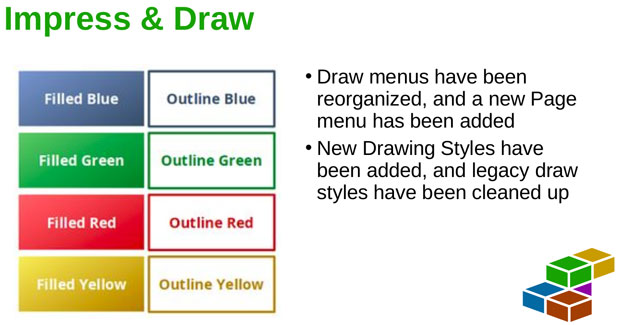 A major improvement for Base is available only in experimental mode. The old HSQLDB database engine has been deprecated, but it is still available.
The new Firebird database engine is now the default option. A migration assistant helps users migrate files from HSQLDB to Firebird. Another option is to export them to an external HSQLDB server.
An improved EPUB export filter gives better performance to link, table, image, font embedding and footnote support. More options now exist for customizing metadata.
Online Help pages have been enriched with text and example files to guide users through features. Also, they now are easier to localize.
The features are aligned in all of the modules for improved ease of use.
Almost Like (Ribbon) Heaven
The improved but still experimental Notebookbar feature is similar in style to the Windows ribbon interface, but it is not meant to be identical, said Vignoli.
"It is under development more as a transition for Microsoft Office users to give them a more familiar style UI," he said. "We would like Office users switching to LibreOffice to have a familiar interface."
The developers deliberately chose not to call the feature a "Windows-style ribbon" interface, Vignoli said. It has a different background. It is created to look in a way that is similar — but there are distinct differences.
For one thing, the new UI does not take the same amount of space as the Microsoft ribbon interface, he pointed out. It is limited in size. Designers are working on reducing the vertical face of the Notebookbar.
So far, the Notebookbar interface is more suitable for smaller laptop screens. Developers want it to be equally functional on desktops.
"It is still evolving, so it is introduced as experimental. We hope to make it a fully developed feature with the next major release, version 6.2," Vignoli said.
Established Stability
The Document Foundation has been playing it coy with the way it addresses the concept of stability in LibreOffice. That is part of the rationale behind calling this latest release the "Fresh" version. It named the previous release, version 6.1, "Still."
The Still version is more suitable for larger enterprise deployment, as it has been tested by more people, Vignoli acknowledged.
However, "after eight years, LibreOffice is quite stable with a large organization of volunteers and company-sponsored developers," he pointed out. "After eight years of developing LibreOffice, we have shown that stability is not an issue anymore."
Caution is in order, however, based on how enterprises deploy major software platforms, noted TDF Director Thorsten Behrens, who has been a senior developer with the project since OpenOffice, and also serves as LibreOffice Team Leader at CIB, which provides value-added document services.
"Some companies really do not want to upgrade every half year or yearly," Behrens told LinuxInsider.
In previous years, performance issues and feature limitations were tied to the speed of the user's CPU. The amount of memory in the user's machine also was a performance variant.
"Those criteria essentially no longer exist. LibreOffice just works," Behrens said.
That said, for any enterprise class deployment, TDF recommends the more mature LibreOffice 6.0, according to Vignoli. The software should be sourced from a company that provides a Long Term Support version of the suite.
Built-In Code Corrections
The Document Foundation spent years cleaning up code using Coverity Scan to reduce and then eliminate the number of errors that otherwise would contribute to stability issues, according to Vignoli. That has had a major impact on making LibreOffice both stable and secure.
For example, the most recent code scan on July 20 showed that for nearly 6.5 million lines of code the defect density detected was zero, he pointed out. The analysis chart shows that over the last few years LibreOffice code went from a defect density of 0.02 in 2016 to 0.0 since January of this year.
"So we are definitely a lot better. This goes to show not only the quality of LibreOffice code but also the amount of work on quality and security matters of the source code provided by our developers," said Vignoli.
Every week there is a new scan on code development. Developers take care of whatever faults are found in the source code a long time before they get to the consumers as binary code, he added.
Online Version More Challenging
Developers have been furthering their efforts to improve all modules of LibreOffice Online, incorporating changes to the user interface to make it more appealing and consistent with the desktop version.
The online engine is exactly the same, so the features have become more aligned. The eventual goal is to offer online version users the same range of features the desktop version offers, gradually introducing them during the next two or three major releases.
Unlike Google Docs and Microsoft Office online products, LibreOffice Online is not available for everyone to use for free. LibreOffice Online is fundamentally a server service and should be installed and configured by adding cloud storage and an SSL certificate.
LibreOffice online now has more features, making it similar to the standalone version. However, the online version is available only to users with access to ISPs or enterprise servers that offer it as a feature.
No Plans for Online Catch-Up
Having a fully functional online version that equals the functionality of the desktop version is *not* in the works, Vignoli emphasized. The Document Foundation lacks the finances and infrastructure to provide an online version the likes of Google Docs and Office Online.
However, developers have been adding features to the online version and improving its look and feel. Numerous issues with using the online version have been resolved for a better user experience.
ISPs can provide the online version for a monthly fee or for free. Also, enterprises can provide it on their own servers. However, the foundation can not provide it to everyone. Some enterprise cloud-sharing services, such as NextCloud, provide access to the LibreOffice online version.
A better online option to overcome restricted access to the online version of LibreOffice would be improved mobile support on Android devices, Vignoli suggested.
The Android LibreOffice Viewer app has been getting more support. It now can provide some editing as well as file display functionality.
However, support for LibreOffice on the Chrome OS is not in the works. Vignoli suggested that using LibreOffice Viewer on a Chromebook that supports Android apps could be one possible workaround.
That approach typically would not provide access to local storage on Android devices, though. Users would need to figure out how to work around documents stored in the cloud or use a method that Android apps on Chrome OS can access.
Mixed Views on Using LibreOffice
Whether LibreOffice is a suitable free replacement for Microsoft Office depends on several factors, according to Charles King, principal analyst at Pund-IT. It might not be universally ideal for both individuals and power users.
For example, if an organization has standardized on Linux, then LibreOffice is a solid option that is bolstered by its free cost and integration with Google Cloud for backup, file sharing, and so forth.
"It should also be an adequate option for power users, especially those who are interacting with other LibreOffice users," King told LinuxInsider.
That is mainly due to complaints about incompatibilities between LibreOffice and Word, due to Microsoft using its own version of OOXML, he explained. So users working with Word docs may be better off by purchasing a Microsoft license. For most businesses, those users are a minority of employees.
Weighing the Options
Potential LibreOffice adopters should consider possible downsides, urged king. With more than two decades into the "revolution" sparked by Linux and open source solutions, LibreOffice still constitutes a small fraction of the productivity applications and tools market.
Would that be the case if these offerings really were superior? Adopting any new platform requires retraining, and that includes LibreOffice, he said. Most employees arrive knowing at least the rudiments of Word and other Microsoft apps.
Plus, to its credit, Microsoft has addressed many user complaints and Office 365 makes it cheaper and easier to use the company's solutions than ever before, added King.
"So companies have to sort out why they are considering LibreOffice," he suggested, to determine "what potential benefits are actually achievable and whether leaving behind a longtime market leading solution (Office) really makes sense."