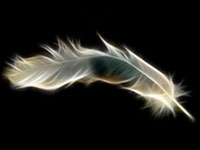 Linux Lite 3.0 is anything but what its name implies. It is a full-featured operating system that lets you get down to serious business right out of the box.
It is one of the few out-of-the-box experiences I have had testing Linux distros in which I actually was set up and working in less than five minutes.
Perhaps developer Jerry Bezencon wanted the name to underscore the ease-of-use built into his Linux distribution when he first released it. Linux Lite runs only the lightweight Xfce desktop environment — but a lightweight desktop environment does not detract from this distro's usability or functionality.
It would be just as accurate to call it "Linux Power." This distro has numerous strong traits in its favor.
Besides Xfce, another factor that does make Linux Lite what its name implies is its default software base. Linux Lite does not install excessive programs to clutter up menus and home directories.
Instead, it installs a collection of work and play packages to get you working and surfing. Rather than spend time removing or tolerating unwanted programs, users simply can add their preferred tools.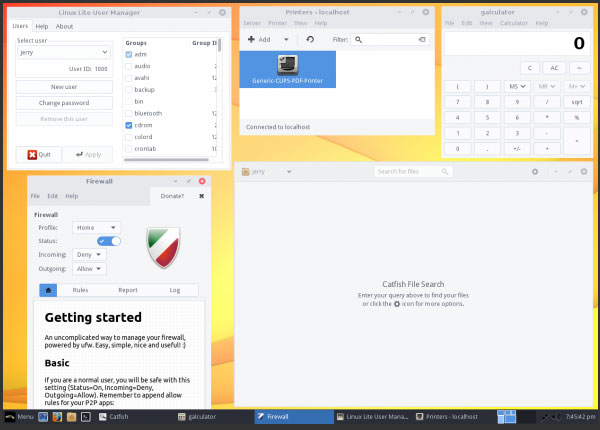 Linux Lite 3.0 is aneasy-to-use Linux OS that comes with nice features and Xfce desktopintegration.
Other Linux distros attempt this using a more minimalistic approach. They provide users with little more than the core Linux guts and a very stripped down complement of bare basic applications. Users are on their own to install whatever other programs they desire.
Linux Lite has nothing minimalistic about it. Its "liteness" makes it an ideal fully functional OS for underpowered and legacy computers. Xfce is an aging desktop environment.
However, it is a Linux workhorse that maximizes speed and overall performance of whatever hardware its hose offers. The tweaking and enhancements the developer integrated make it a great desktop with a familiar, comfortable look and feel.
Basic Needs
Linux Lite runs on a growing range of computer hardware options. Bare minimum specs call for a 700-MHz processor with 512 MB of RAM. Also needed is a VGA screen capable of 1024×768 resolution.
Preferred hardware specs call for a 1.5-GHz processor with 1024 MB of RAM. Ideal video would require a DVI or HDMI screen capable of 1366×768 resolution.
The Hardware Configuration tool is a very handy addition. It lets users register their system with the distro's hardware database (Lite Info). You can check to find if other users had success running Linux Lite on a computer that matches yours.
When you run Linux Lite 3.0, you can click a menu option to run the INXI application. It gathers your system's hardware information and sends the information to a Linux Lite-hosted database.
The database displays the make and model, CPU, audio, network and storage technical specifications of systems successfully running the Linux Lite distro. It sends that information to the distro's Web page for all to see.
What's Inside
Linux Lite is based on the Ubuntu Linux long-term support (LTS) family. It is a beginner-friendly Linux distribution that targets Windows users primarily.
However, its user base exceeds converts from the Windows platform. Its familiar Windows-like appearance also is a great selling point for seasoned Linux users who want a Linux distro that doesn't demand constant fiddling with adjustments.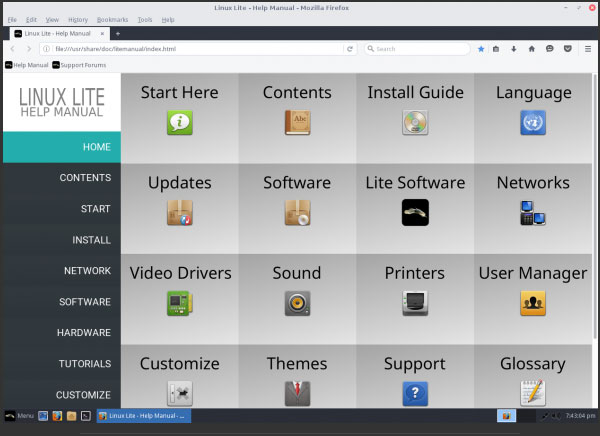 The Linux Lite communitymaintains a comprehensive help manual to provide new users with atrouble-free transition.
The latest version, released May 31, is an impressive upgrade that provides a complete set of applications to assist users with their everyday computing needs. It includes a full office suite, media players and other essential daily software.
Feature Follow-up
Linux Lite 3.0 features a number of significant changes since series 2, including an overhaul of the graphical software manager. It also has a new Login Manager, new boot and system themes, and an overhauled software repository.
Other new features include Folder access from the menu and seamless automated upgrades to future Series 3 releases. A neat and very useful feature is the ability to select multiple programs to install by holding down Ctrl or Shift. Default packages now include Audacity (audio editor), Calibre (eBook reader and manager) and Pinta (Windows Paint.Net look-alike).
A potentially cool tool is SystemD init integration. You can manage services that start up in Linux Lite similar to the way Windows users manage services that start up in that OS.
Users can issue a terminal command to install the 32-bit or 64-bit for SystemD Manager. This application was excluded from Linux Lite 3.0 to gauge public feedback first.
Look and Feel
The Xfce desktop screen is neat and simple, with easy navigation to the menu, system settings and configuration options. The task bar sits along the bottom edge of the screen and resembles an earlier Windows design than is typical for Linux.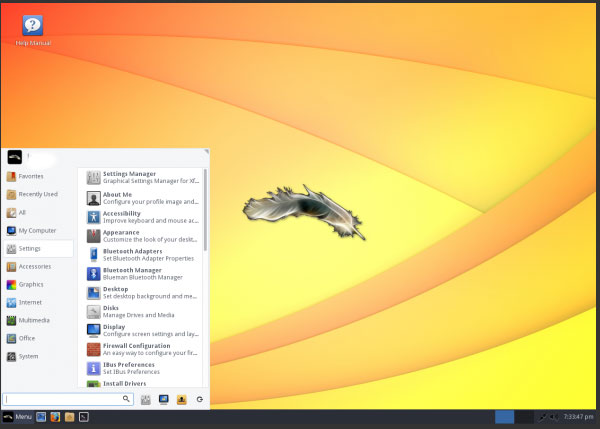 Linux Lite 3.0 offersflexibility and usability options, and a classic task bar.
The menu button in the far left corner has a two-column display. The left column shows all categories. The wider right column shows all of the choices in the selected category.
A search window fills the left half of the bottom of the menu window. To its right are buttons to launch the settings panel, the lock screen, the Switch users tool and the Log Out panel.
The far right of the task bar holds the typical clock readout, volume control icon, Internet connection status icon and Workspace Switcher applet. The center of the task bar shows the minimized windows and other running apps.
You can right-click on any menu item to place it in Favorites, on the desktop, or on the quick launch portion of the task bar.
Bottom Line
Linux Lite 3.0 offers a great deal of flexibility and usability for both recent Microsoft Windows expatriots and seasoned Linux users. A new user application puts all of the needed information for using the distro in one spot. Just click on the topic and automatically view the information in a Web browser display.
All of the system controls and settings are located in the Settings option within the main menu display. Windows users will find a close similarity to the Control Panel in that OS. Even recent Linux newcomers will not need much exploring or head-scratching to navigate their way around Linux Lite.
Want to Suggest a Review?
Is there a Linux software application or distro you'd like to suggest for review? Something you love or would like to get to know?
Please email your ideas to me, and I'll consider them for a future Linux Picks and Pans column.
And use the Talkback feature below to add your comments!