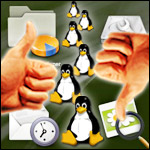 The Kingsoft Office Suite holds the promise of bringing a near perfect clone of Microsoft Office to Linux desktop users. However, Kingsoft's developers still have some work to do on the Linux Alpha release to make it a beta deal.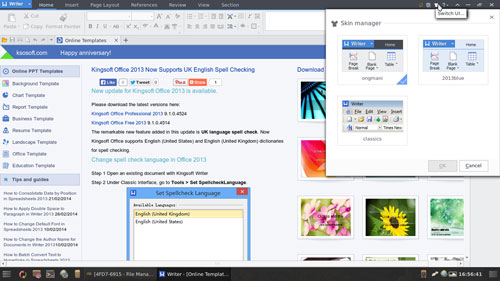 All three Kingsoft Office modules have the same opening tabthat links to the developer's home page. (click to enlarge)
Other than OpenOffice and LibreOffice, the Linux platform lacks any full-featured office suite. Both of these open source office suites have more in common with each other than truly distinguishing features. Both flip-flop in performance, depending on which Microsoft skill they attempt to emulate. Their user interface is strictly classic old school.
AbiWord, part of the GNOME Office Suite, is a less functional word processor. Gnumeric is a less capable spreadsheet app in GNOME office. This suite has no slide deck application.
Perhaps the real competition for Kingsoft will be how it compares to the KDE Office counterparts. That is actually a double test when you consider the KOffice Suite and its forked cousin, Caligra. Both of these office suites have spreadsheet and slide deck apps, as well as other tools that are not part of the Kingsoft Office Suite.
Kingsoft is close to its beta release. The Alpha 12 Patch 3 version released Dec. 4, 2013, is viable enough for me to complete real work with few problems.
Sordid Software
Kingsoft is not yet well known as a Linux application. It is more established with versions for the Windows, Mac and Android platforms.
The office suite is developed by the Beijing Kingsoft Software Co. and released under Open Source and Free Type licenses. The company's products, depending on platform, are titled "WP3" and "WPS."
I initially learned about Kingsoft Writer about six months ago as an app download called "WPS" on my Android tablet. More recently, I found the Kingsoft Office Suite as the default offering in MakuluLinux 5.
WPS Writer performed well in a tablet setting. The Kingsoft Office Suite was more impressive on the Linux desktop.
Package Deal
Kingsoft (or WPS) Office For Linux is a threesome. It comes with Writer, Presentation and Spreadsheet. This dynamic package does a fairly satisfying job of imitating Word, Powerpoint and Excel from Microsoft.
WPS has no equivalent database component, but in compairng the features stockpiled in the Kingsoft bundle, less does not suggest anything close to a tie in performance. The Kingsoft Office Suite has several features and user interface tweaks that go wanting in all of the other products.
The WP3 — yet another of its names — software set has an impressive list of features. In fact, its GUI sports a ribbon-like interface that resembles the one used in Microsoft Word. None of the other Linux office suites has a ribbon-style interface.
The cloning is authentic, even down the Microsoft blue skin, although that is not a default setting. A built-in skin manager loads the default choice of Ongmani, but it's easy to change the skin to a Classic or 201 Blue skin.
GUI Gorgeous
The ribbon is a key part of the look and feel of Kingsoft's suite of office apps. I left Microsoft Word behind when I migrated to Linux before the ribbon's 2007 debut, but working with it in this Linux configuration, I have to agree that it gives new meaning to "ease-of-use."
Users are not tied to the ribbon feature. The other option is Classic. It closely resembles the dropdown menu designs and tool bar rows of Office XP or Office 2003.
Tabs do for this office suite what they do for Web browsers. The tab concept lets you open new documents and access them by clicking a labeled tab situated between the ribbon rows and the writing window.
This is a similar approach used by high-end text editors. It is very effective compared to moving to a writing window on another screen, as most other word processors do. It works as well in the spreadsheet. However, the tab interface is akin to the use of sheets in spreadsheets. The Presentation app uses the tab feature as well, with the same ease of navigation.
Feature Fest
An awesome feature in Kingsoft Writer is how you can change paragraph formatting on the fly. Writer has a persistent floating button next to each paragraph in the left margin. Click this button to auto-select the whole paragraph. Then drag the handles of the borders that now surround the paragraph to change the length and height of the block of text.
This works much like resizing a photo or text box in other editing tools. Two other formatting shortcuts are selecting multiple paragraphs with Ctrl+Left Mouse Button and the whole document with Ctrl+A.
Backup Management is a better AutoSave that works in all three office modules. This feature creates periodic backups of your work in a separate folder, regardless of when you last saved them. You can open the backup document at will. this is a virtual safety net to prevent data loss, should the application crash or the hardware be hit by some other malfunction.
A cool feature in Kingsoft Spreadsheet is Text to Columns. This lets you easily modify the way data is displayed in specified cells.
For example, you can split customer lists into First Name and Last Name. You can separate each part of the list with a space, any character or line, to easily sort a list into two columns.
Format Fury
File compatibility might be a major stumbling block with Kingsoft. The developer has done a good job of reading and writing Microsoft Office file formats, but open source formats are largely ignored.
Kingsoft needs more formats in the Save As category to make file types more convertible. It is limited to its own format and Microsoft file types for all three modules. It only offers additional choices of JPEG/PNG/TIFF for slide decks. In Writer, only RTF, HTML and TXT formats are available. For Spreadsheets, XML, Web Page and Text are the only other choices.
Kingsoft does a good job of not messing up the on-screen rendering of original documents created in other programs, but it fails when handling common open source file types.
Kingsoft Office does not support OpenOffice or LibreOffice formats such as ODT, ODP and ODG. Instead, it has its own native file formats with the extensions WPS for Writer, DPS for Presentation and ET for Spreadsheets.
Bottom Line
Kingsoft is too young a project to be available in Linux distro repositories. The only distro distributing it so far seems to be MakuluLinux.
You can get it from the developer's website in RPM format for Fedora, CentOS and OpenSuse. It is also available in DEB format for Debian distros such as Ubuntu, Mint and Knoppix. Tarball packages are an option.
If you need a well-functioning alternative to other Linux office suites, Kingsoft Office could be a good choice. The Alpha 12 release is stable and works well. It is a reliable clone of Microsoft Office. It should serve you well if you do not need compatibility with open source file formats.
Want to Suggest a Linux Application for Review?
Is there a Linux software application you'd like to suggest for review? Something you love or would like to get to know?
Please email your ideas to me, and I'll consider them for a future Linux Picks and Pans column.