The next big Raspberry Pi thing is now here, with lots more computing power and more options.
The Raspberry Pi Foundation on Monday announced the availability of Raspberry Pi 4, a comprehensive upgrade that touches nearly every element of the computing platform.
Raspberry Pi 4 offers users a choice of three memory capacities. The entry-level 1 GB RAM retains the signature US$35 price; 2 GB costs $45; 4 GB sells for $55. Prices exclude sales tax, import duty (where appropriate) and shipping.
All three variants launched on Monday. The foundation built more of the 2 GB variant than others and will adjust the mix over time to meet demands.
The upgrade to version 4 delivers a first-time PC-like performance while retaining the interfacing capabilities and hackability of the classic Raspberry Pi line, according to Eben Upton, Raspberry Pi cofounder and CEO of Raspberry Pi Trading.
The new features make it the most powerful version of Raspberry Pi to date, according to Charles King, principal analyst at Pund-IT. Mostly, it targets hobbyists, the maker community and educational use cases. This latest upgrade should open up new use case options and market opportunities for the operating system.
"The enhanced performance and functions allow the platform to compete more effectively with PC-class chips, including Intel Atom and Celeron. It could open doors for Raspberry and Arm among vendors developing IoT devices that are looking for alternatives to x86," King told LinuxInsider.
Faster Speed, Better Performance
The fourth-generation board is faster and more capable. It is dual-screen and 4K compatible. It delivers three times the processing power and four times the multimedia performance as the Raspberry Pi 3+ predecessor, according to the foundation.
The goal of the upgrade is to provide a rich computing experience with a balance of performance for most users at roughly one-tenth the cost of traditional desktop computer, said Upton.
"Raspberry Pi 4 is the first product we've produced that meets the performance level required to function as a general-purpose PC for the majority of users. It's a good fit for users who want to browse the Web, edit documents or watch videos," he told LinuxInsider.
Beyond the general purpose PC use case, extensive use is expected in media playback, such as set top boxes, as well as digital signage, industrial control and automation applications, Upton said. In education, it is used both in teaching young people about programming and in physical computing projects like robotics and weather stations.
Small-Sized Powerhouse
The credit-card sized Raspberry Pi computer board is available with the operating system software on its own without any accompanying attachments. It is also available as a complete kit that includes monitor, mouse, keyboard, SD card, power supply, cables and case for $120.
The new computer board and next-gen software positions Raspberry Pi to graduate from its largely hobbyist and educational user base to the workplace. Despite its primary target audience in education, the Raspberry Pi technology has grown in power over the years and become a huge hit with the wider Maker community, according to Simon Ritter, deputy CTO of Azul Systems.
"I've seen it used for pretty much everything you can think of, from robot control to maintaining a scoreboard for basketball to machine learning applications playing Minecraft," he told LinuxInsider.
Strong Competitor Rising
Raspberry Pi's massive increase in power will make it more appealing to users. The switch to a 64-bit processor and having a maximum of 4 GB of RAM make it capable of taking on really significant tasks, added Ritter.
"Adding two 4K displays, Gigabit Ethernet and USB 3 is incredible," he said.
Those new features could ensure the Raspberry Pi's suitability in the crowded field of Internet of Things workloads. Some people are pitching Pi as an effective platform for IoT development and deployments, noted Pund-IT's King.
There are numerous open source OSes designed for IoT workloads. They include ARM's mBed, Amazon's FreeRTOS, Contiki, and TinyOS. Plus, though they are not Linux distros, you cannot ignore Microsoft's Windows 10 IoT and WindRiver VX Works, he added.
"There have been a number of other development boards produced, but none seems to have been as big a hit as the Raspberry Pi," Azul's Ritter said.
Raspberry Pi is in a performance class of its own, maintained Upton. "We don't believe there is anything out there in the same price/performance class as Raspberry Pi 4."
Demand Will Tell
User demands for Raspberry Pi will grow as a result of the latest upgrade, Upton predicted. Increasing performance is the foundation's path to growing its user base.
"Raspberry Pi 4 has triple the performance of its predecessor, so we hope to see an increase in adoption," he said.
The way Raspberry Pi's developers pack so much computing power into such a small form factor without a fan and still keep the price point is phenomenal, noted Ritter.
That combination makes Raspberry Pi 4 viable for enterprise use. For example, Azul Systems already has a version of Java — dubbed "Zulu" — that runs on this device and supports the chip architecture and increased memory, Ritter noted.
"This will make it much easier for people to deploy existing Java applications straight onto these boards without code modification or recompilation," he pointed out.
New Design Details
The Raspberry Pi 4 board's looks are similar to previous $35 products. In fact, the design has changed very little since the original 2014's Raspberry Pi 1B+.
This new upgrade changes some of that internal appearance. It comes with a small number of essential tweaks to the form factor to accommodate new features.
For example, developers replaced the power connectors from USB micro-B to USB-C. This supports an extra 500mA of current and ensures a full 1.2A for downstream USB devices, even under heavy CPU load.
Another design tweak accommodates a dual display output within the existing board footprint. Developers replaced the type-A (full-size) HDMI video connector with a pair of type-D (micro) HDMI connectors.
Other connector changes occurred for Ethernet and USB devices. The Gigabit Ethernet magjack is now found at the top right of the board rather than at the bottom right. This simplifies PCB routing. The 4-pin Power-over-Ethernet connector remains in the same location so Raspberry Pi 4 remains compatible with the PoE HAT.
The Ethernet controller on the main SoC is connected to an external Broadcom PHY over a dedicated RGMII link to provide full throughput. USB is provided via an external VLI controller connected over a single PCI Express Gen 2 lane and provides a total of 4 GB per second of bandwidth shared between the four ports.
All three connectors on the right-hand si1. In all other respects, the connector and mounting hole layout remains the same. That ensures compatibility with existing devices and other accessories.
More Raspberry Features
New Raspbian software is available with the Pi 4 release. To support Raspberry Pi 4, the developers shipped a radically overhauled operating system based on the forthcoming Debian 10 Buster release.
The change to Debian 10 Buster brings numerous behind-the-scenes technical improvements. It also brings an extensively modernized user interface and updated applications, such as the Chromium 74 Web browser.
Pi 4 Highlights:
A 1.5GHz quad-core 64-bit ARM Cortex-A72 CPU (~3 performance)
1GB, 2GB, or 4GB of LPDDR4 SDRAM
Full-throughput Gigabit Ethernet
Dual-band 802.11ac wireless networking
Bluetooth 5.0
Dual monitor support, at resolutions up to 4K
4Kp60 hardware decode of HEVC video
Complete compatibility with earlier Raspberry Pi products
Upgrade Caution Issued
The developers suggest not rushing into Raspbian Buster without taking precautions. They recommend downloading a new image rather than upgrading an existing card.
This precaution ensures that the upgrade uses a clean working Buster system. For those who can not wait, be sure to make a backup first.
Also be aware that developers are retiring the legacy graphics driver stack used on previous models. Instead, Raspberry Pi 4 uses the Mesa "V3D" driver developed by Eric Anholt at Broadcom over the last five years.
The new video driver offers many benefits, including OpenGL-accelerated Web browsing and desktop composition, and the ability to run 3D applications in a window under X, according to the developers. It also eliminates about half of the lines of closed-source code in the platform.
New Raspberry Pi 4 Accessories Needed
Connector and form-factor changes bring with them a requirement for new accessories. These include users upgrading to buy a new Raspberry Pi 4 Case. One designed by partners Kinneir Dufort offers an all-new, two-part case priced at $5.
---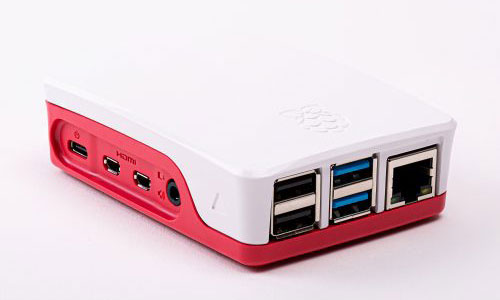 $5 Raspberry Pi 4 Case
---
Another option to save some coin is to modify an existing Raspberry Pi case. Cut away the plastic fins on the right-hand side and omit one of the side panels.
Upgrading to the new Pi 4 board requires a new power supply. Good, low-cost USB-C power supplies (and USB-C cables) are surprisingly are hard to find, according to Upton.
Ktec developed a suitable 5V/3A power supply priced at $8. It is available in UK (type G), European (type C), North American (type A) and Australian (type I) plug formats, according to the foundation.
You can reuse a Raspberry Pi 3 Official Power Supply with an adapter to convert from USB micro-B to USB-C. The thick wires and good load-step response of the old official supply make this a surprisingly competitive solution if you do not need a full 3 amps, noted Upton.
Similarly, low-cost micro HDMI cables for the Raspberry Pi 4, which reliably support the 6Gbps data rate needed for 4Kp60 video, can be hard to find, he said. You can solve that problem with the Amazon Basics cable. Another option is a 1m cable available soon from the foundation's resellers for $5.
Silicon Upgrade Too
All of the Raspberry Pi products since the original Raspberry Pi in 2012 are based on 40nm silicon. Developers improved performance by adding progressively larger in-order cores (Cortex-A7, Cortex-A53) to the original ARM11-based BCM2835 design. That ended With BCM2837B0 for Raspberry Pi 3B+. The cost became prohibitive.
Raspberry Pi 4 is built around BCM2711, a complete re-implementation of BCM283X on 28nm. The power savings delivered by the smaller process geometry allowed Raspberry Pi developers to replace Cortex-A53 with the much more powerful, out-of-order, Cortex-A72 core. That design executes more instructions per clock and yields performance increases over Raspberry Pi 3B+ of between two and four times, depending on the benchmark.
That change allowed the developers to overhaul many other elements of the design. One key change is a move to a more modern memory technology, LPDDR4, to triple available bandwidth.
Developers upgraded the entire display pipeline, including video decode, 3D graphics and display output to support 4Kp60 (or dual 4Kp30) throughput. They also addressed the non-multimedia I/O limitations of previous devices by adding on-board Gigabit Ethernet and PCI Express controllers.