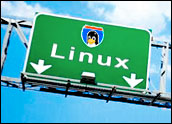 Open Source and the Open Road, Part 1
The connected car is on the verge of going where no vehicle has ever gone before. Presently, many cars enable drivers to pair their mobile music and phone devices with their vehicles' sound systems. But cars with telemetry that will connect to cloud-based navigation and entertainment services could soon be common.
Developers on the cutting edge see car makers keeping a lock on third-party apps pushed from cloud sources. But competition among automotive OEMs may push the envelope in regard to what types of apps the connected car might access.
Still, it is too early to say with certainty whether the car of tomorrow will become the ultimate mobile device able to download a trunkload of specialized automotive-based applications.
Linux Inside
The Linux community is setting the itinerary for what could become the biggest road trip for the Connected Car caravan. Two significant events are already in motion.
One is the creation of the Genivi Alliance. This group hopes to become a unifying force to lobby for Linux's adoption in the automotive industry. It is focusing on the development of software and hardware for in-vehicle infotainment. The driving forces in this alliance are GM, BMW, Intel, Monte Vista and others.
The other event is the first gathering of Linux movers and shakers to rally ideas and products for Linux-based automotive devices. The Linux Foundation last month hosted the first-ever Automotive Linux Summit at the Pacifico Yokohama in Yokohama, Japan.
"The Automotive Linux Summit definitely represents the evolution of the car as a device. Its creation signals a new approach to car manufacturing, and that approach includes Linux," Rudolf Streif, director of embedded solutions for The Linux Foundation, told LinuxInsider.
Wide Open Field
The summit provides an open forum among potential product developers for the exchange of numerous consumer concepts. With a few exceptions, vendors generally haven't yet ventured beyond the drawing board to produce working prototypes.
The summit is a technical, collaborative event where developers, software vendors and car makers work to advance Linux and other technologies, according to Streif.
However, "Prototypes are being demonstrated since last year. A few providers are already working on consumer releases," Omkar Panse, lead technical architect and Linux expert for KPIT Cummins, told LinuxInsider.
The OS competition in the automotive industry is fierce, but Linux-based OSes are already providing an advantage due to their ability to support car makers' requirements for the long term, noted Streif. The Linux OS represents a good option for OEMs transitioning into the Connect Car.
For example, Tizen and MeeGo are fully maintained Linux-based OSes targeted at connected devices, including cars. And Android is another promising option for car makers that want to use open platforms. These are just some of the options, he suggested.
"One of the most compelling advantages of Linux is its openness and modular architecture, allowing OEMs to choose and adapt exactly what they need in order to tailor the operating system to the specific requirements," he said.
Head Unit Handy
One consumer product so far has surfaced as starting point for driving the Connected Car. The head unit will be the backbone of car connectivity.
"It very quickly will evolve in a major component of cloud connectivity in the car," Pushpahas Joshi, expert for in-vehicle-infotainment at KPIT Cummins, told LinuxInsider.
"Head units can sell for thousands of dollars. The innovation is going to come from outside the car," Joel A. Hoffmann, automotive business strategist for Intel and member of the board of directors and marketing lead for the Genivi Alliance, told LinuxInsider.
Connectivity Disconnect
One of the big challenges in developing first-generation products like an advanced head unit is that every OEM implements connectivity in a different way, explained Hoffmann. Add to that challenge the fact that many computer systems are at play in each vehicle.
A related struggle with developing a connected car is the time factor. For instance, a connected car in an ideal sense is when all the cars talk to each other about the driving conditions.
"Today's navigation is 15 minutes old when you get it. A connected car can let you have real-time information about traffic and road conditions," said Hoffmann.
Making Sense of It
However, this degree of heightened cooperation that will be necessary among car makers requires the presence of a lead agency to unify efforts. Without a guiding agency, the connected car might never make it out of the dealer's showroom.
"To do that, Genivi is trying to remove barriers among OEMs. This is a big step forward. We never had this in such degree of cooperation in the industry until now. We are developing consistent tool sets among different OEMs," he said.
In five to 10 years we should have all of the pieces in place between all these Linux-based cars. Sensors will keep cars from crashing into each other. We need a certain amount of infrastructure in place. Genivi is working to accomplish this, Hoffmann noted.
Wireless Connectivity
The key to many car-specific navigation-based applications will be integrated with each car's telemetry system, which will tap into cloud servers.
"This use of telemetrics inside the care will be driven with wireless communication. The instrument cluster will change from standard analog to digital," Joshi said.
The innovation will involve integrating cloud servers with the car. To that end, the cloud will hold the services rather than have consumers store data locally within the car. For instance, the navigation system will be hosted on the cloud. Drivers can download maps to the car for temporary storage, explained Joshi.
Many of the apps to be developed for in-car use will integrate the cloud and wireless services. For instance, this will provide drivers with access within the car to the Internet and other services.
Telemetry Loss in the Cloud
Current GPS-based in-car navigation systems will not work in these near-future connected cars. Today's equipment — such as satellite radio connections — go silent when the vehicle travels through tunnels, over some bridges and among towering city buildings.
One solution will be the use of car sensors to compensate for blocked cloud signals, according to Joshi. Maps will download, so that will not be a big problem. On-board sensors could rely on dead reckoning techniques to guide the driver until the cloud connection is re-established.
"Cloud connectivity problems will be solved by a fall-back on traditional radio reception when a satellite or cloud signal is lost. When the connectivity is re-established, the programming will revert back to the cloud services. That is the plan, but it is not yet ready to deploy," he said.
Android's App Army
Other consumer "mobile" apps could reside on Android tablet integration as a wireless endpoint. This will also provide drivers with a certain degree of remote control to their vehicles, Joshi suggested. But he cautioned that Android as a favored auto device OS is far from a slam-dunk.
"Car makers view Android differently than Linux. There is far less cloud access with Android. Technical issues surround how to modify the Android OS and how to integrate it into the car," Joshi said.
Much more interest exists with Android in China. The automotive industry is not yet there with this type of connectivity. But it will be the next big thing, he predicts.