GitHub this week released the results of its survey on open source software development, practices and worldwide communities. GitHub partnered with researchers from academic institutions, industry organizations and the open source community to collect responses from more than 6,000 participants.
The results show the importance of open source documentation and reveal some of the problems missing or poorly done documentation can have on users and project adoption.
The survey also reveals an ongoing concern about nasty interactions among some open source developers, rudeness toward community members, and negative attitudes toward female programmers.
Open source software plays a significant role in today's society and economy. The purpose of the survey was to gain an understanding of the people who build, maintain and use these projects, according to GitHub. The survey sought to uncover concerns about the sustainability of open source, and the critical network of services and technologies that depend on it.
Survey respondents expressed concern over a growing unresponsiveness within communities toward users.
The survey identified what open source users value in software: Stability and security were the top responses, while support and innovation were least important.
Some people see open source as a quasi-Utopian approach to IT. However, the survey indicates that the community and associated groups and individuals are heir to the same prejudices and bad habits as mere mortals, noted Charles King, principal analyst at Pund-IT.
"It will be interesting to see if the folks involved can bring the same level of imagination and innovation to fixing those problems that they do to software development," he told LinuxInsider.
Survey Parameters
The Open Source Survey 2017 is an open data project by GitHub and collaborators from academia, industry and the broader open source community. The results are an open data set of findings about the attitudes, experiences and backgrounds of those who use, build and maintain open source software.
Github sought data on open source software development practices and communities. The survey posed more than 50 questions on a wide variety of topics and collected responses from 5,500 randomly sampled respondents associated with more than 3,800 open source repositories on GitHub.
In addition, the survey includes more than 500 responses from a non-random sample of communities that work on other platforms.
About 70 percent of respondents were employed full- or part-time. Some 85 percent of them had contributed in some way to software development — as developers or designers, or in other roles in the software industry — frequently or occasionally as part of their main job.
Major Concerns
The survey found that problems permeate open source communities in two primary areas: documentation and behavior.
On the positive side, the survey also showed that using and contributing to open source often happens on the job. and that open source is the default when choosing software.
Nearly 90 percent of the respondents said missing or poorly done documentation was one of the problems they encountered using open source. Respondents agreed that documentation was highly valued as a means for establishing inclusive and accessible communities, but that it frequently was overlooked.

"Documentation is always an issue, as many developers love to develop but hate to document what they develop. This starts with committing code, and extends more noticeably to writing things like user guides," said Simon Ritter, CTO at Azul Systems.
The situation hasn't changed much since the early days of open source software, and it's doubtful that it will change any time soon, he told LinuxInsider.
The same is true regarding the negative community interactions, Ritter said.
"This is part and parcel of the open source movement — always has been and always will be. Everyone thinks they know how to do things the 'right' way, and people who do it differently must be wrong. Developers, by nature, hold strong opinions," he observed.
One of the benefits of open source software is that the development process is open to the public and available for inspection, noted Jeffrey Carver, computer science professor at The University of Alabama.
"This openness gives potential users and potential contributors more confidence in the integrity of the project compared with projects for which they do not have this type of access," he told LinuxInsider.
Bad Behavior
The survey revealed an ongoing concern over negative interactions among some devs and unresponsiveness within some communities. It also showed concerns for troublesome attitudes toward female community members.
Negative experiences have real consequences for project health, the survey found. Some 21 percent of people who experienced or witnessed negative behavior said they stopped contributing to a project because of it, and 8 percent said they started working in private channels more often.
Negative interactions are infrequent but highly visible, and there are consequences for project activity, the survey analysis revealed. Discouraging effects can extend far beyond the individuals directly involved.
Forty-five percent of respondents witnessed and 16 percent experienced bad behavior, the survey shows. The most frequently encountered bad behavior was rudeness.
Twenty percent witnessed name calling and 5 percent experienced it. Eleven percent witnessed stereotyping, and 3 percent experienced it.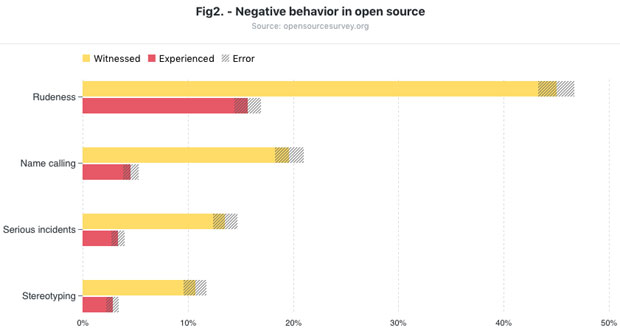 More serious problems included sexual advances, stalking or doxxing. Each was witnessed by less than 5 percent of respondents and experienced by less than 2 percent. However, those behaviors cumulatively were witnessed by 14 percent and experienced by 3 percent.
Setting positive expectations of behavior and addressing negative incidents quickly can improve contributor retention and collaboration, the report concluded.
Policies Need Clarification
The survey revealed that open source is used widely in professional contexts. Some 94 percent of respondents used open source at least sometimes in their professional work, while 81 percent used it frequently. Sixty-five percent of those who contributed to the community did so as part of their work duties.
A significant number of respondents reported that their employers' official policies and IP agreements were unclear regarding what was allowed and under what terms.
Businesses have played a key role by subsidizing open source work by employees, so creating and communicating clear policies could encourage more frequent, regular contributions, the survey analysis notes.
Other key findings:
Open source is the default when choosing software. Seventy-two percent of respondents said they always sought open source options when evaluating new tools.
Security matters when choosing new software. Eighty-six percent of respondents said it was extremely or very important. Most users believed that open source was more secure, on average, than proprietary software.
Stability and user experience are big factors when it comes to choosing software. They were extremely important for 88 percent and very important for 75 percent of respondents.
Major Benefit
Due to GitHub's massive importance, its survey has the potential for advancing the open source movement, noted Azul Systems' Ritter.
"Literally anyone who is anyone doing open source development is hosting their code on Github," he pointed out.
The survey is a wake-up call for organizations that have turned a blind eye to the issues it exposes, said Pund-IT's King.
"You could argue that GitHub helps to bring a sense of order to open source, and that without it that world would be considerably less approachable and more chaotic," he said.
Illuminating Factors
It's interesting that the top problems encountered in open source software have little or nothing to do with technical skills or software requirements, said University of Alabama's Carter.
Even the documentation issue is more of a social response than a technical one, he said.
It's remarkable that so many coders are so bad at documentation, said King. It is a bad habit analogous to drivers who ignore the fluid levels in their vehicles, or pilots who blow off safety inspections.
The huge gender imbalance among contributors surprised Ritter.
"I know there is a gender imbalance in the software development world as a whole," he said, "but 95 percent male dominance does seem larger than I would expect."