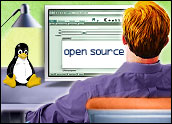 Everyone has heard the expression, "You get what you pay for." It suggests that the functionality of something is directly proportional to its price. But that rule of thumb is being turned on its head by open-source software.
Open-source software is free, but it differs from "freeware" in some major respects.
The code underlying the software is open for anyone to see and make changes in. That isn't the case in freeware.
Open-source software also encourages collaboration and community in its development. Freeware is usually developed by a single author and while it may attract devotees, it rarely attracts collaborators.
Open Source Hall of Fame
Although the concepts underlying open-source software seem almost counterintuitive in an age of greed and jealous guarding of intellectual property, it has worked well in several areas, notably in operating systems (Linux), server software (Apache), Web browsers (Mozilla-Firefox) and database management (MySQL).
There's also a very good Web authoring program that's open source, Nvu, pronounced N-View.
As a dabbler in Web authoring, I can honestly say that Nvu is one of the easiest to use and satisfying programs that I've seen in this category in a long time.
Multiple Platforms
All major platforms are covered by the software — Windows, OS X and several flavors of Linux — as well as more than a half-dozen foreign languages.
The interface is built around two window panes. One is a site manager, which provides functions you'd find in an FTP program. FTP is how files that make up a Web site are uploaded to the Internet. The other pane is where you build your Web pages.
As you build a page, you can see various views of your work by clicking on tabs at the bottom of the editing pane. View changes are lightening fast.
Multiple Views
There's a "normal" view. It displays your page as it will appear online, but with table borders and anchors visible. Tables are like spreadsheets for objects on a Web page. Anchors are links to specific locations on a page. That contrasts with "links," which direct a browser to an entire Web page.
There's also an "HTML tags" view. Here your page appears as it would online, but its objects are labeled with yellow boxes that indicate the underlying HTML code. "P," for example, would indicate the code for paragraph. Changes in the code for an object can be made by clicking on a box.
When you click on a box, a form box pops up. Formatting choices can be made by clicking buttons and altering text fields in the pop-up.
Convenient Editing
There's a source code view too, which shows you the raw HTML code for yourpage.
Finally, there's the preview view. That displays the page as it would appear in a browser window, although links and JavaScript on the page are inactive.
What makes the view setup even more convenient is that you can make editing changes in any view. That includes dragging and dropping text and images from other applications or the Internet onto a page.
The program also allows you to edit multiple pages during a session. Each page you have open appears as a tab at the top of the editing pane. You can swiftly move between pages by clicking the appropriate tab.
One-Click Publishing
Elements on a page can be speedily created and formatted by using the toolbars at the top of the program's interface.
With a click of an icon on the main toolbar, you can publish your site and insert elements like anchors, links, images, tables and forms.
With the formatting toolbar, you can tag blocks of text, tinker with their size and color, and set their style — bold, italic, underline, align them and create numbered or bulleted lists.
There's even a built-in CSS editor that advanced Web authors will find very useful.
Nvu is a tremendous piece of work that outshines many of its commercial competitors. Not only is it a free lunch, but it's a mighty tasty one, too.
---
John Mello
is a freelance business and technology writer who can be reached at
[email protected]
.
---

Read More Reviews…
---