Founded in 2010 by trading technology experts, OpenFin is growing on the heels of HTML5 standards edging out ill-fitting older Web solutions. Built onto an open source platform, OpenFin Desktop helps financial institutions to bridge the security gaps in their outdated Web-browser technology.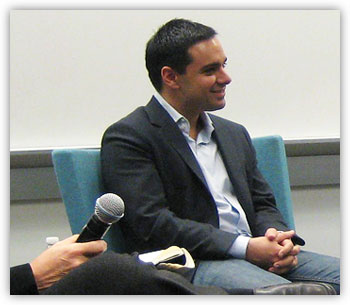 OpenFin CEO Mazy Dar
OpenFin is developing software to bring the next generation of trading applications to the financial services industry via HTML5 technology. This will enable trading applications to provide vital functionality outside the browser.
Despite its origins in open source, OpenFin Desktop caters to a financial industry bound to a proprietary operating system. For instance, financial traders can not access pop-ups if their systems run Flash or Silverlight.
In this exclusive interview, OpenFin CEO Mazy Dar tells LinuxInsider about the challenges his company faces in using open source solutions to provide a more-effective experience to financial firms that remain staunchly committed to older versions of Microsoft's Internet Explorer.
LinuxInsider: What industry challenges led you to establish OpenFin for such a regulated niche market?
Mazy Dar:
The people who provide financial systems to banks and financial firms always have to deal with two competing challenges. One is the user experience they are able to provide in their application. This involves how selective the screen looks, how easy it is to use, the features they can provide — whether it is push notifications or pop-ups or Excel integrations. Those are the kind of features that are very important if you want to get adoption of your financial application.
The competing challenge is a deployment and maintenance concern. As soon as you start installing software to get that great user experience, you have long cycles of security reviews and upgrade cycles with banks and large hedge funds. What that means is that you can only do one or two software upgrades in a year.
LI: How do those software development issues impact open source developers?
Dar:
That is a big cost-to-market issue, and that system underlies security issues that that approach takes. Some financial firms have been using Java to solve this problem. Some are using Flash, and others are using Microsoft Silverlight. It's all about how do I get great user experience with fast deployment? There is also the issue of installing on the user's desktop.
LI: Is the banking industry looking for something to replace Java and Flash and Silverlight?
Dar:
The reason that Flash and Silverlight even came out was that plain old HTML was not rich enough for the areas that these applications required. So the government made its announcement in 2011 that it was discontinuing the use of Flash for mobile, and Microsoft started making some noise about backing away from Silverlight.
The large banks and financial institutions stood up and took notice. They recognized that these things wouldn't be going away over night. But they saw the need to have a replacement in place in three or four years.
LI: How did HTML5 become the bank's new investment?
Dar:
What is interesting is that they all basically came to the same conclusion that the technology they should be using was HTML5. Why? Because that is what Adobe said it was moving to, and that is what Microsoft was focused on, and it also had the support of Google — and it was cross-platform on both the desktop and on mobile.
LI: So you saw an opening to tap into open source to solve the banks' problems?
Dar:
That set the trend for what we saw as an opportunity for OpenFin and is why are we so excited about HTML5. We think we can help accelerate that trend and solve a number of other related problems that firms are having and will have as they adopt HTML5.
LI: It sounds to me like there is a wide open field for HTML due to a lack of any standard.
Dar:
In the last 12 months or so, there has been a large move in the financial industry to embracing HTML5 and embracing a migration strategy to HTML5 technology.
LI: How competitive are open source products in today's trading industry?
Dar:
There are a number of HTML5 frameworks out there that you can use to build your applications. There are a lot of opportunities for HTML5, as it is still very much a work in progress. Plus, there are tools available to help you if you are moving to HTML5 — and we provide a key piece of the puzzle that isn't addressed by anybody else out there right now.
LI: How much of that competition are open source projects providing in this market right now?
Dar:
I think there are a number of open source technologies that are already being widely used in the financial industry — Apache Tomcat, for example, for application hosting and Web servers. … People have an increased desire to use those tools to cut costs and be more efficient.
LI: What challenges do you see for open source helping to provide solutions in this financial niche market?
Dar:
I think the big challenge for the industry is that many of the platforms out there are legacy platforms. So the first issue is how do you migrate off that? Open source can help you build a new thing but not necessarily get off the old thing.
LI: Is that the most pressing quandary you have to resolve?
Dar:
The other issue is that there is still very much a mindset within the largest firms where they are building a lot of things internally that they probably don't need to be building. There is a very significant number of forward-thinking IT leaders in financial firms who are seeing that they can use more technology than is built in-house. That is still very much a factor in some of the largest firms. There is a lot of reinvention of the same tools within all of these firms.
LI: How does your software address these critical issues?
Dar:
Essentially it is software for running an HTML 5 application by a Web browser. With typical trading software, if you think of a quote, for example, the buyer-side firm is placing a request being sent to some number of banks.
On their side, they are getting a pop-up email telling them that a hedge fund is asking for a price on bonds or some other securities. That trading system really depends on the window popping up. If it doesn't pop up, then basically there is no trade. That is one example of the user experience that is quite difficult, if not impossible, to do inside a browser. If you are inside a bank or a hedge fund, those kinds of pop-ups in a browser would be blocked.
LI: Is that the only function that your software addresses?
Dar:
Another key component would be integration with Microsoft Excel, which is used on every trading desk inside the industry. If you wanted to stream prices from your trading application into Excel or in reverse, that is a very difficult thing to do if you are inside a Web browser. Keyboard commands to open a window and execute a trade are very difficult to do if your application is stuck within a browser — and the list goes on.
There happen to be many other user experiences that are really native experiences that you get if you are installing software. So what we have done is make it so you can build an application and instead of deploying it through Internet Explorer, you can deploy it through our software and have a runtime that is fully HTML5-compliant, which Internet Explorer is not.
Plus, you have the user experiences that are typically associated with native applications. So all of the features, such as pop-up windows and Excel integration, become possible from using our software for deployment.
LI: Does the customer have a choice of cloud-based or local installation to obtain these HTML5 support features?
Dar:
Our software runs right on the user's desktop computer. The applications deployed through it are built and hosted by whoever the application provider is. They can be customer-facing applications deployed to the end-user or in-house applications. But when they are deploying, instead of the end user accessing the application through the Web browser, they are able to access the application through our software, which gives them native user experience and all the functionality associated with installed software.
So we are making it possible for firms to not have to make the compromises they have been making. They can get all of the benefits of instant deployments and Web upgrades without having to make any compromises with the end-user experiences.
LI: Is the code in your product completely open sourced, or have you built proprietary features into your software offerings?
Dar:
We used the open source components that Google has written for the open source browser Chromium, and we have written a layer of proprietary technology on top of it that really enhances what is in Chromium and bridges a number of gaps and key requirements that are needed for financial applications and locked-down security environments like you have in finance.
These are the types of things that aren't the focus of consumer browsers. We are leveraging some really powerful technology that Google developed to provide the core infrastructure for what we are doing.
LI: So is your product limited to just the Windows-based Internet Explorer to the exclusion of any Linux-based OSes?
Dar:
The vast majority of users in the financial industry and the institutional trading community are using Windows desktops running Windows XP or Windows 7. Part of what our software helps with is what we call future-proofing the application. Our software is cross-platform. That eliminates our customers having to worry if it will run on what they have.
LI: What about potential for expansion into Linux in the financial market?
Dar:
What we hear from firms that we talk to a lot is the Mac. Their concern is that while the financial institution runs Windows in the firm, their users run Macs at home. Some categories of application are OK to be accessed from home — sometimes with limited functionality because you may not want a trader to execute a trade from home. But you still might want them to have access to real-time market data so they can monitor market movements.
This is a critical concern, because when you build an application, it will sometimes literally live for five to 10 years. So firms have to be thinking down the line about how they reduce friction and reduce the risk of those kinds of changes affecting their application.
LI: Does the financial industry restrict workers to desktop access to the exclusion of today's mobile devices?
Dar:
The firms that we have targeted in the financial industry have applications on the desktop, but also on mobile devices. That is also one of the drivers of HTML5. For example, if you wanted to be on the iPad with a native iOS application deployed through the Apple App Store, where is the HTML5?
If you build a native iOS app, that is not going to run on your desktop. You are going to have to put the app on the desktop. But if you build it in HTML5, that same app that you are using on the mobile device will also, using our software, run on the desktop as well — and vice versa. Now you can think about running your applications on multiple operating systems across multiple mobile devices. That is where we think the gap is.
LI: What is the biggest challenge in developing open source products to meet the financial institutions' unique usability issues?
Dar:
Whether the mobile device is an Android or an Apple product, the devices will have a modern browser on them already that knows how to run an HTML5 application. If you go to most banks, the browser they are running is either Internet Explorer 6, 7 or 8. Versions 6 and 7 provide zero support for HTML5. Version 8 covers slightly less than 25 percent of coverage for HTML standards. Most of the users who have IE8 have only just recently upgraded. Microsoft released IE8 IN 2009.
LI: Does the development hassle end there?
Dar:
The next issue to face is that the end-user does not have an HTML-compliant browser on the desktop. So they can't run your application — and that is the key problem that we solved. We are providing an alternative to running that application in a browser that not only has an affiliated compliant runtime but also provides all sorts of user experiences that aren't even possible with the latest, most modern desktop browsers, whether you have Chrome, or Firefox or Safari.
LI: I think most people would be surprised to learn that banks and other financial institutions are so closely bound to outdated, older technology. Is that because their IT departments hold back technology upgrades?
Dar:
Yes, that is the key. At a bank, you have to worry about what is going to happen to all the applications that are currently running. When you get a new browser, you are doing all sorts of testing to ensure that your old applications are running. You are worried about potential security issues. Those are the reasons it takes so long.
But what it means is that right now is there is a big demand for HTML5 applications, and people are already moving in that direction and building those systems, and already moving away from Java and Silverlight and other technologies. But their end users aren't running a browser that would be able to run those applications yet. That is really the gap that OpenFin is working to fill.