OpenSuse Leap 42.2 goes a long way toward maintaining Suse's reputation for reliability and stability. That said, new users might need a push to take the leap from their familiar distros to this latest OpenSuse release.
Business users can remain confident that upgrading to the latest edition, released last fall, won't put them too close to the bleeding edge of innovation. There is little cause for worry that upgrading might break their current applications and configurations. Leap 42.2 is a safe way to avoid the pitfalls of upgrading too quickly.
Potential OpenSuse Leap users do not need to worry about the upgrade process either. The latest Leap release is designed for "pragmatic and conservative technology adopters," said OpenSuse's release manager, Ludwig Nussel.
I have not used OpenSuse on a regular basis. Earlier Suse Linux iterations targeted commercial customers with a heavy enterprise flavoring. However, the Suse project currently is much more friendly toward mainstream desktop users and offers options for non-enterprise community-based development.
There are two OpenSuse offerings — Leap and Tumbleweed. Tumbleweed is a bit more bleeding edge. Leap takes the upgrade long road, so there is less chance of things breaking.
Leap seemed the more sensible choice for testing OpenSuse's potential, so I rolled up my sleeves and got ready to party.
Stability Rules
Leap provides a level of stability that will make enterprise system managers less fearful. Leap's software packages are a release or two behind those found in the Tumbleweed edition. Leap releases tend to stay with the same Linux kernel version through the life of the release cycle.
The Tumbleweed edition is a rolling distribution rather than a series of isolated point releases. Individual packages are integrated as they are ready. It is based on Factory, openSuse's main development code base. Tumbleweed rolls out the latest stable versions of all software once Factory's bleeding-edge packages are proven stable.
For users without the support of IT pros, the Leap edition requires fewer technical skills for setup and maintenance. Its code base is similar to that of Suse Linux Enterprise.
The main difference is the addition of community-provided software packages — so Leap provides users with much less frustration and worry. OpenSuse Leap follows SLE's release cycle.
Getting Leap Going
As I began my Leap installation, my party mentality quickly evaporated. Steel yourself for a heap of inconvenience with Leap if you're starting fresh. However, if you're upgrading from an earlier version, such as Leap 42.1, you probably won't have to confront this initial inconvenience.
OpenSuse Leap does not let you test its compatibility with your hardware before actually installing it. There is no live session version to try out. From my perspective, not having a live session or demo version of a Linux distribution is akin to sending potential new users to another distro.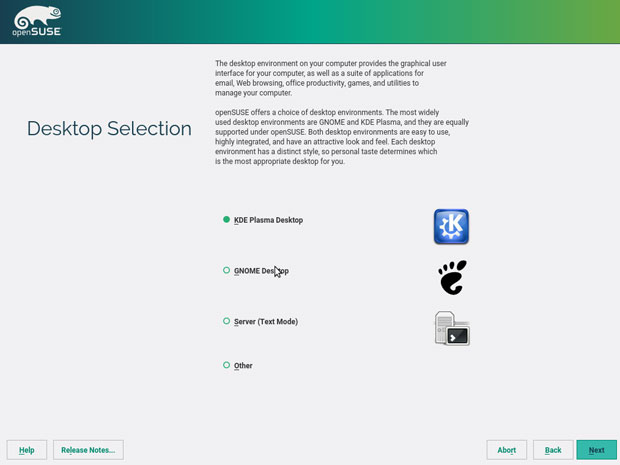 The installation process issmooth and straightforward. However, without a live session to testcompatibility with yourhardware, the only option to fix glitches after installation is to runYaST, Yet Another Setup Tool.
Unless you are in the business of testing computer gear and software, a potential user with only perhaps a desktop or laptop computer has little-to-no motivation for wiping out an existing working system. It is not worth the bother to try something that may not work well or otherwise might not be a good fit.
So I went to plan B. I did a virtual machine installation. That did not play out as smoothly as I would have liked, and the performance was not satisfying.
I had to resort to plan C: Do a full install and hope for the best. I was pleased with the graphical system that drove the installation process. Still, users not overly familiar with the hard drive partitioning process will struggle through some of the options in getting Leap up and running.
You can install OpenSuse in two ways. Click the INSTALL button on the website, and it will take you to a download page with two choices.
You can click the DVD medium panel to download the 4.1-GB ISO file of your choice and burn it to DVD or USB stick. Or you can click the 95-MB install option to download the installation system and all packages from online repositories.
OpenSuse Primer
openSuse 42.2 features KDE's Plasma 5.8 desktop, the Linux kernel's version 4.4, and more than 1,400 new packages in the distribution's software repositories. Leap 42.2 includes support for ARMv7 and Raspberry P3 64-bit.
Leap tends to hang on to older system package releases longer than the Tumbleweed edition. This is one of the main contributing factors making OpenSuse Leap reliable and stable. For example, it has Systemd 228 rather than release 331, and Qt 5.6 rather than version 5.7.
Leap editions get approximately three years of security updates. Upgrades trickle out much less often than with some other distros, with minor point releases available about once per year. Leap 42.2 has a long-term support kernel (Linux 4.4) and KDE's Plasma 5.8 desktop.
You have the option of selecting Plasma 4 instead of Plasma 5 at log in, though. The choice comes down to personal preference for user experience and feature set differences. I did not see much difference visually in the Plasma appearance.
Power users no doubt will gravitate to OpenSuse Leap for its strong KDE desktop integration. This is a staple for the Suse distro lineup, but other desktop options are available.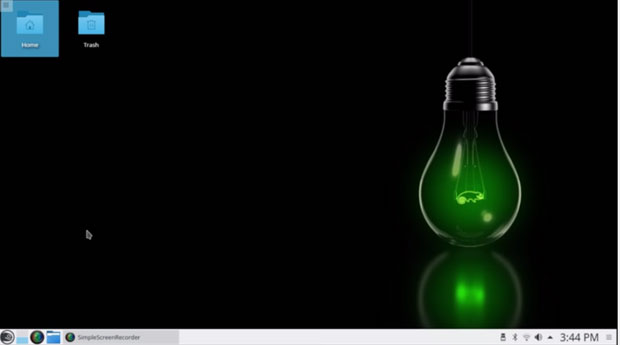 The desktop is simple andtightly integrated with themes and UI design.
You pretty much can have OpenSuse Leap your way. Your other choices are Cinnamon, MATE, GNOME, LXDE, Xfce, LxQt and Enlightenment. As part of the Suse distribution family, Leap uses the RPM package management system developed for Red Hat Enterprise Linux.
Bottom Line
Leap is a solid performer. I had no trouble installing it on MBR and EFI systems. Secure Boot tends to be buggy with some configurations, but it was incident-free with this installation.
The bootloader handles multiboot with other Linux distributions or Windows fairly trouble-free. Installation is routine, thanks to the graphical format used.
Only 64-bit versions are available for x86 computers, which limits access to legacy hardware in the 32-bit machines. ARM ports are available if you can track them down through the project's wiki.
Want to Suggest a Review?
Is there a Linux software application or distro you'd like to suggest for review? Something you love or would like to get to know?
Please email your ideas to me, and I'll consider them for a future Linux Picks and Pans column.
And use the Reader Comments feature below to provide your input!