As 2021 comes to a close, here's a roundup of some of the latest developments in the world of Linux and open-source software.
» Linux Foundation training courses, both free and low-cost, continue to open opportunities for IT tech jobs and corporate training for open-source licensing.
» Linux desktops offer more features to encourage user migration.
» Developers announced new releases for Calculate Linux, Pop_OS!, and CutefishOS.
» CentOS Linux is gone for good, and PipeWire is making moves to replace Pulse Audio.
» ZenML brings a new approach to help data scientists handle MLOps with machine learning integration. It leverages existing tools with no lock-in.
Calculate Linux Adds New Release
The Gentoo-based Calculate Linux distribution — made in Russia — on Dec. 8 was updated to version 22; a major release that brings several new features and updated components. It is an impressively different Linux operating system.
This is a distribution designed with home and SMB users in mind. Calculate is particularly appealing to small businesses that want a rock-solid system with the flexibility to meet a variety of needs. It is optimized for rapid deployment in corporate environments.
Calculate is old-computer friendly. It lets users optimize systems to match their hardware to best fit their needs and can be an inviting computing option for consumers with Linux know-how.
Calculate is not difficult to use. Though it is a bit different under the hood, especially in how its package management system works.
Calculate Linux 22 offers a switch to PipeWire as the default sound server instead of PulseAudio. It also offers a former default option of ALSA (Advanced Linux Sound Architecture).
This latest version installs the system once and lets you update when needed. You can even update from a new image system while still running the current one. This is a great option to ward off upgrade surprises.
Under the hood are several significant changes. For instance, Strawberry is the default music player instead of Clementine, enhanced support for Hyper-V hardware virtualization is added, and udev is the default device management utility instead of eudev. Lots more internal improvements give better system performance.
Calculate Linux 22 is available to download as live/installable images with the KDE, Xfce, Cinnamon, LXQt, and MATE desktop versions.
CutefishOS More Than a Pretty Face
I've had my eye on CutefishOS for the last few months. It could surpass the look and feel of sprightly appearing Linux distros the likes of Deepin and Elementary OS. Developers released the latest beta version earlier this month.
CutefishOS is an elegant and easy-to-use Linux desktop based on Ubuntu Linux and Debian 11 Bullseye, but running its own in-house built CutefishDE desktop environment. It does not focus on more experienced users. Instead, CutefishOS is built around the notion of simple, efficient, refreshing, and hassle-free Linux distribution.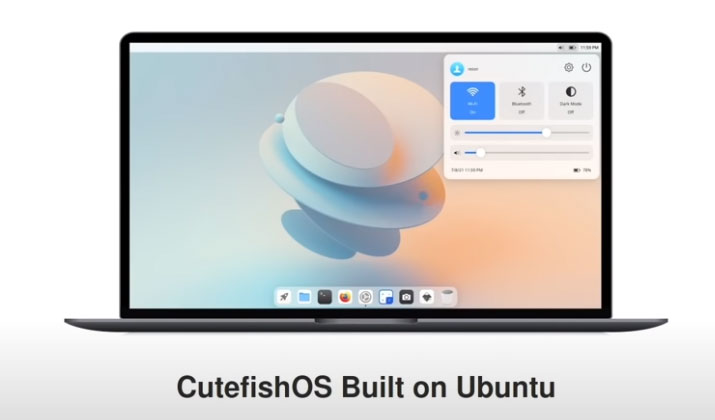 For the developers, CutefishOS is all about offering the best desktop experiences compared to Windows and macOS. This distro serves up subtle animation effects. You can substitute the default for the magic lamp effect, similar to the Jelly Mode introduced with Zorin OS 16.
The CutefishOS applications like calculator, screenshot, files, and video player have been tailored for the desktop environment to provide a uniform experience.
This latest beta is a fun-filled version to demonstrate its satisfying performance now and its future potential for something new and different and functional in Linuxland.
PipeWire To Replace PulseAudio
Red Hat is instituting a major audio default change in Fedora and possibly Red Hat Enterprise Linux (RHEL) with a shift from Pulse Audio to PipeWire for better audio on Linux.
Red Hat's software developer Wim Taymans in 2015 created PipeWire, based on an earlier project called PulseVideo. PipeWire was developed for servers for audio and video capture and playback. Taymans is still working on the video side of the project. The audio side is mature enough for Fedora 34 to be the first Linux distribution to use it by default. There it manages PulseAudio, JACK, ALSA, and GStreamer-based applications.
Interestingly, Red Hat previously developed PulseAudio as an audio manager. It has been the most common audio server for Linux. But it has a trouble-studded history of difficulties. These include its awkward interface and sluggish response to numerous bug reports. PipeWire will hopefully fix those technical issues. Until then, it is a work in progress.
ZenML Solves Enterprises Issues Deploying ML
In the last few months, ZenML developers have rewritten the ZenML codebase to be more robust and user-friendly. The open-source company on Dec. 14 released ZenML 0.5.5 bringing support for writing pipelines with standard artifacts like Tensorflow or PyTorch models with Kubeflow.
Data scientists usually lack a programming background. That makes it difficult for them to bring their models into production. They needed to learn how to use many existing tools to have control over their machine learning pipeline. ZenML lets them use an easy syntax in combination with the backend that is already used by the company.
Most existing tools separate workflows into islands. These concentrate on the early development phase mainly for data scientists or the later deployment phase mainly used for engineering. This causes systemic failures in the entire system such as lack of reproducibility or provenance across the pipeline.
ZenML's approach leverages existing tools and has no lock-in. By default, every emerging MLOps tool can be integrated. The developer team is integrating third-party tooling libraries like Evidently, or WhyLogs, or GreatExpectations for validation and BentoML, or Seldon, or KServe for deployment.
ZenML is closing this gap by putting data scientists in the center giving them a unified syntax in familiar language. This approach eliminates having to do the heavy lifting of setting up infrastructures or coordinating between developers and data scientists.
R.I.P. CentOS Linux 8
It has been a slow but steady death march for CentOS, as the end was unavoidable.
Red Hat's CentOS Linux 8 reaches its planned End of Life (EOL) on Dec. 31. As condolence of sorts, Red Hat is extending its CentOS Linux 8 zero-day support until Jan. 31, 2022. That will afford users a little more time to get through the holiday season and into the new yea
Red Hat will support the previous CentOS version, CentOS 7, until June 30, 2024. But gone is the most up-to-date RHEL clone.
CentOS was a longtime popular Linux server among experienced (read: enterprise) Linux users. Many web- and server-hosting companies made it their default operating system. An impressive number of top companies relied on CentOS Linux. Key technology companies build products around CentOS. Now the big shift to a replacement enterprise-grade distribution is underway.
What are the potential replacement choices? CentOS Stream was Red Hat's planned replacement as it shifted developmental gears. For a variety of reasons, many within the enterprise Linux communities and a balking user base resisted that direction.
With no endorsements intended, the working list of potential replacements is: Ubuntu LTS, Debian, OpenSUSE, AlmaLinux / CloudLinux OS, Rocky Linux, Oracle Linux, VzLinux, and Springdale Linux.
Meet the New and Improved Pop_OS! 21.10
As mentioned in the last OSS news column, Pop_OS! arrived on Dec. 14. Most of the rumored new features panned out. But it seems speculation on a new desktop environment is only partially ready to unfold.
Earlier this year, System76, a supplier of Linux-powered laptops, updated its own version of the GNOME desktop environment to COSMIC. That desktop is based on GNOME but perhaps not for long.
Version 21.10 of this popular Linux distribution may be one release closer to running a desktop environment that looks a lot unlike GNOME. Ironically, it is still based on Ubuntu. The developers shifted to its own GNOME-based desktop several years ago when Canonical, the parent company of the Ubuntu distro, abandoned Canonical's in-house Unity desktop in favor of GNOME.
Ubuntu still uses a full-screen application library display that completely covers the workspace view. Instead, PoP_OS!'s new approach is to display the application library in a small, searchable window centered over your current workspace. You can still view the applications from the top bar, a 4-finger swipe right on the trackpad, or by using Super + A on your keyboard.
New features include the Pop!_Pi tech preview for Raspberry 4, more intuitive OS refresh to preserve your home directory on a system restore, System76-hosted repositories, and new Continuous Integration (CI) development scheme, plus the latest GNOME updates.
Start an IT Career With LF Online Training
The Linux Foundation on Dec. 16 announced a new online training course, Fundamentals of Open Source IT and Cloud Computing (LFS200). The course is designed for newcomers to the IT industry and those considering an IT career as a system administrator or engineer.
The 2021 Open Source Jobs Report found 92 percent of hiring managers cannot recruit enough talent to fill open roles. It also showed cloud computing skills being in higher demand than any other area. This course will provide a clear on-ramp to help more individuals start an IT career and more employers to close the talent gap.
Topics include foundational knowledge of computer hardware, software, and operating systems. It also covers more specific concepts related to system administration, networking, troubleshooting, the internet, cloud, security, DevOps, project management, and open-source software and licensing.
LFS200 also prepares participants for the Linux Foundation Certified IT Associate (LFCA) exam to demonstrate a candidate possesses the requisite knowledge to be successful in an entry-level IT role.
LFS200 is available for immediate enrollment for $99 or bundled with the LFCA exam for $299.
The foundation also announced at Open Compliance Summit the immediate availability of a new, free online course created in partnership with OpenChain. Introduction to Open Source License Compliance Management (LFC193) explores the basic concepts and approaches needed for an open-source compliance program.
The OpenChain Project maintains the international standard for open-source license compliance. This allows companies of all sizes and in all sectors to adopt the key requirements of a quality open-source compliance program.
Those who do not already have basic knowledge of open source software, licenses, and copyrights should consider first taking the free Open Source Licensing Basics for Software Developers (LFC191) course.
Cloud Project Moves Needle for Data Center Workload
The Linux Foundation on Dec. 8 announced it will host the Cloud Hypervisor project, which delivers a virtual machine monitor for modern cloud workloads.
Cloud Hypervisor has a small footprint and is written in Rust with a strong focus on security. Its features include CPU, memory, and device hotplug. It also includes support for running Windows and Linux guests, device offload with vhost-user, and a minimal and compact footprint.
"Modern cloud workloads require better security, and the Cloud Hypervisor project is intentionally designed to focus on this critical area," said Mike Dolan, senior vice president and general manager of Projects at the Linux Foundation.