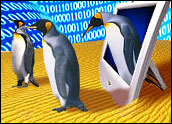 Worldwide revenues from standalone open source software will reach US$5.8 billion by 2011, according to a report released last week by IDC.
Revenue from open source software will grow at a compound annual growth rate of 26 percent from 2006 to 2011, according to predictions from the Framingham, Mass.-based research firm.
"Open source has been growing quite substantially in terms of adoption, but revenue has substantially lagged that adoption," the author of the report, Director of IDC's Open Source Software Business Models Research Program Matt Lawton, told LinuxInsider.
Unproven Business Models
One reason that revenue growth has lagged behind the adoption of open source software, he said, is that people were uncertain about what business models worked best for the technology.
"That's been an historical significant barrier which is now starting to come down," he asserted.
In the enterprise arena, he added, a major barrier has been support.
"Enterprises don't mind paying for open source software," he observed, "but what they do need is professional support. So far, that's been lacking in the industry."
A recent storm cloud that's been hovering over the open source industry has been patent infringement, he added.
Leveraging Tool
The IDC study cited a number of drivers for commercial adoption of open source software. One of them is a realization by businesses that open source software not only gives them more choice but can also be used as leverage with proprietary software vendors.
Cost remains one of the primary reasons that organizations consider open source solutions, Lawton explained.
"If an IT organization has an open source product offering as an alternative, that's going to give it pressure that it can exert on their proprietary vendors to address its cost concerns," he said.
"I've heard some CIOs openly admit," he continued, "while they have not deployed or purchased open source software, they have certainly used it as a tool to leverage a better deal from their proprietary vendor."
Rearguard Action
Because single sales are so important to proprietary software makers, playing the open source software card can win significant concessions from them, according to Bernard Golden, CEO of Navica, a management consulting firm in San Carlos, Calif.
"Every sale they don't make really hits their profitability dramatically," he told LinuxInsider.
The most dramatic revenue growth in the software industry in the coming years, he maintained, will go to the open source and software-as-a-service players.
"The established players are not going to go out of business tomorrow," he observed, "but they will be fighting a rearguard action. They'll be worrying about keeping their revenues streams where they're at, rather than growing their revenues another 30 percent."
Pay-As-You-Go Popularity
In the perpetual battle to keep costs down, businesses are increasingly attracted to pay-as-you-go software models, which are the kinds of models used by open source software vendors.
"Clearly people are more interested in pay-as-you-go," Chris Jones, executive vice president for solutions and services with the Decartes Systems Group, a logistics Software as a Service provider in Atlanta, told LinuxInsider.
"Depending on where you are in the world, there are plenty of people who would rather pay for product upfront and run it themselves," he noted.
His company, he added, has a rule of thumb when evaluating the potential for pay-as-you-go in a country. "Look at whether they lease cars in that country," he said. "If they don't lease cars, they'll want to buy and run software themselves."
Upending Traditional Model
Pay-as-you-go can be disruptive to an old-school software maker, Lawton maintained.
"It's a big change to their business," he said. "For vendors who are used to selling software with a huge upfront licensing fee, it changes the economics of their business."
No longer do they see a large revenue stream at the beginning of a contract with which they can reinvest in growing their business, he explained, but they see their revenue stream spread out over a number of years.
"For startups, that's all right because they can design their expenses around that, but for software vendors who have been in business for a while, they have an expense line that's tailored toward large upfront fees," he said.
Open source software, by removing the need to pay huge upfront licensing fees, has turned the model for selling software on its ear, contended Amanda McPherson, marketing director for The Linux Foundation, a nonprofit consortium for fostering the growth of Linux.
"I think that's to the benefit of software users everywhere," she opined.