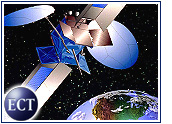 Two astronauts working outside the international space station hit a snag Thursday when an oxygen leak in one of their space suits forced them to abort their mission.
The head of the International Space Station's Russian sector said engineers are currently looking into why oxygen leaked out of astronaut Michael Fincke's space suit.
Oxygen pressure in the U.S. flight engineer's space suit dropped during his space walk outside the station.
However, the astronaut returned safely after the problem was detected.
Understanding Source of Leak
"Now we are trying to understand why oxygen leaked from the space suit [during the attempted space walk]," said Vladimir Solovyov, head of the Russian segment of the International Space Station. "So far we have failed to create a similar situation in which pressure in the oxygen bottle could fall so rapidly."
Solovyov went on to explain that there were two oxygen tanks, the main tank and the reserve tank, in the Russian Orlan-M full-pressure space suits the astronauts attempted to use on this mission.
"We registered a considerable drop in pressure in the main tank," he said. "In the tank, oxygen is under very high pressure, more than 450 atmospheres."
This was the second aborted space walk in a row. The space station commander, Gennady Padalka, and Fincke had hoped to repair one of the gyroscopes that keep the space station stable in flight.
Faulty Circuit Breaker
The space walk was supposed to last six hours. The goal was to replace a malfunctioning circuit breaker that had shut down one of the four "control moment gyroscopes" that keep the station oriented in space.
The faulty circuit breaker resides in a box that is mounted on the station's U.S. side, which meant that the astronauts risked losing communications at certain points during the mission when their suit radios could not transmit to the Russian side.
Controllers devised hand signals to deal with the circumstance and set up an outpost where the two space walkers could meet to regain radio reception.
An earlier problem with a different gyroscope has left the station with only two functioning gyroscopes, the minimum needed to keep the space station operable.
The two will make another attempt next week to complete the space walk.