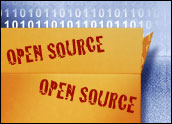 Desktop and laptop computers are great tools for organizing our worlds of things and ideas. The FOSS world of Linux applications offers perhaps more choices for cataloging and categorizing our collections than any other platform. This week's Linux Picks focuses on applications to help you track your stuff. The software handles a variety of both material and intellectual collections.
GCstar Collections Manager stores details on each item and can be tailored for additional information such as location or to whom you lent it. It lets you search and filter your collection by many criteria.
Tellico specializes in tracking eclectic collections such as your books, videos, music, liquor inventory and anything else. It comes loaded with many default templates for cataloging books, bibliographies, videos, music, video games, coins, stamps, trading cards, comic books and more.
Kabikaboo is a simple tree-branch note organizer. At first blush, including it with the other two picks this week might seem to be a stretch. Designed initially as an aid in tracking notes for writing things like novels, it is a tree-based note pad. This makes it ideal to plan a book or any other complex project involving structured notes or organized outlines.
Stellar Lists
GCstar Collections Manager offers an impressive list of collections types. When you first run this app, you see a list of 12 default models to select. These include collections of books, comics, movies, music, stamps, coins and periodicals.
You can also import seven file types to make it easy to port an existing database into GCstar Collections. These include the Ant Movie Catalog (.amc), DVDProfiler (.xml), Alexandria and even Tellico (.tc). Another option is to import a generic folder's contents.
A great feature with this app is its ability to gather information about items in your collection from the Internet. This is handled by plug-ins embedded in the application.
Functional Interface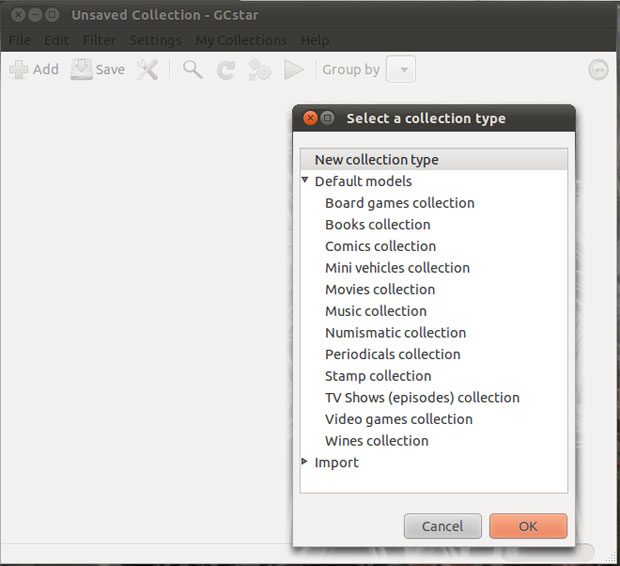 GCStar
Basic functions are available from drop-down menus, navigation bar and a tool row. Click the Add button or select in from the menu to get a blank entry field. You can include cover art, a picture of the item and more.
Clicking on the Fetch Information button or pressing the Enter key launches an automatic Internet search. But first you must configure the collections file to point to the website holding the data.
For instance, you can select specific Web sites that provide catalogs of music, art and literature content. As an example, you can fetch from the TVDB website information about your collection of TV episodes.
Not all collections you might track have this advantage. But when you have a match, the information on a new item entered will automatically populate your GCstar collection.
Adaptable Displays
Another cool feature in GCstar Collections Manager is the ability to have it your way. You can turn off/on various fields in the collections lists. This lets you control the levels of information you see for each of your collections.
Another benefit is any change you make in the input dialogs dominoes into recurring entry sessions. Thus, you are spared repeatedly being asked redundant information.
If you have a list of items that you loan out to subscribers, friends or business associates, GCstar lets you track who has what. The app lets you generate emails to borrowers when the item is due back — pretty cool if you make a business of letting others use your collections.
Bottom Line
GCstar Collections Manager has lots of nifty features that make saving details about your collections a lot easier. But do not expect the same ease with making a hard copy. This app has no print function. So you have to employ workarounds such as exporting the data to another program like a browser to do that.
Same Function, Better Looks
Tellico is a KDE application, so it has a much prettier face. Like GCstar, it lets you enter data manually or automatically from Internet sources. If your Linux distro runs the Gnome desktop, no problem. KDE apps integrate seamlessly.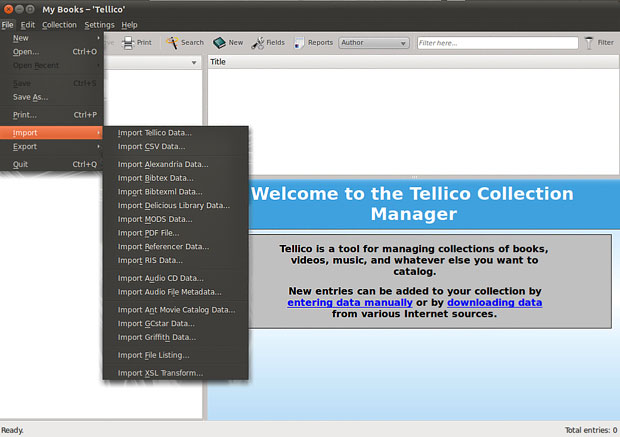 Tellico
When you run this program, no popup collection window greets you. Instead, much like most apps, you select from a drop down menu or click an icon in the tool row an existing file or a new collection.
The list of new collections to start is similar to GCstar. Here you get 12 choices. These include the expected book varieties, video and music categories, coin and stamp collections. Also in this list of new categories is a New File Catalog and a New Custom Collection.
Split View
Tellico's display is split into two views. On the left, you see your entries grouped by any field you select. This lets you see how many are in each group.
On the right, the fields you select are shown in column format. This lets you sort by any field. The bottom of the app window shows a customizable HTML view of the current entry.
If you select the entry editor view from the settings menu, you can add a floating third view to the mix. Having the entry editor dialog box always visible for data entry adds one more convenience.
Entry Choices
Tellico has a clean and intuitive interface that is highly configurable. You can view cover images, groupings, titles and much more.
Under the Configure Tellico panel's Data Source Options, you can select Internet locations for fetching information about items in your specialized collections. For instance, built into the app are the Internet Movie Database, Library of Congress, ISBNdb.com, AnimeNfo.com, arXiv.org, Google Scholar, Discogs Audio Search, TheMoviieDB.org and MusicBrainz.
The functionality does not end there. Tellico allows extend data sources. You can add plug-ins and scripts to automatically search other information sources.
In/Out Easy
Importing options are also very extensive. In fact, the options are much more detailed than GCstar.
Included are formats for CSV, Alexandria, Bibtex, Bibtexml, Delicious Library Data, MODS Data, PDF, Referencer Data and RIS data. Plus, the list also has Audio and Audio File Metadata, Ant Movie Catalog Data, Griffith Data and GCstar Data, along with both generic File and XSL listings.
The resident saved file format is the .tc extension. Beyond that, data exporting options are similarly detailed. The choices include XML, Zip, HTML, CSV, XSL and PilotDB formats.
Bottom Line
Tellico lets you print out your collections without jumping through hoops. It has a leg up on other collections managing apps in that it gives you much more latitude in customizing fields. This makes the program much more adaptable to non-mainstream data collections.
Writing Database
Kabikaboo is a much more specialized collections manager than the other two apps discussed this week. Although it was first intended for use by writers to track book plots, character details and scenes, its cataloging strengths are easily adaptable for other kinds of intellectual property tracking.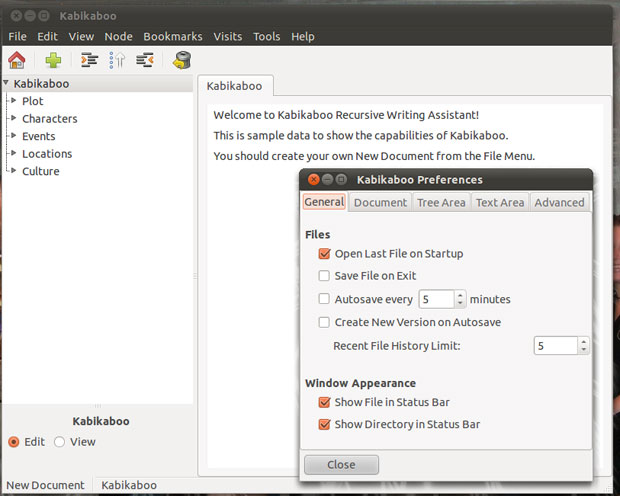 Kabikaboo
This app lets you structure notes your way without bogging you down to a rigid structure. You can save the database in its native format and export it as a text file. This makers the process of cataloging and retrieving your ideas much more convenient.
Kabikaboo is a recursive notepad utility. It provides a way to enter and organize information in a dynamic, tree-based structure. This approach uses parent and children modules that you can easily rearrange and the ideas collection grows.
Notepad Mentality
You work with Kabikaboo much the way you create text in an application like NoteCase Manager. See my review here.
Click the Plus icon to add a parent node. Then right click on any existing node to add child nodes.
The app window shows the tree structure in the left column. The right column shows a tab for each of the nodes. It is here that you enter the details.
Like some text editors, Kabikaboo has Autosave, Autocheck spelling and Document statistics. You can create and navigate bookmarks much like you do in a word processor or Web browser.
What It Does
Kabikaboo is not a mind-mapping application. See my reviews here for this creative approach. But it does resemble the structure of this type of software. Still, its original design was to aid writers and other in tracking complex or lengthy ideas and projects like book writing.
Kabikaboo has an impressive list of bells and whistles. One of its most essential features is the recursive view. This enables you to scroll or jump to any section of the "idea database" while still being able to view the entire document.
It has a Visit menu that lets you see three different automatic lists of visited nodes. You can select Recent visits, Sessions or All visits. Each one offers a cascading menu of locations for instant access.
Bottom Line
Kabikaboo has a clean interface that is easy to use. But it lacks the ability to copy and paste as well as click and drag content within the entry panels.
It is not a good solution for traditional item cataloging. But it can be a big help to tracking ideas and lists of content in a tree-based text organization.