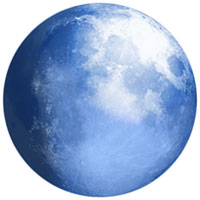 The Pale Moon Web browser project gets rid of a problem that many Mozilla Firefox users would like to solve.The Pale Moon browser is a fork of Mozilla's official browser developed by Moonchild Productions. It provides users with access to all of their favorite Firefox extensions but eliminates the Australis interface, which some dislike.
Firefox debuted the new user interface in late April in the Firefox 29 release. That interface redesign was the first major UI overhaul since Firefox 4 was released in March 2011.
Pale Moon started as a source-level tweaked version of Firefox. It retains the pre-Australis interface design. Firefox officials described Australis as a more intuitive design that users requested. Pale Moon focuses on what many Firefox users consider a more efficient and easier-to-use interface.
If you love the Firefox browser's rich extension infrastructure but hate its new design, Pale Moon might shed a more favorable light on your Web-browsing activities.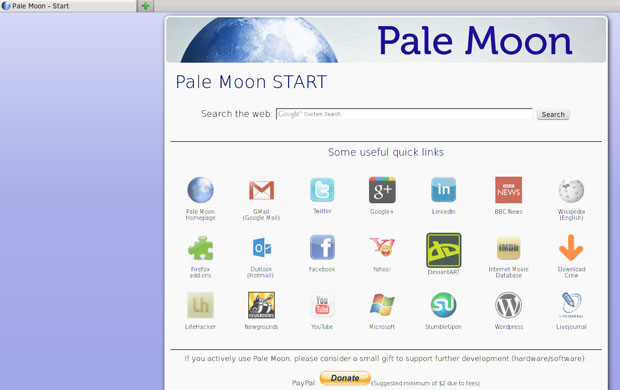 The Pale Moon UI isold-school Firefox with more features.
It is completely built from its own source with carefully selected features and optimizations to maximize the browser's speed, stability and user experience. However, it maintains compatibility with thousands of Firefox extensions.
New Old Look
Pale Moon's controls and visual feedback are very familiar to long-time Firefox users. For example, it has grouped navigation buttons.
The retro design features do not end there. Pale Moon's bookmarks toolbar is enabled by default. Its tabs are next to page content by default. It comes with a functional status bar.
I found that aside from some expected community labels and branding cosmetics, Pale Moon's look and feel are classic Firefox. After I set up the Preferences the way I have them in Firefox, I had to remind myself that the browser was Pale moon.
Breezy Setup
The setup has Firefox users in mind. On first run, Pale Moon asks if you want to import your browser history, bookmarks and preferences from your Firefox installation.
That process works flawlessly — but it does not grab the Firefox extensions. So there is some manual labor involved in installing Firefox extensions and setting preferences where needed.
Since the code base comes from Firefox, the extension add-on procedure is identical in Pale Moon. Find the Add-on access in the Tools drop-down menu.
That slight effort is well worth it. I am not a fan of the Australis interface, so Pale Moon is a great alternative that keeps me in my browsing comfort zone.
No Menu Maze
Just to reinforce the notion, you go to the Edit menu to select the Preferences panel. You easily can find what you need where it used to be.
For example, the hide Menu row functionality is restored with some extras. Your choices of toolbars and sidebars can be visible or hidden from the View menu.
If you uncheck Menu Bar, Pale Moon places a tab-like button labeled "Pale Moon" with a down arrow in the first tab position. Click this button to open access to what is hidden from the Menu row.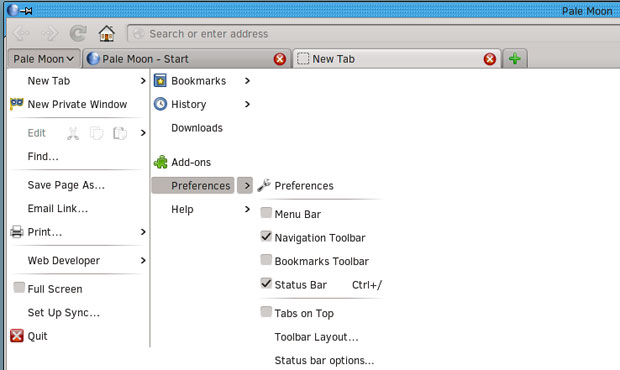 The Pale Moon browserdisplays a menu button if you choose to hide the traditional menu rowacross the top of the browser window.
On this menu panel, you will see familiar features such as New Tab, New Private Window, Add-ons, Bookmarks, History and more. To unhide any of the items, click on Preferences to check the desired view. Then the Pale Moon menu button disappears, as there is no need for it.
UI Bonus
The Australis interface in Firefox places a button on the far-right top corner. This is the menu button that provides access to what used to be in the File and Edit drop-down menus.
In Pale Moon, a similar button or icon resides along the top right edge of the browser window — but its functionality is completely different.
The button lists all open tabs. This is a very handy feature.

Pale Moon lets you viewthumbnails of open browser pages with the click of a button.
It opens a ribbon that displays a large thumbnail view of each tab. This lays over the top half of the Pale Moon browser window. Click on the desired tab to move to it. Or click the large X in the upper right corner of the thumbnail overlay.
More Features
Much of the good stuff about Pale Moon lies under the hood. Taken together, all of it contributes to a more efficient performance.
For example, Pale Moon is optimized for modern processors such as SSE2. A lot of the built-in bloat of the Firefox code is removed. That gets rid of things like the social API, accessibility features and WebRTC.
Regarding the social API, the code still exists in Pale Moon, but it is disabled by default.
Besides support for Firefox extensions, Pale Moon eventually will support more than the default theme.
This is perhaps one of two real weaknesses in the current version of Pale Moon — at least the Linux version. The Appearance tab on the Get Add-Ons panel only has the Default theme 24.7.1 by Mozilla.
Getting It
The second weakness in Pale Moon is its installation process. This project is too new to be integrated into various Linux distro repositories, and the developer's website does not provide packaged versions such as a .deb packet that easily can be installed through the GDebi Package Installer.
Instead, the website points you to a Linux version download that deposits an archived file on your hard drive. It contains two files. One is a readme text file with installation details. The other is the .sh installation program.
For less-aware Linux users, opening a terminal window to issue commands to install an .sh file can be daunting. This .sh file fetches the needed files and installs Pale Moon. In most Linux distros, the end result will be a successful installation with Pale Moon added to the launch menu.
I installed Pale Moon in Linux Mint, Ubuntu and Solyd X with no difficulty. However, the directions included in the readme file might be less than clear to Linux users not familiar with working inside a terminal box.
Bottom Line
You can find additional support details at the Pale Moon wiki and the Pale Moon forum.
Generally, I was very pleased with the Pale Moon Web browser on my computers with more than 2 GB of available RAM. However, running it on very low-powered computers might cause it to close suddenly.
It needs at least 256 MB of free RAM and 512 MB or more is recommended. I had fast performance but occasional sudden crashes on an old laptop with slightly less than 1 GB of RAM.
Want to Suggest a Review?
Is there a Linux software application or distro you'd like to suggest for review? Something you love or would like to get to know?
Please email your ideas to me, and I'll consider them for a future Linux Picks and Pans column.
And use the Talkback feature below to add your comments!