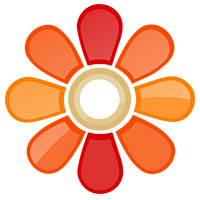 Parsix is a feature-rich distro that will delight GNOME desktop users looking for a well-tweaked user experience.
It offers a well-oiled, single track Linux desktop operating system. It has no distractions from multiple desktop options. It provides one of the best integrations of the latest GNOME desktop available.
Parsix has been around since at least 2007. Along the way, it built a reputation for dependability. It offers a very solid stability of Debian with a hefty mix of desktop performance for both 32-bit and 64-bit systems.
Parsix 8.10r0 was released on July 31, 2016, as the final code version for the 8.10 code family dubbed "Erik." It replaces the 8.0 series (Mumble) that reached end of life support on April 15. That version remains compatible with Debian Jessie, so lingerers can keep using Mumble with support from Jessie updates and security repositories.
Moving up to the current version offers much more satisfaction, however. I am a believer in the old adage, "if it ain't broke, don't fix it." However, something does not have to be broken to make it work even better.
That is the case with the Parsix distro. This latest release impresses me. It is a smart solution to the quest for a stable, reliable and productive Linux distro.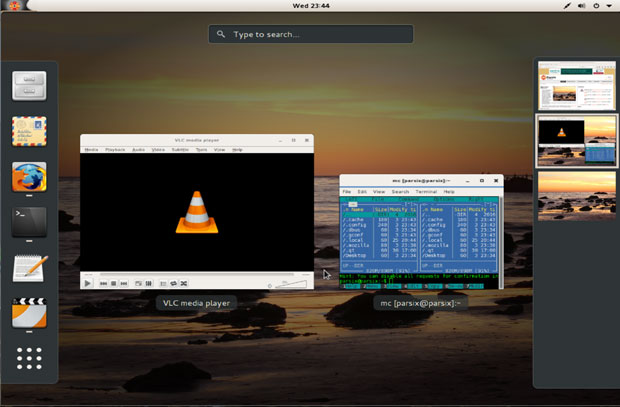 Parsix's implementation ofthe GNOME desktop is classic Linux witha few added twists. The result is an inviting user experience for both newand seasoned Linux users.
Better Than the Rest
I am not a regular GNOME user. My comfort zone falls more in line with using the Cinnamon desktop on more modern computers, and lightweight distros that offer the Xfce desktop on older hardware.
For me, GNOME has a few steps too many to navigate among virtual desktops. It also seems a bit disorganized with the settings controls. Although Gnome is a Linux classic, it can fall short of letting users have an unfettered experience, compared to other desktop designs.
Parsix tends to break that mold. Parsix's GNOME Tweak Tool integrates refined tweaks that make GNOME a pleasure to use.
The Tweak Tool is one of themost valuable features in Parsix 8. It supplements the general settingspanel and gives you more options to make the GNOME environment work yourway.
What's Inside
Parsix GNU/Linux 8.10r0 is based on Debian's current stable branch, Jessie 8.0. It comes with the latest GNOME 3.20 desktop and a specially compiled Linux kernel based on 4.4.16 with TuxOnIce.
All of Parsix's base packages are synchronized with Debian Jessie repositories. This release comes with a massive storehouse of updated and upgraded packages.
One disappointment, however, is the inclusion of the LibreOffice 4.3.3 productivity suite. LibreOffice is a fine office suite, but this preinstalled version is considerably out of date. The most current LibreOffice release is already beyond 5.0.
Software highlights include Firefox 47.0.1, GParted 0.19.0, Empathy 3.12.12, VirtualBox 4.3.36, BFS, and other extra patches. The inner workings make this latest version of Parsix a very good choice.
Glaring Oversight
I have little patience for developers who ignore the little things when they release updates to their Linux OSes. In this case, the Parsix crew leaves users stuck with a locked screen after five minutes of inactivity, and no way to unlock it in the live session DVD and USB installations.
The standard convention is to download an ISO file that can be installed on a DVD or USB drive to run as a live session. That makes it easy to ensure the distro works on individual hardware. It also gives you a chance to try out a fully functional operating system without making any changes to your current hard drive and OS.
With many live session distros, the lock screen is turned off by default. Typically, when a default configuration has the lock screen activated, developers provide the live session username and password to users. The user name is most often the word "user"; the password is normally the word " live."
That is what earlier versions of Parsix used — not so with this one. The screen is set to turn off after five minutes of inactivity. The lock screen on blanking is activated by default. That means a password is needed.
Obviously, I experienced the same frustration when I ran Parsix in a virtual machine setting.
User/live did not work. That means I could not change numerous settings. To change the password, for instance, I had to know the default password first. You can avoid this issue by going into the settings and changing the lock screen time setting from 5 minutes to something much longer, such as NEVER.
Nowhere on the website or in the download documentation does a reference to a password exist. At least, I could not find the information after extensive searching. When developers can not deal with the small stuff, users start doubting their ability to sweat the tough stuff.
Of course, a hard disk installation resolves that oversight. During a permanent installation, the user is asked a preference for the user name and the password.
Look and Feel
System settings are much better designed in the latest version of Parsix. The included extensions supply efficient add-on functionality to the otherwise useless panel bar. Linux functionality is much more sensible in this build.
The panel bar sits at the top of the screen. A launch button in the upper left hand corner of the panel exposes the favorites bar on screen left and the thumbnail workspace panel on screen right.
The bottom button on the favorites panel opens the slingshot-style software menu with the option to click buttons at the bottom of the full-screen menu display for frequently used or all applications.
This arrangement makes navigating around GNOME 3 much handier. If you add a few panel extensions using the Tweak Tool, you can fiddle with the desktop configuration to make it more functional.
The Tweak Tool
This is one of the most valuable features to tame the GNOME environment and make it work your way. Find it in the Settings menu.
The first thing to do when trying out Parsix — and after installing it — is to go through all of the options to tweak how you want GNOME to work. The second thing to do is try out turning on each of the 12 extensions in the Extensions panel of the Tweak tool.
By default, all extensions are turned off. Extensions can add a lot to GNOME's functionality. Many of these Extension features bring the GNOME 3 usability to a level similar to that of other Linux desktops environments.
Be sure to click the Get More Extensions link at the bottom of the extensions subpanel. You will find dozens of productivity extensions to bring the fucntionality of the GNOME desktop very close to that of it two biggest rivals, the Cinnamon and the KDE desktops.
Bottom Line
The Parsix project's goal is to provide a ready-to-use and easy-to-install Debian operating system with the latest stable release of the GNOME desktop environment. The Parsix distro meets that goal and even goes beyond it.
The developer community is far more independent than other Debian testing-based derivatives. The Parsix community keeps four software repositories enabled by default. Official repositories contain packages maintained by project developers that are built on the community's own build servers.
Content repository is a snapshot of Debian's stable branch. Wonderland repository contains multimedia-related software packages and is a snapshot of Debian multimedia repositories.
Even better is the fact that the community maintains its own security software repository for both the stable and testing branches. Parsix Developers closely follow Debian Security Advisories and port them to the distro's own security repository.
Want to Suggest a Review?
Is there a Linux software application or distro you'd like to suggest for review? Something you love or would like to get to know?
Please email your ideas to me, and I'll consider them for a future Linux Picks and Pans column.
And use the Talkback feature below to add your comments!