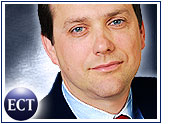 In Diamond vs. Chakrabarty, the United States Supreme Court ruled that patents could be granted for "anything under the sun that is made by the hand of man." That includes software.
Law practice tip: If you need to argue in court that software is not patentable, point out that Chakrabarty does not apply to software because it is not made "under the sun" — excessive screen glare makes it impossible to program under the sun, and the case was silent on whether anything made in a windowless room is patentable.
If that practice tip doesn't get the court to rule your software is patent-free, at least it would bring some humor to the courtroom. Once you get the big laugh, however, you'll still need to apply some real legal principles to the problem.
Background on Patents
The term "to patent" means to lay open to public inspection. A patent gives an inventor the right to exclude someone else from making, using or selling the patented invention without their permission.
The first patents were issued in the form of "royal decrees" by the king or queen, granting a monopoly on something to a person or a business. Patents were originally called "letters patent," which means the grant of the patent rights was placed in a publicly available form.
When a handful of patents were granted each year, it was easy to keep track of all of the relevant patents and avoid infringement by simply examining a few patents (or all of them).
However, with hundreds of thousands of patents being issued each year in the United States and elsewhere, it is impossible to be assured of finding all of the patents that might apply to your product.
Nonetheless, the original concept of each manufacturer being responsible for knowing all the publicly laid out patents that might be relevant remains. To the layman, this rule can prove to be quite eye-opening.
Independent Invention No Excuse
Knowingly taking another's intellectual property without license results in legal liability, but for most types of intellectual property, taking it requires access and knowledge of what is being taken. Copyright, trade-secret and even trademark infringements typically begin with some access to information or intellectual property of the infringed party.
Not so with patents. Even if you developed a machine, method or even a business method all on your own without any knowledge of or contact with a patent holder, you can be liable for patent infringement. Independent development is not a defense.
That means that if you wrote software entirely on your own, you might still infringe someone else's patent rights.
A number of patent holders claim their patents are infringed by any device that fully complies with the MP3 standard because, as the argument goes, each element of at least one claim in their patent is a required element of an MP3-compatible device.
'Patent-Free' Software
According to a Xiph.org Web site, Ogg Vorbis is an audio compression format designed by Xiph.org to store and play digital music. Ogg Vorbis is to be "patent-and-royalty-free," unlike proprietary formats that require patent licenses and royalty payments. But what does it mean to be patent-free?
It would be safe to assume that the Ogg Vorbis software and devices using that audio format could be made, used or sold without worrying about patents held by Xiph.org. If they did get patents, there is at least an implied royalty-free license from them. Does that make the devices patent-free? Not by a long shot.
For Xiph.org to assert that their format and devices using that format do not infringe any patent, they would have to examine every unexpired patent.
There are about two million unexpired patents in the United States. Maybe half of them have lapsed for failure to pay maintenance fees, but that still leaves a million patents, plus patents in other countries. To search for relevant patents for just the United States, one would have to search a million patents and repeat the search on the 2,600 or so new patents that are issued every Tuesday.
Searching Can Be Overwhleming
Keyword searching doesn't substitute for manual searches.
In some fields, such as materials science, it might be easy to find all relevant patents — determining whether a combination of brass and anthracite is covered by any patent claims with high confidence that no patents are overlooked requires looking at only 32 patents.
Keyword searching for relevant software patents might be akin to searching a database of uncommented source code to find code that performed a particular function and ensure that all instances that performed that function are returned in the search.
Until a supercomputing attorney is invented (and is not constrained by patents on itself), one cannot expect to state conclusively that something is free of all patents.
U.S. patents filed after 1995 expire 20 years from their earliest filing date. Before that, it was 17 years from the issue date. To avoid getting bogged down in the details, let's ignore patents that were filed before 1979 and issued after 1987. There are only about 600 of those. Now, find a patent or other printed publication that was issued or published at least 26 years ago, which would be more than one year before any unexpired patent was filed.
Free of Specific Patents
Next, have your software do exactly what is shown in the reference and nothing more. When a patent is asserted against your software, use the 26-year-old reference as prior art to limit the scope of the claims of the patent. Because the patent application was filed more than one year after the reference's date, any interpretation of a claim to cover your software would render the claim invalid over the reference. That would be true for any patent — except for those we chose to ignore. Go back 35 years or more to eliminate those.
So now you can assume that any software that has been in public use for 35 years without any updating is all "patent-free," but you've limited your options of what your software can do.
Xiph.org might be using "patent-free" to refer to specific patents that have been asserted against the MP3 standard. For example, the Fraunhofer Institute holds patents that they assert cover any MP3 compatible devices.
An electronic search of U.S. assignment records would turn up all U.S. patents owned by that assignee, so the relevant patents can be easily determined and reviewed if they do not own too many patents.
I Report, You Decide
Xiph.org might have reviewed the claims of all of the Fraunhofer patents and determined at least one element of each of the Fraunhofer claims to leave out in their audio format, in which case the format could be accurately described as being Fraunhofer-patent-free. That still isn't completely patent-free.
Patent-free software might be software that does not require a license to the author's patents, software that does not require a license to certain identified patents, or software that does not require a license to any possible patent.
That leaves you with three less-than-perfect choices:
1) Ignore any software developed before disco.
2) Read two million patents.
3) Operate in a "maybe-patent-free" zone and deal with patents as they come up.
While almost everyone can run their business and get through the day while under option 3, understanding patent law and potential liabilities will help you make a more informed decision.
---
Phil Albert
, a LinuxInsider columnist, is a patent attorney and partner with the San Francisco office of the intellectual property law firm
Townsend and Townsend and Crew LLP
.
---