Serving two masters, in theory, is nearly impossible. In practice, the Linux Lite distribution easily satisfies Linux newcomers and veteran penguin fans as well.
This distro is very beginner-friendly. That is in large part the result of a fine-tuned Xfce desktop interface that gives former Windows and macOS users a familiar base. More established Linux users can tweak the Xfce settings to adjust its functionality beyond the already well-suited default settings.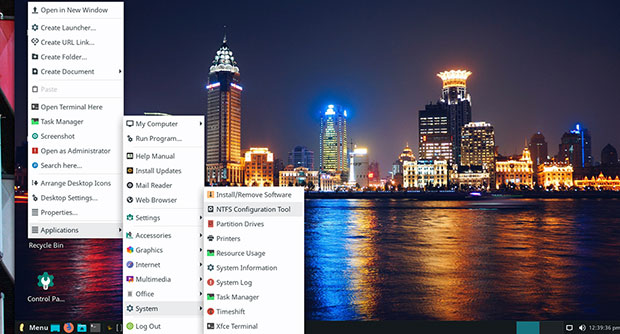 Linux Lite 4.6 is an easy-to-use Linux OS that needs no set-up and runs the Xfce desktop integration.
---
Version 4.6, based on Ubuntu 18.04.3's long-term support (LTS) release, debuted on Dec. 3. It should not matter that Ubuntu 19.10 recently arrived. That release is not an LTS version, so stability during its two-year lifespan can become an issue.
I have always considered the distro's name — "Linux Lite" — to be a distracting misnomer. Developer Jerry Bezencon no doubt wanted the name to underscore the ease-of-use built into his Linux distribution when he first released it years ago.
To me, it suggests a lesser-performing operating system than a so-called Linux standard or Linux heavy distro typically provides. That misconception does a great disservice to Linux Lite 's real performance quality. The notion of "lightness" is rooted in the lightweight quality of the Xfce desktop.
Light But Full Featured
Linux Lite is a full-featured operating system that lets you get down to serious business right out of the box. This distro has numerous strong traits in its favor.
Xfce is a resource-conservative desktop environment that runs well on older computers and is super capable when installed on the latest hardware. This energized desktop interface, combined with the high-performance traits of the Ubuntu Linux base, produces a powerful operating system that runs reliably.
Linux Lite primarily targets Windows users looking for an ideal on-ramp to Linux migration. It is also a good choice for already-there Linux users looking for an all-purpose computing platform ready to take them to the next Linux Level.
Linux Lite 4.6 is no slouch under the hood. It is powered by Linux kernel 4.15.0-58 with custom kernels available from the community's repository. It comes preloaded with the Firefox 68.0.2 Quantum Web browser and Thunderbird 60.8.0 email application.
What's Included and New
New in this latest distro release is a theme selector that makes it easy to choose either a light or dark theme from the initial setup. Or you might prefer the updated Papirus icon theme, which is updated to the latest release.
The CPU Performance mode plugin xfce4-cpufreq-plugin now is included as an option to the system tray. Select it by right-clicking on Taskbar, Panel, Add new items, CPU Frequency Monitor. Right-click on it and move it to where you want it.
New system documentation makes moving into Linux Lite 4.6 even easier than previous releases. It includes a new keyboard and number lock informational guide in the Lite Welcome application.
The Linux Lite community maintains a comprehensive Help Manual to provide new users with a trouble-free transition. This is an impressive information source.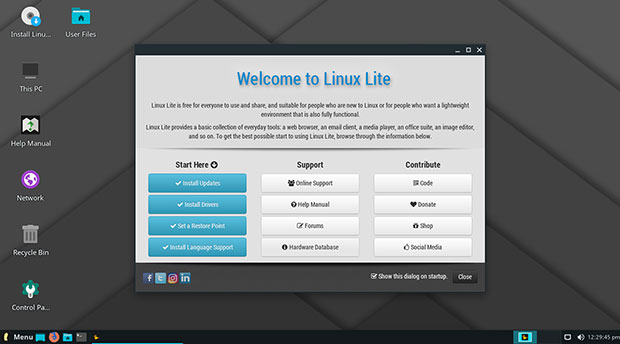 The Linux Lite community maintains a comprehensive user help system to provide new users with a trouble-free transition.
---
Be sure to check out the Help Manual, which includes a new tutorial on how to install Linux Lite to a USB drive with persistence to store configurations, added software and personal data. Linux Lite is not issued primarily as a portable Linux distro.
A growing trend among Linux distro developers is to provide a method of copying the ISO files to a bootable USB storage device as an alternative to booting from a DVD live session. Having the ability to save system changes adds a feature that not all USB installations provide. Linux Lite does, however.
System Overview
Despite its name, Linux Lite has nothing minimalist about it. Its "lightness" makes this distro an ideal fully functional OS for underpowered and legacy computers as well as newer hardware configurations.
Another factor that makes Linux Lite what its name implies is its somewhat skimpy default software base. Linux Lite does not install two or three applications for the same task, as is sometimes found in other Linux distros, which tend to clutter up menus and home directories with never-used applications.
Linux Lite comes stocked with a small set of applications to assist users with their everyday computing needs. Its robust package management system and repository give you ample access to a wide range of software to add as needed. Plus, the Xfce system tools are extensive and give you complete control over how Linux Lite looks and works.
The developers make an exception by including several essential applications not usually found in default Xfce default software bundles. These include the LibreOffice 6.0.7.3 suite, the VLC media player version 3.0.7, the Gimp version 2.10.12 image editor, and Timeshift version 19.08.1, to make automated daily backup copies of your entire Linux Lite installation.
The Lite Info application lets users register their system with the distro's hardware database. You can check to find if other users had success running Linux Lite on a computer that matches yours. The database displays the make and model, CPU, audio, network and storage technical specifications of systems successfully running the Linux Lite distro.
Runs on Almost Any Hardware
You can run Linux Lite 4.6 on computers that meet these minimum requirements:
1Ghz processor
768mb ram
8gb HDD/SD
VGA screen capable of 1024×768 resolution
DVD drive or USB port for the ISO image
You will get better performance with these preferred specs:
1.5GHz processor+
1024mb ram+
20gb HDD/SSD+
VGA, DVI or HDMI screen capable of 1366×768 resolution+
DVD drive or USB port for the ISO image
Look and Feel
The Xfce desktop screen is neat and simple. It provides easy navigation to the menus, system settings and configuration options.
The taskbar sits along the bottom edge of the screen and resembles an earlier Windows design that is not atypical for Linux. It is very common for the more popular Linux desktop interfaces — Xfce, LXDE, MATE, Cinnamon — to use a design scheme that places a fully functional panel bar at the bottom of the screen and allow icons and quick launchers on the panel and the desktop.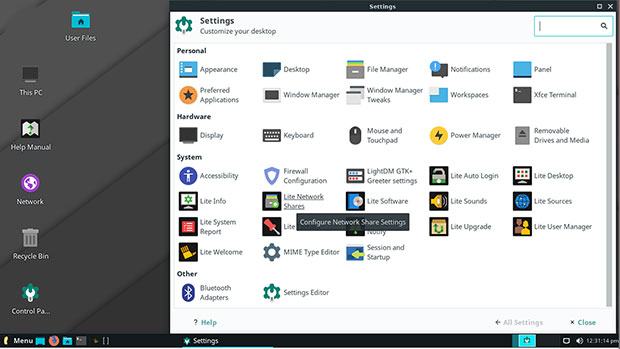 The Linux Lite distro offers flexibility and usability options with a classic taskbar and Windows 7 style Control Panel.
---
That describes the layout of the Xfce desktop. The bottom panel fills the entire lower edge of the screen. You can unlock mac-like planks or other dock-style designs.
Xfce's panel is highly configurable. The system settings panels accessible from within the menus provide tools for all the tinkering you desire. In Linux Lite, the Xfce panel has a virtual workspace switcher applet preconfigured with two desktops. You can add up to several dozen more.
One of my favorite features with the Xfce desktop is the right-click access to full menus that can pop up anywhere on the desktop. One of the best system tools in Linux Lite is Lite Tweaks. It provides a list of configuration tasks that fills several screens. Click on the check boxes for the ones you want to execute. Then click on the Begin button in the lower right corner of the Tweaks window.
Navigating the Desktop
The menu button in the far left corner of the panel bar has a two-column display. The left column shows all categories. The wider right column shows all of the choices in the selected category.
A search window fills the left half of the bottom of the menu window. To its right are buttons to launch the settings panel, the lock screen, and the Log Out panel.
The far right of the taskbar holds the typical clock readout, volume control icon, Internet connection status icon and Workspace Switcher applet. The center of the taskbar shows the minimized windows and other running apps. You can right-click on any menu item to place it in Favorites, on the desktop, or on the quick launch portion of the taskbar.
Bottom Line
Linux Lite 4.6 offers a great deal of flexibility and usability. Its desktop offers considerably more system controls and configuration options than many of the more modern desktops, such as Enlightenment, GNOME 3 and Budgie.
All of the system controls and settings are located in the Settings option within the main menu display. Windows users will find a close similarity to the Control Panel.
Even recent Linux newcomers will not need much exploring or head-scratching to navigate their way around Linux Lite. The layout is familiar and intuitive. The Welcome panel provides a very useful listing of information and how-to resources for using Linux Lite.
Want to Suggest a Review?
Is there a Linux software application or distro you'd like to suggest for review? Something you love or would like to get to know?
Pleaseemail your ideas to me, and I'll consider them for a future Linux Picks and Pans column.
And use the Reader Comments feature below to provide your input!