Q4OS is a lightweight Linux distro that offers some worthwhile alternatives to more established distros.
Q4OS version 1.6.1 "Orion," released this summer, has as its main claim to fame the developing Trinity desktop. Trinity is a breakaway fork from the KDE 3 community.
I took a detailed first look at this new distro last year, primarily to assess the Trinity desktop. Although it was a version 1 beta release, Trinity showed some potential.
You won't find the Trinity desktop shipping as an option with most Linux distros. Its growth with Q4OS makes the combination a viable alternative if you want a computing system that performs well without the excessive bells and whistles attached to a full-sized KDE environment.
Q4OS is a lightweight, Debian-based distribution that ships with an updated version of the Trinity R14.0.3 stable desktop environment. It is the third maintenance release of the R14 series. It is intended to bring bug fixes to users promptly, while preserving overall stability.
The Q4OS 1.6 release includes a set of new features and fixes. The default desktop look has changed slightly. The most evident changes are in the Q4OS Bourbon start menu and taskbar. Both are more polished and have a few enhancements.
Growing Potential
Q4OS is a Debian-based Linux distribution with a classic-style user interface and simple accessories. The goal is to provide stable APIs for complex third-party applications, such as Google Chrome, VirtualBox and development tools.
Q4OS is fast and runs well on low-powered computers. Its performance ratchets even higher on new computers. It is very well-suited for virtualization and cloud use.
It wraps a classic Linux style around a simplified Trinity desktop design that retains the look of KDE applications while eliminating the layers of customizations associated with KDE's Activities and virtual desktop navigations.
Trinity Overview
Trinity was forked in 2008 from the last official release of the K Desktop Environment's third series (KDE3), version 3.5.10. The Trinity desktop is now a project in its own right. The Trinity community planned on charting an independent path separate from KDE.
Trinity is little more than a KDE environment gone lightweight — and I mean really lightweight. The Q4OS developers are positioning this new distro for custom development and business flexibility.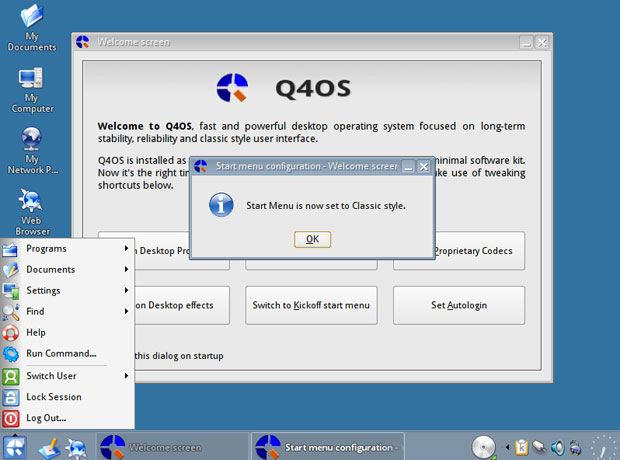 The Trinity desktop is a stripped-down fork of the KDE 3 desktop that removes the excessive bells and whistles attached to a full-sized KDE environment.
Trinity is not yet as flexible and customizable as Xfce or LXLE. This release shows signs of progress, but remember — Trinity is a lightweight desktop environment by design.
So if you like all of the tweaking and screen animations built into the KDE desktop, you probably will not like the limitations in the Trinity desktop. Trinity lacks desktop applets, for instance. However, Trinity does support panel applets.
The Trinity interface has very little animation and no keyboard shortcuts either. Those two functions are among the very useful adornments available in KDE.
Under the Hood
Q4OS is available in both 64-bit and 32-bit versions. Minimum basic hardware requirements include a 300-MHz Pentium, 128 MB Ram and 3 GB of hard drive space.
This release is available for download, as an installation CD or a Live CD with an included installer. Q4OS 1.6 Orion – 64bit / x64 consumes 281 MB. Q4OS 1.6 Orion – 32bit / i386 takes up 315 MB.
This is a Long Term Support release providing five years of security patches and updates. It will be supported until May 2020.
Q4OS is also available as a Raspberry Pi image. The Q4OS RPI port is a free operating system optimized for the Raspberry Pi family hardware. The Q4OS 1.6 Orion – Raspberry Pi / armhf image takes 339 MB. It runs on a wide variety of hardware equipped with ARM processors, including Chromebooks, tablets, single board computers, embedded devices and more.
One handy utility you should be sure to install is the Look Switcher — a separate download and installation from within Q4OS that lets you easily switch between classic and modern user interface.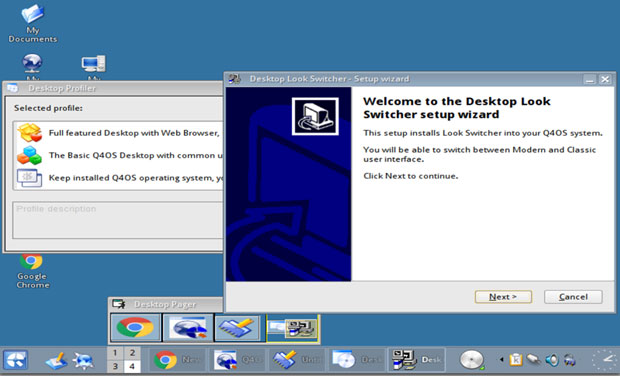 The Desktop Profiler (left) and Desktop Look Switcher let you change the look and feel of Q4OS.
Light on Apps
One of the reasons this lightweight distro comes with a smaller footprint is its lack of installed software. Out of the box, Q4OS leaves you begging for more already-to-use applications.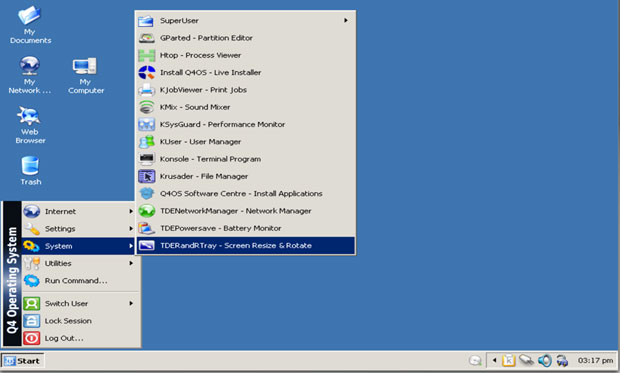 Q4OS suffers from a minimum default application base. This gives the lightweight Linux distro a poor out-of-the-box experience.
You get an installer for the Google Chrome browser. KDE's Konqueror browser is installed. The G-Partition Editor is installed. You also get the K editor and the Scientific calculator with a smattering of basic system tools, such as a file manager.
Of course, you can rummage through the Software Center for the meager assortment of available titles. You can install the Synaptic Package Manager from the Software Center and increase your inventory of applications.
Q4OS does provide a few semiautomated installation options. One of these is the Desktop Profiler. This gives you a choice of three installation patterns.
The full featured desktop option installs the default Web browser, office suite and recommended application set. The basic desktop option installs common utilities, system tools and libraries. The third option keeps the minimal installed OS components and allows you to rummage to your heart's content.
Bottom Line
The name of the developers is not publicized on the website, but Q4OS clearly is intended as more than a community-supported general purpose Linux distro. The website also invites businesses to makes use of Q4OS.org's commercial support and software customization services.
The Trinity desktop provides a lightweight KDE environment. The Q4OS platform shows strong potential for business use. It could provide an interesting alternative for consumer home and small business use.
Want to Suggest a Review?
Is there a Linux software application or distro you'd like to suggest for review? Something you love or would like to get to know?
Please email your ideas to me, and I'll consider them for a future Linux Picks and Pans column.
And use the Talkback feature below to add your comments!