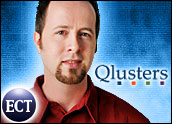 Qlusters is the commercial company that sponsors the open source openQRM project. openQRM provisions and manages Linux, Unix and Windows virtual environments and physical servers within the enterprise datacenter.
Four components make up an openQRM-managed environment: the openQRM server, a pool of computing resources, centralized disk storage and the physical network. The process involves creating a "virtual environment" within a server and then provisioning it by booting hardware from system images capable of running workloads such as Apache and MySQL.
LinuxInsider spoke to Qlusters' Chief Technical Officer William Hurley about open source datacenter provisioning and the Open Management Consortium.
LinuxInsider: What is the concept behind datacenter provisioning?
William Hurley:
Today's datacenters focus on executing business processes at the lowest possible cost. At the same time, they have to fulfill service level objectives for availability, performance and agility. A greater emphasis on costs in recent years has driven datacenters to migrate from proprietary Unix systems to industry-standard server hardware and Linux operating systems.
Today's datacenters need a software-based solution that can leverage the cost advantage of commodity, standards-based computing without adding administrative costs or compromising on the high availability, performance and agility capabilities offered by proprietary legacy systems. OpenQRM provides these capabilities. This enables the next step in datacenter operations while offering dramatic benefits.
LI: What role does software provisioning play in managing virtual environments?
Hurley:
Many times, virtual environments may only be needed for a specific need or time. That means that automating the provisioning — and deprovisioning — of virtual environments becomes a very important aspect of managing today's dynamic datacenter. For example, you may only want to deploy a virtual environment for testing — and only for a few weeks — and then deprovision that environment after testing is complete. Using openQRM, there is no need to waste administrators' time and energy on this as it can be automated end-to-end.
LI: What distinguishes Qlusters from other systems management services in this space?
Hurley:
Qlusters was the first to introduce an extensible open source systems management platform. Since then, openQRM has become the hub of provisioning, monitoring and automation in leading datacenters around the world. We have the largest community of any open source systems management framework and the largest installed user base.
LI: How does openQRM figure into the datacenter management scenario?
Hurley:
The openQRM server is the hub of provisioning, monitoring and automation of the Linux datacenter. However, it is important to understand that the openQRM server is not part of the operational or data path for any of the computing resources. It does not add any overhead to the operation of the computing resources, does not sit between the resources and their storage and has no impact on the operation should it itself experience a hardware or software failure.
LI: What are the factors driving datacenter provisioning?
Hurley:
As datacenter managers deploy more and more virtual resources in an effort to consolidate physical resources, the need for automation increases. This is probably the No. 1 factor driving the usage of projects like openQRM. The No. 2 factor would be the need to automate the response of IT to meet SLAs (service level agreements) with customers. Thus, automation in openQRM can be integrated with existing datacenter tools like Nagios to provide automated response to outages or the need for additional resources.
LI: What are the primary issues that companies such as Qlusters face in competing against proprietary product manufacturers?
Hurley:
Proprietary vendors compete on comprehensiveness. They are a one-stop shop, which is often far more attractive to customers. Also, while datacenters know and love Linux, that does not mean they are proponents of open source in general. Qlusters started the open source systems management revolution. While it is off to a great start, there is still a long way to go in encroaching on the beachhead proprietary vendors have built up in the datacenter over the past 10 years.
LI: What trends do you see in the use of open source software in datacenter management?
Hurley:
I think we will see a demand from customers for open source systems management tools. Too many vendors currently dictate to customers how their network should be organized and used in order to improve management. However, these same vendors seem to fail in their understanding that customer networks are extremely diverse and what works for one, does not always work for another. In the next five years most, if not all, proprietary vendors in this space will be forced to offer at least an open API (application programming interface) for integration with their offerings, if not to provide an open source offering themselves.
LI: How important is the openQRM project to datacenter management?
Hurley:
OpenQRM put a stake in the ground for users. Its success is already spurring proprietary vendors to reevaluate their view of future datacenter requirements. By showing that a vendor can successfully meet the needs of enterprise customers while creating a vibrant open source community, we are leading what is nothing short of a revolution in systems management.
LI: What role does the Open Management Consortium play in the datacenter management space?
Hurley:
Open Management Consortium was announced to help advance the promotion, adoption, development and integration of open source systems and network management software. The organization now has over 300 members, most of which are both contributors to open source projects and/or work with large datacenters in some way. Plus, several members have started a work group in an effort to create an open source systems management stack. This stack (and interoperability with it) will dramatically affect datacenter management (and the participating vendors) over the next few years.
LI: How will this encourage innovation and change?
Hurley:
In short, open source systems management replaces monolithic vendor lock-in with a modular approach. Pick what you need, customize it to your exact specifications and add to it as your needs change. Because open source products welcome contributions by users, partners and other third parties, they must be standards-based. This standards-based approach facilitates interoperability between open source solutions across the systems management life cycle. The Open Management Consortium is proud to be the focal point of this effort and to facilitate interaction between users, and the companies and developers that service them.
LI: How does Qlusters achieve commercial success with its licensed products when balanced against the freeware that it has available for download?
Hurley:
Excellent customer service makes the difference. Like any open source project, people do have the option to use the product free of charge. However, Qlusters' support and service offerings are often selected over this option because of the value we provide. By working with a datacenter to deploy openQRM, we can dramatically cut down deployment time and long-term cost. In addition to this, we offer services for creating custom code to integrate openQRM with applications developed in-house by the customer.