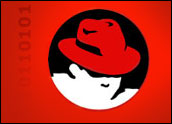 As Red Hat and its JBoss unit ramp up their SOA (service-oriented architectures) offerings and capabilities, they are re-emerging as a powerful mischief-maker to the established commercial vendors — this time on the subject of data lifecycle in the age of SOA. However, there soon could be much more mischief from Raleigh, N.C.
Red Hat has announced a series of SOA-focused bundles of open source products and associated services, as well as the acquisition of enterprise information integration (EII) vendorMetaMatrix for an undisclosed fee.
MetaMatrix's proprietary software provides a data services layer that decouples applications from their data sources, but Red Hat plans to move MetaMatrix to an open source license and a subscription model in less than a year.
Herein lies the mischief. If Red Hat can offer a capable EII product set in open source and spur on community development energies that attract more types of data and applications/services, then that puts pressure on the race for the best strategic data services layer approach for SOA.
Hat Thumbs Nose
In effect, Red Hat is thumbing its nose at the other SOA vendors with strong data integration businesses, daring them to open source more of their EII and master data management (MDM) offerings … or else. (Remember what JBoss did to app servers and Linux did to Unix?)
This is potentially particularly disruptive to IBM, BEA, Sybase, Oracle and Microsoft. As I've suggested many times, the pressure on the data stack to move increasingly to open source is like entropy — a force that any one has little hope of preventing or resisting in the long term.
Data cleansing, data integration, data warehousing, data services, databases — these are all hot businesses right now, adding much-needed revenue and profit growth to commercial vendors the good old fashioned way, via per server licenses.
I've been watching intently as the likes of MySQL and Ingres successfully move to an open source model in the databases themselves. MySQL is rumored to soon be going public in an IPO (initial public offering).
Now Red Hat is upping the stakes by moving the open source model to data integration and access activities. This could be quite a spoiler, if it can get an entire integrated data stack and lifecycle approach into open source.
Perhaps Red Hat should acquire Ingres and get even more mischievous. Perhaps some other acquisitions are in the offing for some other SOA goodies? There are some nice ones to choose from. How about a virtualization package next?
It's Smokin'
Red Hat announced that it will be increasingly bundling products and services to make a platform-like acquisition mode for its wares, moving away from the a la carte approach. I've been expecting this since Red Hat acquired a slew of the old Netscape server components several years ago — and then double-downed with the acquisition of JBoss last year.
Now Red Hat and JBoss customers can get large packages of functionality — moving toward the larger SOA value — but in an integrated, tested and certified platform approach. This is going to be potentially disruptive (more mischief!) to the open source value-add packaging crowd, including SpikeSource, Optaros and SourceLabs — and even IBM Global Services.
Red Hat said it plans to open source its Red Hat Network systems management offering as its integrates features from JBoss's Operations Network wares. What? More mischief! This could be potentially disruptive to CA, IBM Tivoli, HP OpenView, et al. I'd like to see more mishief in the form of more Management as a Service (MaaS) offerings, myself. Can you say "service bureau" in Marathi?
All this mischief is like that movie where Jim Carey puts on the mask and turns into a hyper-mischief machine (I always liked the mask better on the dog).
Several previously separate Red Hat/JBoss components, for example, are being integrated into the JBoss Enterprise Application Platform, which includes JBoss Application Server, Hibernate for object/relational mapping and persistence, and JBoss Seam for newer Enterprise 2.0 applications, all on top of Red Hat Enterprise Linux. The goal: lower TCO (total cost of ownership).
Coming Down the Pike
Future JBoss Enterprise Platform offerings will be available for portal applications, SOA integration and business process automation requirements. Expect the portal in Q3 of this year.
The SOA portfolio — potentially consisting of JBoss jBPM, JBoss Rules, and JBoss ESB, all on top of JBoss Enterprise Application Platform (see above) — could come in Q4, probably in December. Ho, ho, ho. Also soon bending the mischief meter will be Red Hat Messaging, an advanced message que protocol to enable BPA (business process automation) by integrating and orchestrating app components and services.
Just in time for the beach: A new subscription offering, Red Hat Developer Studio — a development environment that integrates the Eclipse-based tools Red Hat gained via its recent agreement with Exadel with existing JBoss and Red Hat Enterprise developer tools for a programming environment for RIAs, at an annual subscription price of US$99 — is coming in July.
Yes, it's certainly more than Linux mischief these days. How well history repeats itself shall be very interesting to observe over the next few years. What's your take?
---
Dana Gardner
is president and principal analyst at
Interarbor Solutions
, which tracks trends, delivers forecasts and interprets the competitive landscape of enterprise applications and software infrastructure markets for clients. He also produces
BriefingsDirect
sponsored podcasts.
---