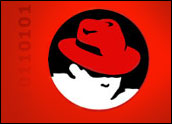 In a move to expand its enterprise cloud storage capabilities, Red Hat will spend US$136 million to acquire Gluster, a storage company that builds management tools for data centers and cloud services.
The companies announced the deal Tuesday, and the deal is expected to close by the end of the month. Red Hat, one of the largest companies in the open source world with $1 billion in annual revenue, has been making various plays lately to expand its services. The company already offers software for building internal clouds and operates with the OpenShift platform, but continued growth to other areas seems to be its strategy going forward.
Gluster can offer the company major clients such as Samsung and Pandora, and perhaps more importantly, its virtual storage capabilities as online storage moves toward the cloud.
Neither company provided additional remarks when contacted by LinuxInsider.
Moving to Cloud
Data storage is increasingly moving toward online backup both for enterprise and mass-market consumers. Tech giant Apple, for example, elaborated on its highly anticipated iCloud services Tuesday, indicating that even more mass-market tech providers want in on the cloud action.
Businesses, however, might turn toward a more trusted enterprise storage company to secure their highly complex and private data.
"I think the motivation for this acquisition is cloud computing, but for both public and private clouds. The future of application deployment is cloud. The ability to have cloud-based storage is absolutely essential. So this makes sense," Mike Gualtieri, analyst at Forrester, told LinuxInsider.
Gluster, although smaller than Red Hat, could bring abilities to the table that Red Hat could not.
"There is some complementary overlap between Gluster and Red Hat's Infinispan. Storage in the cloud requires quick scale-out and high availability. Gluster provides this through replication," said Gualtieri.
Aside from just cloud storage, though, Red Hat has a lot to gain from the simple acquisition, since competition is fierce among enterprise data software. Various players in the field bring different strengths to data management.
"I see this more as a general 'big data' play more than a cloud strategy. Gluster is aimed at organizing unstructured data — data that's growing incredibly fast and data that companies need to manage, track and analyze," Dan Olds, principal analyst at Gabriel Consulting Group, told LinuxInsider.
It's possible that Gluster will be a piece of the puzzle that Red Hat puts together to take on competitors such as Oracle as the analytics field starts to boom.
"I could easily see that Red Hat could use a combination of Gluster and Infinispan technologies to create their own flavor of NoSQL databases. Bam — that would put Red Hat in the data management business," said Gualtieri.
Not Too Pricey
Red Hat executives noted that the $136 million spent in acquiring the company won't have an impact on finances this year and that the acquisition was necessary in expanding the company to fit in with industry trends.
"This acquisition tells me that Red Hat is dead serious about being a force in cloud computing," said Gualtieri.
It's unlikely this will be the only large purchase Red Hat makes in the near future, along with other software companies looking to become leaders in the growing data management field.
"I believe that analytics is going to be the next big thing in business, which automatically makes it the next big thing in computing. Red Hat needs to be there and Gluster will help them build out their story in this space," said Olds.