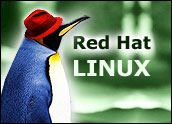 Red Hat announced Wednesday the release of its Enterprise 5.0 Server and desktop/workstation versions of its open source Linux operating system.
Red Hat also announced the availability of the Linux Enterprise 5.0 Advanced Platform, which provides the architecture to manage end-to-end open source applications run from a single platform.
Red Hat Enterprise 5.0 has new features built around improved security and virtualization management. The Advanced Platform product was built from the ground up, said company officials.
The release of Red Hat Enterprise 5.0 concludes two years of development and enhancements that include additional performance, scalability and security features. The latest version also has extensive new hardware support, an expanded development environment and tool set, and improved interoperability with Microsoft Windows and Unix.
"The cornerstone of our vision is today's release of Linux Enterprise 5.0. It is not just the release of our next version. It is the start of a new advanced platform. The results of the Fedora Project have paid off," said Paul Cormier, executive vice president of engineering for Red Hat, at the start of the company's simultaneous announcement in San Francisco and on the company's live Web cast.
CIOs face a conflict, as they are faced with tighter budgets and compliance mandates, he stated, adding that Red Hat's is a simple, dynamic, modular solution.
"They need the low cost and high value that open source can achieve," said Cormier.
Enterprise Innovations
The latest Red Hat OS release is based on feedback from customers and cooperation with both Intel and AMD chip makers, according to Red Hat officials.
Enterprise 5.0 supports 64-bit processors and easy integration of legacy products, said Cormier.
The timing of Red Hat's OS upgrade coincides with the recent release of Microsoft's Windows Vista, he suggested. Red Hat's newest Linux version is keeping pace with technology and innovation.
Microsoft just launched Vista, but enterprise reaction to it so far is that it does not provide new values to IT applications, Cormier explained, adding that Enterprise Linux 5.0 brings open source architecture to new limits.
"We've been working with customers for two years on this. They don't want complexity. They want value and simplicity," said Cormier.
Advanced Platform
Red Hat's Advanced Platform will bring together storage, virtualization, computing and management in one place at the infrastructure level.
One of the main innovations built into the Advanced Platform is streamlined virtualization management, according to Cormier. It will allow the management of thousands of servers under one system.
Red Hat customers will still be able to mix the applications they want to run with Linux Enterprise 5.0. For instance, they can continue to use a virtualization product from VMWare or Microsoft instead of Red Hat's virtualization component.
"We will continue to work on interoperability over the next few months," said Cormier.
Virtual Differences
Users of the standard Linux Enterprise 5.0 operating system will be limited to running four virtualized guests under the purchase subscription terms. Users of the Advanced Platform version, however, will be able to run an unlimited number of virtual guests.
With Advanced Platform, customers are able to greatly reduce the cost and complexity of purchasing, integrating and managing separate virtualization, storage management and high availability software. The Advanced Platform allows customers to shift their investment away from costly infrastructure and back into their business, according to Red Hat officials.
"Virtualization solves so many problems that our goal was to make it ubiquitous and simple," said Cormier.
Revamping Support
Red Hat also announced Wednesday a major change in how it will provide customer support. Available later this year, the Red Hat Exchange program will put all vendors together in one place so Red Hat customers can get products, support and information more easily.
"This will extend our traditional partner model. It will bring all our partners together. This list already includes a wide range of commercial industrial leaders," Mike Evans, vice president of partner development, told LinuxInsider.
Red Hat is changing its support model in response to what Evans called a global explosion of Linux adoption that is producing a reduced operating cost and better performance.
"Open source is driving commerce and fueling more companies to change. There are 3,000 applications and 2,000 hardware systems built into Red Hat Enterprise 5.0," Evans said.
However, the change to Red Hat Exchange support will not affect customers' options, said Cormier. It remains a matter of choice if customers stay with their existing product provider or go with Red Hat Exchange.
Human Element
The release of Red Hat Linux 5.0 is also the launching pad for changing the company's support services model, explained Ian Gray, vice president of global support services for Red Hat.
"We are redefining the customer experience. Our aim is to use the same subscription open source principals to expand our service model," he said.
As an example, he compared the previous nine-page service agreement to the new one-page document. The new guarantee includes support for installation, usage, configuration, diagnosis and bug fixes.
"We are trying to return some humanity to the support. We are making service simple. It should work and be humane," he said.
Product Pricing
Red Hat Enterprise Linux Advanced Platform with unlimited sockets with 12×5 phone support costs US$1,499 for a one-year subscription.
Red Hat Enterprise Linux Advanced Platform Premium one-year subscription with 24×7 phone support costs $2,499.
Red Hat Enterprise Linux with up to two sockets costs $349 for a basic 30-day subscription.
Red Hat Enterprise Linux with a standard one-year subscription with 12×5 phone support costs $799.
Red Hat Enterprise Linux with 24×7 phone support for a premium one-year subscription costs $1,299.