Refracta is a somewhat obscure Linux distribution that offers exceptional functionality and stability.
Obscurity is not always a bad thing when it comes to Linux distros. You can find some very worthwhile alternatives to your current operating system. Refracta is a big surprise in a small package.
Many look-alike desktop distros are difficult to distinguish from run-of-the-mill garden varieties. Others offer new adopters something unique that makes using them fun and productive.
Refracta is one of the few full-service Linux distros that makes an easy and more convenient replacement for pocket Linux options such as Puppy Linux. Not all Linux distros that install to a USB drive — and have the ability to save files and system settings in a persistent mode — work equally well.
Doing just that has been the rallying point around Puppy Linux-based variants, but Puppy Linux requires adjusting to a different set of computing tools and a few less-conventional operating procedures.
Refracta is not a Puppy Linux family member, but it just works. When I run Refracta with full persistence from a USB drive, my user experience is much like running it in a virtual machine or even a full hard drive installation.
In its portable Linux option running from a USB drive, Refracta offers a far superior user experience than the Live session CD, with its limitations and slow speed. Refracta can be an ideal computing solution to place on your everyday computer, as well as carry in your pocket as a portable Linux desktop you can plug into any computer.
Refracta Basics
Refracta 8.0, released late this summer, is a Linux distribution based on Devuan Jesse GNU+Linux, a systemd-free fork of Debian.
Its primary design targets home computer users looking for a simple and familiar layout using the Xfce desktop. It also is a handy problem solver when used as a system rescue-and-recovery disk.
The Xfce 4.10 desktop is the ideal choice for this full-service Linux distro. Xfce is less demanding on hardware so it runs reliably on a wider range of both new and legacy computers. You often find lightweight or stripped-down Linux distros running lightweight desktop options like Xfce, LxLe, JWM or Openbox. Xfce is one of the more flexible and customizable desktop options.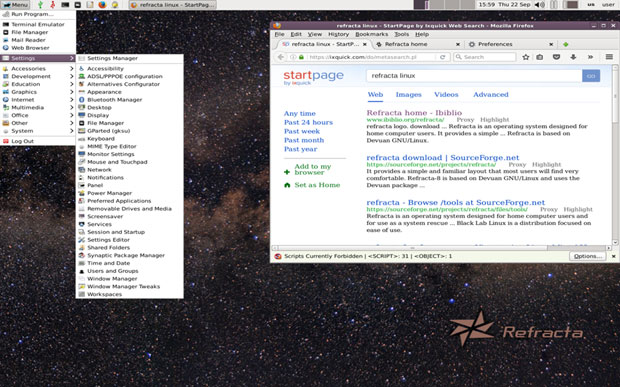 The Xfce panel and apreconfigured virtual workplace switcher provide access to the main menu,a few hardwired icons, and a customizable panel to suit your needs.
The pairing of the Xfce desktop with a Devuan Jesse base is a great combination. There is nothing lightweight about Refracta Linux's ability to provide heavy duty performance without the overhead of desktops such as Cinammon or KDE or even GNOME.
If you like what Refracta offers but still yearn for another desktop environment replacement, however, you can turn Refracta into another desktop flavor. You can get other desktop environments and additional software packages from the Devuan package repository.
The Refracta project includes a collection of useful tools not usually found in Linux distros, such as refractainstaller, refractasnapshot and refracta2usb. They make it much easier to customize the installation or to create a custom live CD or live USB image. These tools will work on most Debian or Devuan-based systems.
This distro's support is limited to i386 and x86_64 Architecture. If your computer is 32-bit, you will not be able to sample the live CD version, let alone install it.
What's Inside
Refracta focuses on providing common applications and services that most users will need instead of trying to accommodate more specialized uses. It delivers a basic desktop with simple applications that are easy to use.
The default installation includes several Internet applications; graphic, multimedia and office software; and various system tools and utilities. The default Web browser is Firefox ESR (Extended Support Release). The office suite is a combination of the AbiWord for word processing and Gnumeric for spreadsheets. One of the best IDE/text editors, Geany, is included as well.
Version 8.0 uses Devuan repositories for packages and relies on the Synaptic Package Manager for other software additions/removals. The installed packages and the desktop environment (xfce-4.10) are relatively unchanged from the previous few versions of Refracta.
Look and Feel
Refracta has the familiar look and feel that is most associated with classic Linux. The panel bar sits at the top of the screen. The virtual workspace switcher is active by default and is preset to four desktops.
The desktop itself is uncluttered. You can not place application icons on the desktop. The menu has no favorites bar for quick-launching often-used programs.
Still, Xfce lets you right-click anywhere on the desktop to open a complete menu display. Plus, you can add applets to the panel bar to place more tools just one icon-click away.
The panel bar settings and the full range of desktop settings and system settings give you ample options to alter Refracta's appearance to your needs.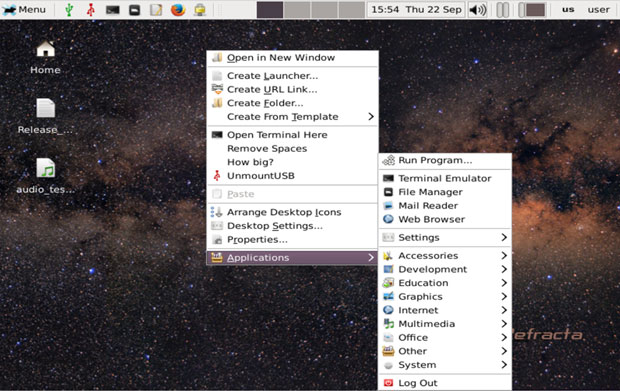 Refracta's classic Xfce lookand performance puts a full system menu and tool options a right-clickaway, anywhere on the desktop.
Bottom Line
The live session CD is protected by a default password. Plus, you can run root commands in live session — use the 'su' command.
The root password is the word 'root.' The user password is the word 'user.'
When running from live media, you can use 'sudo ' for root permissions or use 'sudo -i' to get a root terminal.
Refracta is a no-nonsense Linux distro that delivers speed and reliability. It is still a bit of a rarity, in that not too many distros have jumped on the Devuan instead of Debian fork wagon.
If you want the ease of use that the Xfce desktop provides, and if you want the ability to run a full-service Linux desktop from a USB drive and store all of your files along with the OS, Refracta is a winning Linux distro.
Want to Suggest a Review?
Is there a Linux software application or distro you'd like to suggest for review? Something you love or would like to get to know?
Please email your ideas to me, and I'll consider them for a future Linux Picks and Pans column.
And use the Reader Comments feature below to provide your input!